Holy Week
Calendar date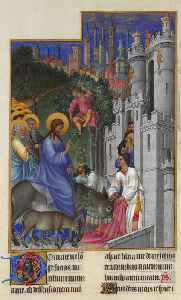 Holy Week in Christianity is the week just before Easter. It is also the last week of Lent, in the West, – Palm Sunday, Holy Wednesday, Maundy Thursday, Good Friday, and Holy Saturday – are all included. However, Easter Day, which begins the season of Eastertide, is not. However, traditions observing the Easter Triduum may overlap or displace part of Holy Week or Easter itself within that additional liturgical period.


Easter celebrated around the world
Christians around the world are marking Holy Week, commemorating the crucifixion of Jesus Christ, leading up to his resurrection on Easter.
USATODAY.com - Published
Holy Week in photos
Christians around the world mark Holy Week, ending on Easter, the celebration of the crucifixion and resurrection of Jesus Christ.
USATODAY.com - Published
Notre-Dame saved from complete destruction
Firefighters worked through the night on Monday to save the Notre-Dame's main bell towers and outer walls from collapse, before bringing the blaze under control. Michelle Hennessy reports.
Credit: Reuters Studio Duration: 01:57Published
On Palm Sunday, Pope says Church needs to be humble
Tens of thousands waved palm fronds and olive branches in St. Peter's Square on Palm Sunday, as Pope Francis called for the Church to be humble. Rough Cut (no reporter narration).
Credit: Reuters Studio Duration: 01:24Published
Parisians sing in honor of Notre Dame Cathedral after massive fire
A vigil was held for Notre Dame Cathedral in the streets of Paris. The crowd sang a hymn in tribute to the French landmark that was severely damaged in a massive fire on the Monday of Holy Week for..
CBS News - Published
Search this site and the web:
You Might Like