Pacific Time Zone
North American time zone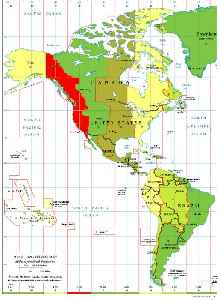 The Pacific Time Zone (PT) is a time zone encompassing parts of western Canada, the western United States, and western Mexico. Places in this zone observe standard time by subtracting eight hours from Coordinated Universal Time (UTC−08:00). During daylight saving time, a time offset of UTC−07:00 is used.


UN leader travels to Pacific to see climate change firsthand
WELLINGTON, New Zealand (AP) - U.N. Secretary-General Antonio Guterres said Wednesday that he's traveling to three South Pacific island nations to see the effects of climate change firsthand. Speaking..
WorldNews - Published
Search this site and the web:
You Might Like