Babe Ruth
American baseball player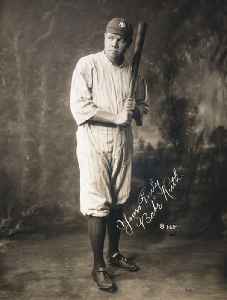 George Herman "Babe" Ruth Jr. was an American professional baseball player whose career in Major League Baseball (MLB) spanned 22 seasons, from 1914 through 1935. Nicknamed "The Bambino" and "The Sultan of Swat", he began his MLB career as a stellar left-handed pitcher for the Boston Red Sox, but achieved his greatest fame as a slugging outfielder for the New York Yankees. Ruth established many MLB batting records, including career home runs (714), runs batted in (RBIs) (2,213), bases on balls (2,062), slugging percentage (.690), and on-base plus slugging (OPS) (1.164); the latter still stands as of 2019. Ruth is regarded as one of the greatest sports heroes in American culture and is considered by many to be the greatest baseball player of all time. In 1936, Ruth was elected into the Baseball Hall of Fame as one of its "first five" inaugural members.


Former Supreme Court Justice John Paul Stevens watched Babe Ruth call shot in 1932 World Series
Former Supreme Court Justice John Paul Stevens, who died Tuesday at 99, claimed he saw Babe Ruth "call his shot" on a homer in the 1932 World Series.
USATODAY.com - Published
Today in History for July 11th
Highlights of this day in history: America normalizes diplomatic ties with Vietnam; Aaron Burr mortally wounds Alexander Hamilton in a duel; Skylab makes a fiery return to Earth; Babe Ruth's major..
USATODAY.com - Published
Search this site and the web:
You Might Like