Hyundai Motor Company
South Korean multinational automaker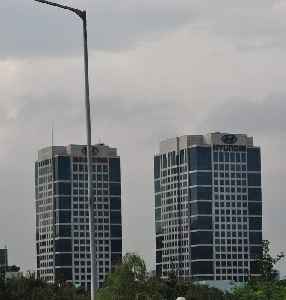 The Hyundai Motor Company, commonly known as Hyundai Motors, is a South Korean multinational automotive manufacturer headquartered in Seoul. Hyundai Motor Company was founded in 1967 and, along with its 32.8 percent owned subsidiary, Kia Motors, and its 100 percent owned luxury subsidiary, Genesis Motor, and electric vehicle subsidiary, Ioniq, altogether comprise the Hyundai Motor Group.


Hyundai, Kia warn of $2.9 bln hit to earnings

Hyundai Motor and affiliate Kia say they will take another $2.9 bln hit to earnings over engine problems. Julian Satterthwaite reports.
Credit: Reuters Studio Duration: 00:56
Published
Hyundai to recall Kona EV in S.Korea over fire risk

Hyundai Motor Co will voluntarily recall its Kona electric vehicles over what may be faulty high-voltage battery cells, after at least 13 fire incidents were logged across multiple countries. Francis..
Credit: Reuters Studio Duration: 01:13
Published
Hyundai takes covers off new 2021 Tucson SUV

The new Tucson takes a completely different road than any taken by its predecessors. Hyundai designers term the design language on the SUV as 'parametric dynamics' which is defined primarily by kinetic..
Credit: HT Digital Content Duration: 01:11
Published
BTS drops new song and video for Hyundai commercial

The K-Pop group recently achieved record-breaking success with their very first all-English track, "Dynamite".
Credit: Cover Video STUDIO Duration: 01:19
Published
You Might Like



Hyundai to expand Kona EV recall to US, Europe over battery fire risk: Report

HyundaiKona Shares of Hyundai Motor and LG Chem fell 0.8% and 2.0%, respectively, on Monday while...




WorldNews - Published





Back-to-back wins for Sordo in Sardinia, Evans holds WRC lead

Spain's Dani Sordo won the Rally of Sardinia for the second straight year on Sunday holding off fellow Hyundai driver Thierry Neuville of Belgium. ","content":"Spain's Dani Sordo won the Rally of..




WorldNews - Published





Hyundai's autonomous vehicle project with Aptiv will now be called Motional

Hyundai's autonomous vehicle joint venture with Aptiv has a new name: Motional. The company, which plans to test fully driverless vehicles for ride-hailing services later this year, said the new name..




The Verge - Published





How Hyundai plans to challenge Tesla with Ioniq

SEOUL: Hyundai Motors is betting big on the Ioniq family of electric vehicles in an attempt to become the third-largest EV manufacturer by 2025. The Korean carmakers on Monday launched a dedicated EV..




WorldNews - Published





Two-tone car paint makes a comeback, with Nissan, Hyundai among automakers reviving 50s-era styling for SUVs

Automakers have introduced more than half a dozen SUVs in the last two years with two-tone paint, as they seek to differentiate their vehicles.




USATODAY.com - Published





Indian carmakers offer teaser loans as RBI softens stance, sources say

Maruti Suzuki, Hyundai and Mercedes Benz are offering Indian car buyers "teaser loans", a move that sources said followed a softening of the central bank's stance due to a coronavirus-induced economic..




Reuters India - Published




Three Hyundai India workers get coronavirus, showing restart risks

Three employees at Hyundai Motor Co's Indian plant have tested positive for the coronavirus, the company said on Sunday, days after the South Korean automaker resumed operations after a near two-month..




Reuters India - Published





No takers: Hyundai cars sit in U.S. ports as virus keeps buyers away

As Detroit's automakers shut production in March due to the coronavirus pandemic, South Korea's Hyundai Motor cranked up its factories back home to ship cars to the United States, a move that is..




Reuters - Published





Hyundai Motor halts work at factory after worker tests positive for coronavirus

Hyundai Motor shut down a factory in South Korea on Friday after a worker tested positive for the new coronavirus, disrupting production of popular models such as Palisade sport utility vehicle.




Reuters - Published




One Hyundai Motor factory worker in South Korea tests positive for virus - Yonhap

One worker at Hyundai Motor's factory complex in South Korea's southeastern city of Ulsan has tested positive for coronavirus, Yonhap News Agency said on Friday, without saying how they received the..




Reuters - Published




Samsung, Hyundai workers self-quarantine as precaution

SEOUL--Some South Korean workers at Samsung Electronics and Hyundai Motor are staying home as a precautionary measure as corporate Korea scrambles to prevent the coronavirus outbreak from disrupting..




WorldNews - Published





Hyundai, Kia close factories on parts shortage

Hyundai Motor vehicles are parked at its Ulsan factory's export shipment dock, Thursday. Hyundai Motor Group suspended operations of assembly lines in Korea due to shortages of China-sourced auto..




WorldNews - Published





Hyundai Halts South Korea Output as Coronavirus Causes Parts Shortage

Hyundai Motor Co. is halting production in South Korea this week because of a component shortage caused by the coronavirus, the first global automaker to suspend output outside China because of the..




WorldNews - Published





Hyundai to make flying cars for Uber air taxis

LAS VEGAS--Hyundai has announced it would mass produce flying cars for Uber's aerial rideshare network set to...




WorldNews - Published





Hyundai Motor eyes thrust on electric vehicles in $52 billion investment plan

Hyundai Motor plans to invest about 61.1 trillion won ($51.81 billion) between 2020 and 2025, the company said on Wednesday, with a third of the expenditure focused on electric and autonomous vehicles,..




Reuters - Published





Hyundai default title winners as Australia rally canceled on bushfires

Hyundai were confirmed winners of the World Rally Championship's manufacturers' title after the season-ending Rally of Australia was canceled on Tuesday due to the threat of bushfires.




Reuters - Published





Hyundai win title as bushfires force cancellation of Rally of Australia

Hyundai were confirmed winners of the World Rally Championship's manufacturers' title after the season-ending Rally of Australia was cancelled on Tuesday due to the threat of bushfires.




Reuters - Published





GM, Toyota, Fiat Chrysler back Trump on California emissions challenge

General Motors Co , Toyota Motor Corp , Hyundai Motor Co , Fiat Chrysler Automobiles NV and other major automakers are siding with the Trump administration in its bid to bar California from setting its..




Reuters - Published




Don't miss these 12 upcoming new cars, SUVs priced under $30K

Looking for an affordable car or SUV? Ford, Hyundai, Chevrolet, Buick and Honda are set to launch vehicles priced under $30K in the next 12 months.




USATODAY.com - Published





Hyundai releases car with solar panel roof

The solar power system is available on the hybrid versions of the Korean car maker's Sonata vehicle.




BBC News - Published





Could a computer predict auto crash injuries? Volvo and Hyundai are betting it can

Volvo and Hyundai are investing millions in an Israeli startup using big data to predict the kinds of injuries sustained after an auto accident.




USATODAY.com - Published





Indian Railways accelerates plan for more train sets

The Union Ministry of Railways held an important meeting in this regard with key train set manufacturers including BHEL, Hyundai, ICF, Alstom, among others




DNA - Published





Citroen will offer cars to rival Maruti Suzuki, Hyundai models

Citroen's first car in India, the company's flagship product, will be the C5 Aircross. The C5 Aircross will lock horns with the Hyundai Tucson and Jeep Compass. Citroen's second car in India is..




WorldNews - Published