AR-15 style rifle
Lightweight automatic based on the Colt AR-15 design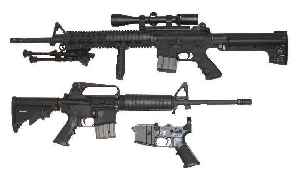 An AR-15 style rifle is a lightweight semi-automatic rifle based on the ArmaLite AR-15 design. ArmaLite sold the patent and trademarks to Colt's Manufacturing Company in 1959. After Colt's patents expired in 1977, Colt retained the trademark and is the exclusive owner of "AR-15" designation. An expanded marketplace emerged with many manufacturers producing their own version of the AR-15 design for commercial sale. They are referred to as modern sporting rifles by the US National Shooting Sports Foundation, a firearms industry trade association, and by some manufacturers. Coverage of high-profile incidents where various versions of the rifle were involved often uses the shorthand AR-15.


Kamala Harris says she'll ban AR-15 imports if she wins White House
Kamala Harris said during a campaign event that she would use executive order to pause imports of the firearm until the ATF can analyze whether the ban should be permanent.
USATODAY.com - Published
Kamala Harris would ban AR-15 style assault weapons imports: source
Democratic presidential candidate and California senator will announced she'd make the move through executive action once in the Oval Office, the source says
CBS News - Published
'I don't really need it': New Zealanders set to turn in guns
A wide swathe of New Zealand's quarter-million gun owners say they accept there must be change after the tragedy in Christchurch, including 48-year old Noel Womersley who expects to hand in one..
Credit: Reuters Studio Duration: 00:55Published
Search this site and the web:
You Might Like