Efraín Ríos Montt
Former de facto President of Guatemala, army general, genocida and former president of Congress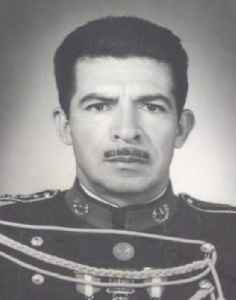 José Efraín Ríos Montt was a Guatemalan general and politician who served as President of Guatemala. Born in Huehuetenango, he was a dictator who took power as a result of a coup d'état on March 23, 1982. He was overthrown by his defense minister, Óscar Humberto Mejía Victores, in another coup d'état on August 8, 1983. In the 2003 presidential elections, Ríos Montt unsuccessfully ran as the candidate of the Guatemalan Republican Front (FRG). In 2007 he returned to public office as a member of Congress, thereby gaining prosecutorial immunity. He was protected from a pair of long-running lawsuits alleging war crimes against him and a number of his former ministers and counselors during their term in the presidential palace in 1982–83. His immunity ended on January 14, 2012, with the end of his term in legislative office. On January 26, 2012, he appeared in court in Guatemala and was formally indicted for genocide and crimes against humanity.


Guatemala court bars ex-dictator's daughter from presidential race
GUATEMALA CITY: Guatemala's top court said on Monday that it had barred the daughter of former military dictator Efrain Rios Montt from taking part in presidential elections in June. The Constitutional..
WorldNews - Published
Also reported by •Reuters
Search this site and the web:
You Might Like