Azam Khan (politician)
Indian politician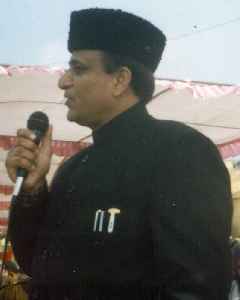 Azam Khan is an Indian politician, one of the founding members of the Samajwadi Party and a member of the Seventeenth Legislative Assembly of Uttar Pradesh of India. He was also the senior most Cabinet Minister in the Government of Uttar Pradesh and has been a member of the legislative assembly for nine terms from Rampur assembly constituency.


Jaya Prada slams Azam Khan's son over 'Anarkali' remark
IndiaTimes - Published
I'm being treated like a terrorist: Azam Khan
IndiaTimes - Published
Azam Khan has insulted all women of Rampur: Jaya Prada
Prada slams Azam Khan.
DNA - Published
Also reported by •IndiaTimes
Indian actor-turned-politician Jaya Prada is calling out her rival for making sexist remarks
Bollywood actor-turned-politico Jaya Prada is speaking out after being subjected to sexism by her political nemesis Azam Khan. Prada and Khan were once colleagues in India's Samajwadi Party, but the..
WorldNews - Published
Azam Khan gets notice for his remark again
IndiaTimes - Published
Azam Khan gets another EC notice for inflammatory remarks
IndiaTimes - Published
Day after EC ban on politicians, Supreme Court expresses satisfaction over poll body's action
Following the SC rap for EC, the poll panel on Monday afternoon took action against Adityanath, Mayawati, Azam Khan and Union Minister Maneka Gandhi.
DNA - Published
Akhilesh Yadav downplays Azam Khan row, Aparna Yadav slams SP neta
IndiaTimes - Published
You Might Like