El Paso, Texas
City in Texas, United States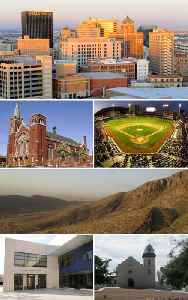 El Paso is a city and the county seat of El Paso County, Texas, United States, in the far western part of the state. The 2019 population estimate for the city from the U.S. Census was 681,728, making it the 22nd-largest city in the United States, the sixth-largest city in Texas, and the second-largest city in the Southwest behind Phoenix, Arizona. Its metropolitan statistical area covers all of El Paso and Hudspeth Counties in Texas, and has a population of 840,758.


Anguished search for son who vanished at border

The parents of a 12-year-old Guatemalan boy named Gustavo, who struggles to speak, has deformed limbs and suffered a machete attack, sent their son to the United States alone amid turmoil in Mexico...
Credit: Reuters - Politics Duration: 03:00
Published
You Might Like



AP Top Stories October 19 A

Here's the latest for Monday October 19th: Congress runs out of time for coronavirus aid deal; COVID-19 rates rising quickly in El Paso, Texas; Trump & Biden campaign in swing states; SpaceX sends..




USATODAY.com - Published




8/7: CBSN AM

Family of alleged El Paso gunman releases statement; Summer camp turns kids into YouTube stars




CBS News - Published




Former national security officials want domestic terrorism treated as a priority

After the deadly mass shootings in Texas and Ohio over the weekend, a group of former senior directors for counterterrorism at the National Security Council called on the government to make addressing..




CBS News - Published





U.S. mourns after back-to-back mass shootings

The country is in mourning following two mass shootings over the weekend that left 29 people dead. CBS News correspondent Chris Martinez joined "CBSN AM" from El Paso, Texas, where 20 people were..




CBS News - Published





Video game makers face backlash after El Paso shooting

President Trump blamed video games for the rise in gun violence, but research doesn't back up such claims




CBS News - Published





Families mark El Paso Walmart shooting anniversary

Victim's families and the city of El Paso are marking one year since a shooting at a crowded Walmart by remembering the 23 people who were killed. (Aug. 3)  




USATODAY.com - Published





'It was fueled by hate and bigotry': one year on from the El Paso shooting

For Angel Gomez the sunny Saturday morning of 3 August 2019 was hectic in El Paso-Ciudad Juárez, the binational community in the west Texas borderland with Mexico. His community nonprofit, Operation..




WorldNews - Published





One year later, El Paso reflects on the hate behind Walmart shooting

An alleged racist attack killed 23 at an El Paso Walmart on Aug. 3, 2019. Dozens more were injured. Survivors, others reflect on hate-inspired attack.




USATODAY.com - Published




El Paso mourns 23 lives lost in racist Walmart mass shooting

The year has been relentless with reminders of Aug. 3, 2019, mass shooting, fresh tragedy, enduring anguish, a responsibility to remember the dead.




USATODAY.com - Published




Tired of living in fear, some Latinos are buying guns to feel more safe

(CNN)After overhearing constant racist and anti-immigrant comments made by his neighbors, Tony Martinez said he knew he needed to find a way to feel safer. He bought his first rifle last month, joined..




WorldNews - Published





Fireworks stand explodes, goes up in flames near El Paso, Texas

A fireworks stand near El Paso, Texas exploded and went up in flames on Wednesday night.




USATODAY.com - Published





7 Killed in Crash in El Paso After Border Patrol Tried to Stop Car

The vehicle, which was carrying 10 people, had been pursued before it crashed into a semitrailer on private property, the authorities said.




NYTimes.com - Published





Seven die, three hurt in car while fleeing from U.S. Border Patrol in Texas

El Paso police say seven people died and three were injured in a crash early Thursday morning in Downtown.




USATODAY.com - Published





Death toll reaches 23 from last year's mass shooting in El Paso, Texas

The death toll from a mass shooting last August at an El Paso, Texas, Walmart store has climbed to 23 after the last victim left hospitalized from the rampage succumbed to his injuries over the..




Reuters - Published





'Our hearts are heavy': Final patient from El Paso Walmart shooting dies in hospital

After a nearly nine-month fight, the last remaining patient hospitalized from the El Paso Walmart shooting in August has died.




USATODAY.com - Published




Car line stretches over a mile to Texas food bank

Signs of desperation: A line of cars stretches more than a mile as people wait to receive free items from an El Paso, Texas, food bank. (April 22)  




USATODAY.com - Published





Texas foodbank sees long lines amid virus outbreak

A food bank in El Paso, Texas, is seeing lines of cars stretch over a mile each day as the area feels the brunt of massive unemployment in the wake of the COVID-19 pandemic. (April 22)  




USATODAY.com - Published





5.0 magnitude earthquake rattles West Texas: 'Like the vibration of a train, but bigger'

A 5.0 magnitude earthquake rattled West Texas on Thursday. Residents of El Paso, about 175 miles west of the reported epicenter, felt the quake.




USATODAY.com - Published




Pregnant teen falls from Texas border wall and dies as migrants take more risks to cross

A 19-year-old pregnant Guatemalan who fell attempting to scale the border barrier near El Paso has died. Her unborn child did not survive.




USATODAY.com - Published




Trump to deploy 160 active duty troops to border in response to court rulings, coronavirus

A Customs and Border Protection spokesman said the deployment to San Diego and El Paso would begin Saturday and last for two weeks.




USATODAY.com - Published




With Black Voters and a Suburban Surge, Joe Biden Took Texas

Mr. Biden notched his most significant Super Tuesday win in a state where he had previously looked weak. "It felt like momentum because it was momentum," an El Paso congresswoman said.




NYTimes.com - Published





Accused El Paso shooter pleads not guilty to hate crime charges

A Texas man pleaded not guilty to 90 federal hate crime charges on Wednesday after he was accused of deliberately targeting people of Mexican heritage in the shooting rampage that killed 22 people at a..




Reuters - Published





Accused El Paso shooter make first appearance in federal court

A Texas man accused of deliberately targeting people of Mexican heritage in a shooting rampage that killed 22 at a Walmart store in El Paso last year made his first court appearance on Wednesday for..




Reuters - Published





El Paso Walmart gunman hit with 90 federal hate charges

He could face the death penalty under the new charges if found guilty of the mass murder.




BBC News - Published





Hate crime charges brought against accused shooter

The man accused of killing 22 people and wounding two dozen more in a shooting that targeted Mexicans in El Paso, Texas, has been charged with federal hate crimes. Patrick Crusius is charged with 90..




USATODAY.com - Published





Accused El Paso mass shooter charged with 90 counts of federal hate crimes

A Texas man accused of deliberately targeting people of Mexican heritage in a shooting rampage that killed 22 people at an El Paso Walmart store last year was charged on Thursday on 90 counts of..




Reuters - Published




El Paso Walmart shooting suspect faces federal hate crime charges

Washington – The man accused of killing 22 people and wounding two dozen more in a shooting that targeted Mexicans in the border city of El Paso, Texas, has been charged with federal hate crimes, a..




WorldNews - Published

Also reported by •Reuters


Man accused of killing 22 people in El Paso Walmart shooting to face hate crime charges

The man accused of killing 22 people and wounding two dozen will be charged with federal hate crimes, according to a source




USATODAY.com - Published




Powerful, snow-packed winter storm on march from New Mexico to New England

A powerful winter storm that dropped two inches of snow on El Paso along the Texas border began a 1,500-mile trek across the nation's heartland.




USATODAY.com - Published





Police identify the mystery hero who saved baby from mass shooting at El Paso Walmart

In addition to carrying a baby to safety, Lazaro Ponce ran back in the store to treat the wounded, police said.




USATODAY.com - Published




Man says he's the mystery hero from El Paso Walmart shooting: 'Very good possibility it's him'

A man has come forward, saying he's the one who saved a baby from gunfire at a Walmart in El Paso. Police say there's a "good possibility it's him."




USATODAY.com - Published




Mexican migrants removed from border camp after family separation threat

Mexican authorities on Tuesday removed almost 100 Mexican migrants seeking asylum in the United States from a camp in downtown Ciudad Juarez, across the border from El Paso, Texas, according to a..




Reuters - Published




US mass killings hit new high in 2019, most were shootings

WASHINGTON: The first one occurred 19 days into the new year when a man used an ax to kill four family members including his infant daughter. Five months later, 12 people were killed in a workplace..




WorldNews - Published





Walmart unveils memorial for El Paso mass shooting victims

The memorial to the El Paso shooting victims, called the "Grand Candela," was welcomed by the public at the Walmart on Saturday.




USATODAY.com - Published




Shifting asylum 'burden': U.S. sends Guatemala first Honduran migrant

The first foreign asylum-seeker arrived in Guatemala on Thursday from El Paso, Texas, under a U.S. agreement that establishes it as a so-called safe third country to process people fleeing persecution..




Reuters - Published