Amy Klobuchar
United States Senator from Minnesota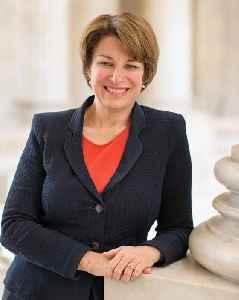 Amy Jean Klobuchar is an American lawyer and politician serving as the senior United States senator from Minnesota since 2007. A member of the Minnesota Democratic–Farmer–Labor Party (DFL), Minnesota's affiliate of the Democratic Party, she previously served as the Hennepin County attorney. She announced her candidacy for the Democratic nomination for president of the United States in the 2020 election on February 10, 2019; on March 2, 2020, she suspended her campaign and endorsed Joe Biden.


Senate panel approves Trump court pick over Dem boycott

The Republican-led U.S. Senate Judiciary Committee on Thursday approved President Donald Trump's nomination of Amy Coney Barrett to a lifetime Supreme Court seat despite a Democratic boycott, clearing..
Credit: Reuters - Politics Duration: 02:02
Published
You Might Like



Klobuchar: GOP need not "go lockstep" with Trump on SCOTUS pick

Senator Klobuchar urged her Republican colleagues to "look in their own souls" and make their own decision.




CBS News - Published





Senator Klobuchar on Justice Ruth Bader Ginsburg and upcoming Supreme Court confirmation battle

Minnesota Senator Amy Klobuchar, a member of the Senate Judiciary Committee, joins "CBS This Morning" to discuss Justice Ruth Bader Ginsburg's legacy and the upcoming battle to replace the late..




CBS News - Published





2/6: CBSN AM

President Trump's gives speech on theme of "unity"; Senator Klobuchar expected to run for President




CBS News - Published




'We are not safe in Donald Trump's America': Biden, Trump campaigns spar over blame for violent protests

"It is happening under Donald Trump's watch," Sen. Klobuchar said, echoing Biden's response to the claim that Democrats are to blame for the unrest.




USATODAY.com - Published





Senator Amy Klobuchar trying to fight her way into the Democrats' top tier

As Democratic candidates prepare to take the debate stage in Iowa, there is a great deal at stake for Senator Amy Klobuchar. CBS News campaign 2020 reporter Bo Erickson has been following Klobuchar on..




CBS News - Published





Who's the Best Pick for Biden's Running Mate? Democrats Weigh In

A study suggests many Democrats agree with Amy Klobuchar: Joe Biden should choose a woman of color.




NYTimes.com - Published





Klobuchar Withdraws as Candidate to Be Biden's Running Mate

Senator Amy Klobuchar of Minnesota, who fell short in her own presidential bid, was considered a strong contender until protests over racial justice prompted renewed scrutiny of her role as a..




NYTimes.com - Published





Due To COVID-19 And George Floyd, Sen. Warren Would Be A Better VP Than Klobuchar

Article by WN.Com Correspondent Dallas Darling "It feels like something that didn't have to happen." This is what Senator Elizabeth Warren said when asked about her older brother dying of the..




WorldNews - Published





Minnesota to toughen murder charge in George Floyd case, charge three other officers, Klobuchar says

Minnesota's attorney general will increase the murder charge against a fired Minneapolis police officer in the death of an unarmed black man that has triggered nationwide protests and will level..




Reuters - Published




Biden urged to pick black VP, not Klobuchar as Minneapolis killing stokes racial tensions

Joe Biden is facing fresh calls to choose a black woman for his running mate amid rising racial tensions after this week's videotaped killing of an unarmed black man by a white Minneapolis police..




Reuters - Published




Amy Klobuchar under scrutiny for 2006 case involving officer charged in George Floyd death

Klobuchar was elected to the Senate in 2006 around the time that Derrick Chauvin was involved in the shooting that killed Wayne Reyes.




USATODAY.com - Published





Protests in Minnesota Renew Scrutiny of Klobuchar's Record as Prosecutor

Amy Klobuchar, now being considered as a potential vice-presidential candidate, oversaw several cases involving police shootings in Minneapolis during her years as a prosecutor.




NYTimes.com - Published





Joe Biden: I 'honest to God don't know who' VP pick will be

Asked whether Sen. Amy Klobuchar had been vetted by his team, Joe Biden said "no one has been vetted yet" for the vice-presidential slot.




USATODAY.com - Published





Sen. Klobuchar describes husband's COVID-19 bout

Minnesota Senator Amy Klobuchar and husband John Bessler told KSTP-TV about his bout with the coronavirus. He says he's recovered and gave plasma to researchers. (April 27)  




USATODAY.com - Published





America has been spared from Bernie Sanders' terrible ideas

The Democratic Party's brief flirtations with a far-left presidential candidate finally came to an end this past week. On Wednesday, self-described democratic socialist Sen. Bernie Sanders of Vermont..




WorldNews - Published





Biden Running Mate? Party Leaders Favor Former Female Rivals

Discussions with 60 Democratic officials found that three former candidates — Kamala Harris, Elizabeth Warren and Amy Klobuchar — were their leading choices, followed by Stacey Abrams.




NYTimes.com - Published





Cory Booker endorses Joe Biden as Democratic candidate for president

Booker follows in the footsteps of other former Democratic candidates in endorsing Biden such as Sen. Amy Klobuchar, Pete Buttigieg and Kamala Harris.




USATODAY.com - Published





Warren, Klobuchar, Harris, Gillibrand: Did gender sink Democratic women in 2020? Nope.

Elizabeth Warren is a disrupter at a time when many voters are exhausted by Donald Trump and looking for salve. That is why the odds are on Joe Biden




USATODAY.com - Published





Beto O'Rourke, joining Pete Buttigieg and Amy Klobuchar, endorses Joe Biden on eve of Super Tuesday

The day before Super Tuesday, Beto O'Rourke threw his support behind former Vice President Joe Biden as the 'clear contrast to Donald Trump.'




USATODAY.com - Published





Bernie Sanders won Minnesota's 2016 Democratic primary. He might win again with Amy Klobuchar's exit from the race

With Amy Klobuchar out of the Democratic primary field, Bernie Sanders emerges as frontrunner to win Minnesota on Super Tuesday.




USATODAY.com - Published





US election 2020: Joe Biden boosted on Super Tuesday

Ms Klobuchar, a Minnesota senator, suspended her campaign and endorsed Mr Biden on...




WorldNews - Published





Biden campaigns in Texas with Klobuchar endorsement

Former US Vice Presient Joe Biden gave his final speech in Texas Monday night before voters in the state head to the polls in what will be a huge day in the Democratic presidential nominating contest...




USATODAY.com - Published





Moderate Democrats close ranks as Buttigieg, Klobuchar endorse Biden

Former rivals Pete Buttigieg and Amy Klobuchar endorsed Joe Biden's presidential candidacy on Monday on the eve of Super Tuesday voting, as moderate Democrats rallied around the former vice president..




Reuters - Published




Klobuchar, Buttigieg to join Biden on stage on Super Tuesday eve

Former Vice President Joe Biden's Democratic presidential bid picked up steam on Monday with the endorsements of two former 2020 rivals - Pete Buttigieg and Amy Klobuchar - who planned to join him on..




Reuters - Published




AP Top Stories March 2 P

Here's the latest for Monday, March 2nd: Six dead from coronavirus in Washington state; Amy Klobuchar ends presidential campaign; Dozens of hostages at Philippine mall released; Salvage firm wants to..




USATODAY.com - Published





Pete Buttigieg Will Endorse Joe Biden for Democratic Nomination

The news comes one day after Mr. Buttigieg dropped out of the race, and as Senator Amy Klobuchar planned to leave the race and endorse Mr. Biden.




NYTimes.com - Published




Moderate Klobuchar's 'stealth campaign' for U.S. presidency comes to an end

Amy Klobuchar, a U.S. senator from Minnesota whose wit and straightforward Midwestern style won key endorsements and bolstered her long-shot campaign, is ending her bid for the Democratic presidential..




Reuters - Published




Biden lands backing of former rivals Klobuchar, Buttigieg ahead of Super Tuesday

Former Vice President Joe Biden's quest for the Democratic presidential nomination was set to pick up the endorsements of two former rivals on Monday, as Amy Klobuchar became the third candidate to end..




Reuters - Published




Factbox: Five Democrats remain in fight for U.S. presidential nomination

The field of candidates seeking the U.S. Democratic presidential nomination dropped to five with Monday's departure of U.S. Senator Amy Klobuchar of Minnesota as the race now heads to voters in 14..




Reuters - Published




Amy Klobuchar Drops Out of Presidential Race and Plans to Endorse Biden

Ms. Klobuchar made her decision hours before Super Tuesday. She shocked the primary field with a third-place finish in New Hampshire, but ultimately could not compete with better-funded rivals.




NYTimes.com - Published





With her 'Klomentum' gone, Amy Klobuchar ends her bid for the Democratic presidential nomination

The Minnesota Democrat's exit will be welcome news to the candidates trying to claim the centrist mantle, including former Vice President Joe Biden.




USATODAY.com - Published

Also reported by •Reuters


Amy Klobuchar ends bid to challenge Trump

The moderate Minnesota senator is expected to endorse Joe Biden.




BBC News - Published





Klobuchar's Challenge: Recreating a New Hampshire Surge in 14 States

Amy Klobuchar is blitzing Super Tuesday contests across the country, targeting moderates, independents and Republicans in a bid to stay alive in the 2020 race.




NYTimes.com - Published





Myon Burrell supporters shut down Klobuchar event as she returns to Minnesota for Super Tuesday

The protesters were critical of Klobuchar's role in prosecuting Myon Burrell, who they say was wrongfully sentenced to life in prison for the fatal shooting of an 11-year-old girl.




USATODAY.com - Published





Minnesota tough with real world skills: Why Amy Klobuchar has my vote and should get yours

Lunch with Klobuchar at the Capitol was a master class. She didn't confront passing senators, she courted them by listening and talking principles.




USATODAY.com - Published





6 Takeaways From the Democratic Debate in South Carolina

With 17 contests at stake over the next week, the night took on a frenetic pace. Sanders faced the most scrutiny yet, Warren continued to bite into her rivals and Buttigieg and Klobuchar faded.




NYTimes.com - Published




Why Amy Klobuchar Voted for Many of Trump's Judicial Nominees

The Minnesota senator is running for president on her bipartisan record. But some Democrats and civil rights groups say she went too far in supporting judges chosen by the current administration.




NYTimes.com - Published





U.S. Democrat Klobuchar's campaign raised $5.5 million in January

U.S. Senator Amy Klobuchar's presidential campaign raised $5.5 million in January, leaving her with $2.9 million at the end of the month, according to disclosures her campaign filed on Thursday.




Reuters - Published





How Amy Klobuchar Suddenly Became a Rival Worth Attacking

Ms. Klobuchar was helped by newspaper endorsements and a relative lack of scrutiny from other candidates — until Wednesday night's debate.




NYTimes.com - Published





Is Amy Klobuchar a shoo-in to win her home state Minnesota on Super Tuesday?

Minnesota's primary might turn out a more progressive wing of the DFL party that's drawn to Bernie Sanders rather than to moderate Klobuchar.




USATODAY.com - Published