Sonia Gandhi
Indian politician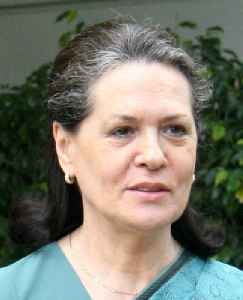 Sonia Gandhi is an Indian politician. She is the president of the Indian National Congress, the left-of-centre political party, which has governed India for most of its post-independence history. She took over as the party leader in 1998, seven years after the assassination of her husband, Rajiv Gandhi, a former Prime Minister of India, and remained in office for nineteen years.


If China didn't infiltrate, how our 20 soldiers got killed: Sonia Gandhi

All India Congress Committee interim president, Sonia Gandhi, raised questions over the killing of 20 soldiers of Indian Army during clash with China at eastern Ladakh's Galwan Valley. In a video..
Credit: ANI Duration: 01:52
Published
India-China face off: Raman Singh pays homage to fallen soldiers

While speaking to ANI in Raipur on June 18, the former chief minister of Chhattisgarh, Dr Raman Singh spoke on sacrifice of Indian Army jawans in Galwan Valley clash on June 15. He said, "The incident..
Credit: ANI Duration: 01:43
Published
'Truth is on my side', says Arnab Goswami as he appears before Mumbai Police

Republic TV editor-in-chief Arnab Goswami appeared before Mumbai Police on June 10. The Bombay High Court has asked Goswami to present before Mumbai Police for an inquiry. Several FIRs have been filed..
Credit: ANI Duration: 01:36
Published
'India heard poor's pain, Centre hasn't': Sonia Gandhi

Congress interim president, Sonia Gandhi on May 28 targeting the BJP-led central government said that from past two months, the country is suffering through economic crises while battling against the..
Credit: ANI Duration: 01:35
Published
Jharkhand CM Soren provides nutritious food at quarantine centers

Jharkhand Chief Minister, Hemant Soren is continuously working to contain spread of the COVID-19. The government is providing nutritious food to people at quarantine centers everyday to increase their..
Credit: ANI Duration: 01:09
Published
Centre should engage in dialogue with all political parties: Opposition

The opposition parties held a virtual meeting and demanded that Prime Minister Narendra Modi-led government should engage in dialogue with all political parties to find a way in the crisis of COVID-19..
Credit: ANI Duration: 02:09
Published
You Might Like



No threat to Ashok Gehlot government, Rajasthan Congress on Sachin Pilot's Delhi visit

Congress General Secretary In-Charge of Rajasthan, Avinash Pandey has submitted a report to party's interim president Sonia Gandhi and said that there's no threat to the government in state.




DNA - Published





Sonia Gandhi appoints Hardik Patel as working president of Congress' Gujarat unit

He had joined the Congress in 2017 ahead of the Gujarat Assembly polls.




DNA - Published





Sachin Pilot in Delhi, seeks time to meet Cong chief Sonia Gandhi

Rajasthan deputy chief minister Sachin Pilot has arrived in Delhi to meet party high command and has sought time for a meeting with Congress interim President Sonia Gandhi, sources said on Sunday.




IndiaTimes - Published





Sachin Pilot to join BJP? Twitter flooded with memes after Cong leader arrives in Delhi

Twitter was flooded with posts suggesting that Pilot will join BJP soon after reports of him arriving in Delhi to meet Sonia Gandhi emerged.




DNA - Published





Sachin Pilot arrives in Delhi, seeks meeting with Sonia Gandhi over 'step-motherly treatment' by Ashok Gehlot govt

Sources said that at least a dozen MLAs from Pilot's camp are also staying put in Delhi-NCR.




DNA - Published





Congress MPs chorus for Rahul as party chief

With Sonia Gandhi's term as "interim" Congress president nearing completion, a chorus of party MPs has broken out, demanding that Rahul Gandhi return to the helm of the organisation. Sonia..




IndiaTimes - Published





Uttam Kumar Reddy urges Sonia Gandhi to write to PM Modi about gross undertesting for Covid-19 in Telangana




IndiaTimes - Published





Demands for Rahul Gandhi to take over as party chief dominate Congress meet on Covid-19

A meeting of Congress Lok Sabha MPs called by party president Sonia Gandhi to discuss the Covid-19 pandemic and the political situation in the country was dominated by calls for Rahul Gandhi to take..




IndiaTimes - Published





Sonia Gandhi holds meet with Congress Lok Sabha MPs to discuss political, Covid-19 situation in India




IndiaTimes - Published





Sonia, Rahul myopic on private investment in Railways, Congress directionless: Piyush Goyal

Union Minister Piyush Goyal on Wednesday condemned the "myopic thinking" of Congress President Sonia Gandhi and her son Rahul Gandhi for their criticism of initiative by Railways towards private..




IndiaTimes - Published





Sonia Gandhi's demand for OBC seat reservation in NEET is for social justice: Priyanka Gandhi

Lending her support to Congress President Sonia Gandhi's demand for reservation of seats for Other Backward Class (OBC) students in medical institutions in the states/UTs under the national quota in..




IndiaTimes - Published





Sonia Gandhi writes to PM Modi over denial of OBC reservation in all India quota filled through NEET




IndiaTimes - Published





MP minister demands CBI probe against Sonia, Rahul Gandhi, Kamal Nath on their Chinese links

Madhya Pradesh Minister Kamal Patel wrote a letter to Union Home Minister Amit Shah demanding a CBI probe against Congress president Sonia Gandhi, party leader Rahul Gandhi and former Madhya Pradesh..




IndiaTimes - Published





Dharmendra Pradhan slams Sonia Gandhi over her remarks on fuel price hike

Union minister Dharmendra Pradhan on Monday slammed Congress chief Sonia Gandhi over her charge that the Centre was 'extorting money from people' and her demand seeking immediate rollback of fuel price..




IndiaTimes - Published





Congress holds nationwide protests against fuel price hike; Sonia, Rahul slam Centre

The Congress on Monday organised protests in several cities across the country against the increase in fuel prices and demanded immediate roll back of the hike. Congress president Sonia Gandhi attacked..




IndiaTimes - Published

Also reported by •DNA


Govt 'extorting' people with fuel price hikes: Sonia Gandhi




IndiaTimes - Published




Congress didn't criticise China while questioned Modi govt on Ladakh standoff: Union minister

Union minister Ravi Shankar Prasad on Sunday lashed out at the Congress, accusing it of "not criticising China" while "posing questions" to the Prime Minister Narendra Modi-led Union government over..




IndiaTimes - Published





'Will it stop Chinese incursions?': Shiv Sena slams BJP over 'diversion of PMNRF money to RGF' charge on Congress

Sena slammed BJP for accusing Congress of receiving funds from China instead of responding to the questions raised by Sonia Gandhi and Rahul Gandhi.




DNA - Published





If China hasn't occupied territory, why were our 20 soldiers martyred, asks Sonia Gandhi

Congress president Sonia Gandhi on Friday said the central government cannot shirk its responsibility of securing our borders with China and asked Prime Minister Narendra Modi to take the nation into..




IndiaTimes - Published





Nadda attacks Rahul Gandhi, Sonia Gandhi, says a rejected dynasty not equal to entire opposition

A day after the Congress working committee passed remarks critical of the government's handling of the ongoing tension at the India-China border and also the Covid-19 crisis, the BJP president JP..




IndiaTimes - Published





Mismanagement, wrong policies by Centre causing crisis in nation: Sonia Gandhi at CWC

Congress interim President Sonia Gandhi on Tuesday chaired a meeting of the Congress Working Committee (CWC) via video conference on the situation along the Line of Actual Control (LAC) and the..




IndiaTimes - Published





Crisis along LAC attributable to mismanagement of Modi govt: Sonia Gandhi

Congress president Sonia Gandhi on Tuesday said the current crisis on the border with China is attributable to the mismanagement of the BJP-led government and the wrong policies pursued by it...




IndiaTimes - Published





Sonia Gandhi writes to PM Modi, seeks extension of free food grains to poor for 3 more months

Congress president Sonia Gandhi on Monday wrote to Prime Minister Narendra Modi, requesting him to extend by three more months the government provision to provide free food grains to the poor. In her..




IndiaTimes - Published





Sonia asks govt if there was intel failure

Seeking greater scrutiny of the Chinese aggression and India's response, Congress president Sonia Gandhi asked PM Modi to disclose when the Chinese forces intruded into the country and if there was..




IndiaTimes - Published





All parties back govt against China, Congress seeks details of intrusion: Who said what

Sonia Gandhi targeted the government over its handling of "intrusions" by China in Eastern Ladakh, saying it lost time, "failed" to use all avenues which resulted in loss of lives of 20 soldiers in..




DNA - Published





Was there intelligence failure on situation along LAC with China: Sonia asks govt at all-party meet

Congress president Sonia Gandhi on Friday asked the government whether there was any intelligence failure on the situation along the LAC where 20 army personnel were killed in a violent face-off with..




IndiaTimes - Published





All-party meeting on China: Sonia Gandhi demands regular briefing, Mamata says stand solidly with govt

The meeting began with participants paying tributes to the martyred Indian soldiers and a presentation from Defence Minister Rajnath Singh.




DNA - Published





PM to Convene All-Party Meet on China Tensions; AAP, RJD Excluded

Prime Minister Narendra Modi is all set to convene an all-party meeting on Friday, 19 June evening to discuss developments at the LAC and prevailing India-China tensions. While a large number of..




WorldNews - Published





Sonia Gandhi removes Sanjay Jha as Congress spokesperson

Even after his removal as the party spokesperson, Sanjay Jha only seemed to take it upon himself to amplify the point that he was making.




DNA - Published





Sonia pays homage to soldiers, asks PM to tell nation the 'truth'

Congress president Sonia Gandhi on Wednesday asked PM Modi to tell the country how China managed to intrude into Indian territory and kill 20 soldiers, underlining that the "enemy" has been sitting..




IndiaTimes - Published





Congress removes Sanjay Jha as spokesperson after critical article

Congress president Sonia Gandhi on Wednesday removed Sanjay Jha as a party spokesperson, days after he wrote a newspaper article critical of the party.




IndiaTimes - Published





PM should tell nation how Chinese occupied Indian territory: Sonia Gandhi




IndiaTimes - Published





Shiv Sena likens Congress to 'old creaking cot', says govt is stable

The Shiv Sena on Tuesday called its ally Congress an "old creaking cot" following the Sonia Gandhi-led party grumbling about not having enough say in the ruling coalition, but also asserted that there..




IndiaTimes - Published





Ahmed Patel refuses to appear before ED, says many officers Covid positive

Citing fears of contracting coronavirus at Enforcement Directorate headquarters, Ahmed Patel, the political secretary to Congress president Sonia Gandhi, refused to appear before the investigating..




IndiaTimes - Published





Modi govt grudgingly realised importance of MNREGA, don't make it BJP vs Cong issue, says Sonia Gandhi




IndiaTimes - Published





Deve Gowda to contest June 19 Rajya Sabha polls from Karnataka

The Former Prime Minister made his decision following the request of Congress President Sonia Gandhi, several national leaders and party legislators, and it was not an easy task to "persuade" him to..




IndiaTimes - Published





Entire nation, except govt, heard cries of migrants: Sonia Gandhi




IndiaTimes - Published





Sonia Gandhi asks Centre to unlock coffers to help needy




IndiaTimes - Published





PM Modi's economic package 'cruel joke on country': Sonia Gandhi

Sonia Gandhi said the government is uncertain about the criteria for enforcing the lockdown with no exit strategy and has "cruelly ignored" scores of migrant workers and the 13 crore families in the..




DNA - Published





Opp parties attack govt over handling of Covid crisis; Sonia Gandhi says PM's economic package 'cruel joke on country'

Launching a no-holds-barred attack against the Modi government on Friday over its handling of the Covid crisis, 22 opposition parties accused it of "unabashedly usurping" powers of states and..




IndiaTimes - Published





Opposition disconnected from people, doing negative politics: Javadekar

Accusing the opposition of "double speak", the BJP on Friday slammed it as well as Congress president Sonia Gandhi for their criticism of the Narendra Modi government over its handling of the..




IndiaTimes - Published





Govt uncertain on lockdown criteria, has no exit strategy: Sonia Gandhi at opposition meet




IndiaTimes - Published





Karnataka: FIR filed against Cong interim chief Sonia Gandhi over tweets questioning PM Cares fund

A First Information Report (FIR) has been filed against Congress interim Chief Sonia Gandhi for her "misleading tweets" made from party~s official twitter handle INCIndia on May 11 about PM CARES fund..




DNA - Published





SP, BSP to skip Cong-led oppn meeting, AAP not invited yet

SP and BSP will stay away from the meeting of opposition parties called by Congress president Sonia Gandhi to discuss Centre's response to the coronavirus pandemic on Friday. Sources said SP and BSP..




IndiaTimes - Published





BJP indulging in vendetta politics: Congress after FIR against Sonia Gandhi




IndiaTimes - Published





Case filed against Sonia Gandhi for Congress tweet on PM-CARES Fund

A case has been registered against Sonia Gandhi in Karnataka in connection with a tweet posted on the party's official handle alleging misuse of PM-CARES Fund, police said. The Sagara town police in..




IndiaTimes - Published





FIR against Congress chief Sonia Gandhi in Karnataka's Shivamogga over tweets on PM-CARES Fund

The FIR, registered under Sections 153 (wantonly giving provocation with intent to cause riot) and 505 (statements conducing to public mischief) of the Indian Penal Code (IPC), identifies Gandhi as the..




IndiaTimes - Published





Sonia Gandhi launches Rajiv Gandhi Nyay Yojya for farmers in Chhattisgarh; terms it 'true tribute' to ex-PM

Congress president Sonia Gandhi launched the Rajiv Gandhi Kisan Nyay scheme in Chhattisgarh through video conferencing on Thursday and said this was a true tribute to the former prime minister.




IndiaTimes - Published





For 1st time ever, Uddhav Thackeray to attend a meet led by Sonia Gandhi




IndiaTimes - Published





Rajiv Gandhi Kisan Nyay Yojana: Sonia Gandhi, Rahul Gandhi to attend inaugural programme via video conferencing




IndiaTimes - Published