United States Senate Committee on the Judiciary
Standing committee of the United States Senate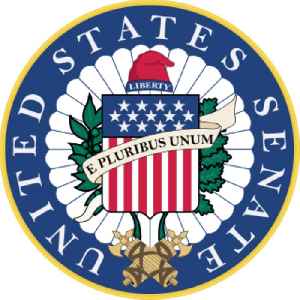 The United States Senate Committee on the Judiciary, informally the Senate Judiciary Committee, is a standing committee of 22 U.S. Senators whose role is to oversee the Department of Justice (DOJ), consider executive and judicial nominations, and review pending legislation.


U.S. Senate panel approves subpoena power in Trump-Russia probe

A divided Senate Judiciary Committee approved sweeping subpoena power on Thursday for a politically charged congressional probe of an FBI investigation into Republican President Donald Trump's 2016..
Credit: Reuters Studio Duration: 01:48
Published
GOP Senate's subpoena power 'unprecedented': Feinstein

Democratic Senator Dianne Feinstein, who is the ranking member of the Senate Judiciary Committee, on Thursday urged her colleagues on a Senate panel to vote against a resolution granting subpoena..
Credit: Reuters Studio Duration: 01:06
Published
You Might Like



Republicans Secure More Subpoena Power in Push to Discredit Russia Inquiry

Republicans on the Senate Judiciary Committee authorized their chairman to subpoena dozens of F.B.I. and former Obama administration officials, including a top aide to Joseph R. Biden Jr.




NYTimes.com - Published





U.S. Senate panel approves subpoena authority in Trump-Russia probe

A divided Senate Judiciary Committee approved sweeping subpoena power on Thursday for a politically charged congressional probe of an FBI investigation into Republican President Donald Trump's 2016..




Reuters - Published




Senate to hold 'deep dive' review of Floyd death

After widespread unrest, Senate Judiciary Committee Chairman Lindsey Graham announces hearings into the death of George Floyd, the police use of force and the treatment of black people in the United..




USATODAY.com - Published





Democratic U.S. senator blasts Graham's subpoena push as political attack

A senior U.S. Democrat on Thursday accused the Republican chairman of the powerful Senate Judiciary Committee of trying to misuse subpoena powers for an attack on President Donald Trump's political..




Reuters - Published





Sen. Lindsey Graham announces new Russia probe amid Flynn controversy

Senate Judiciary Committee Chairman Lindsey Graham said Thursday his committee is opening a wide-ranging investigation into the origins of the Russia investigation, but rejected President Donald..




WorldNews - Published





Judge Justin Walker Faces Scrutiny in Bid for Seat on Powerful Appeals Court

No stranger to partisan warfare at 37, Judge Justin Walker will go before the Senate Judiciary Committee, which is considering him for a seat on the D.C. Court of Appeals.




NYTimes.com - Published





U.S. lawmakers to hold hearing on bill that fights child sexual abuse while threatening encryption

The Senate Judiciary Committee said on Wednesday it would hold a hearing on March 11 to discuss legislation aimed at curbing the online distribution of child sexual abuse material and penalizing..




Reuters - Published





Pelosi says House will send Trump impeachment articles to Senate next week, setting stage for trial soon

Nancy Pelosi has asked the Judiciary Committee to draft a resolution that would name House managers, who will act as prosecutors in a Senate trial.




USATODAY.com - Published





Senate Republican eyes rule change to kick start Trump impeachment trial

The head of the U.S. Senate Judiciary Committee said on Sunday he wants the Senate to launch an impeachment trial of President Donald Trump within days and wrap it up this month, even if it means..




Reuters - Published




The Breach Widens as Congress Nears a Partisan Impeachment

Fleeting efforts at persuasion by members of the Judiciary Committee gave way to disputes over basic facts during a marathon debate over articles of impeachment.




NYTimes.com - Published





5 things Republicans tried to change in the impeachment articles against Trump

Included in the amendments proposed by Republican members of the Judiciary Committee were efforts to remove both articles of impeachment altogether.




USATODAY.com - Published





U.S. House committee postpones votes on articles of impeachment

U.S. lawmakers will vote Friday on whether to move forward with impeaching Republican President Donald Trump, as the Democratic head of the Judiciary Committee shocked Republicans by declining to hold..




Reuters - Published




Withering Criticism of F.B.I. as Watchdog Presents Russia Inquiry Findings

At a Senate Judiciary Committee hearing, the Justice Department's inspector general recounted egregious problems with wiretap files.




NYTimes.com - Published





How Lawmakers Will Debate Articles of Impeachment

The deliberative, sometimes tedious process lets members of the Judiciary Committee propose changes to the articles of impeachment before voting to recommend them to the full House. It can get messy.




NYTimes.com - Published





Trump's Lawyers Won't Participate in Impeachment Hearing on Wednesday

They did not rule out future participation, but said they will not appear at the Judiciary Committee's first public hearing, featuring legal experts who will offer assessments on impeachment.




NYTimes.com - Published





House Intelligence Committee set to review Ukraine report Monday, vote expected Tuesday

The House Intelligence Committee is set to review a report on the impeachment inquiry Monday. They are expected to vote to adopt the report on Tuesday, which will send it to the Senate Judiciary..




CBS News - Published





Collins requests extra witnesses at impeachment hearing

The White House is unlikely to send legal representation to the first impeachment hearing by the Judiciary Committee




CBS News - Published





House Judiciary Panel Asks Trump if He Will Present Impeachment Defense

Representative Jerrold Nadler, the chairman of the Judiciary Committee, gave the president until next Friday to say if he will present evidence or call witnesses.




NYTimes.com - Published





Judiciary Committee to hold first impeachment hearing next week

The first hearing will feature testimony from legal experts about the constitutional grounds for impeachment




CBS News - Published





Giuliani defends Trump as Judiciary Committee takes next steps in impeachment inquiry

House Democrats are wrapping two weeks of televised impeachment inquiry hearings. House Democrats will prepare a report on the impeachment inquiry, it's then up to the Judiciary Committee to decide..




CBS News - Published





Sen. Amy Klobuchar says Kavanaugh's history of "excessive drinking" relevant to FBI investigation

Member of the Senate Judiciary Committee Sen. Amy Klobuchar, D-Minnesota, joins John Dickerson to discuss the purpose of the FBI investigation.




CBS News - Published





Graham says Mueller investigation is "over for me"

Sen. Lindsey Graham joins Margaret Brennan to discuss Attorney General William Barr's upcoming testimony to the House and Senate Judiciary Committees.




CBS News - Published





Open: This is "Face the Nation," August 25

This week on "Face the Nation," Margaret Brennan talks National Economic Council Director Larry Kudlow, Senate Judiciary Committee Chairman Lindsey Graham, 2020 Democratic presidential candidate..




CBS News - Published




Graham warns Trump against "really risky" drawdown of troops in Afghanistan

Republican Sen. Lindsey Graham of South Carolina, chairman of the Senate Judiciary Committee, joins Margaret Brennan to discuss President Trump's demand that U.S. businesses look for an alternative..




CBS News - Published




Why the anger of women is dismissed

This past week's Senate Judiciary Committee hearings, featuring Dr. Christine Blasey Ford and the man she has accused of sexually assaulting her many years ago, Supreme Court nominee Brett Kavanaugh,..




CBS News - Published





Ford and Kavanaugh: Who is believable?

The truth, as told by Dr. Christine Blasey Ford or Judge Brett Kavanaugh before the Senate Judiciary Committee this past week, is being judged by 100 senators -- and all of us, reports Jan Crawford.




CBS News - Published





Inside the decision to delay Brett Kavanaugh's Supreme Court confirmation

Sen. Jeff Flake explains why he insisted on a week-long FBI investigation into the allegations of sexual assault against Brett Kavanaugh. 60 Minutes spoke with Flake and other members of the Senate..




CBS News - Published





Trump stands by Barr after testimony

President Trump is sticking with his Attorney General William Barr after his testimony before the Senate Judiciary Committee. Some Democrats are calling for Barr to resign. CBSN political contributor..




CBS News - Published





U.S. antitrust chiefs face Senate grilling on collaboration, interference

Top U.S. antitrust enforcers go before the Senate Judiciary Committee's antitrust panel on Tuesday at a time when a little- watched series of laws designed to protect consumers from monopolies are..




Reuters - Published





Factbox: Big Tech faces growing number of federal, state probes

U.S. antitrust enforcers testify before the Senate Judiciary Committee's antitrust panel on Tuesday as the number of antitrust probes into big tech companies grows.




Reuters - Published





8/25: Larry Kudlow, Lindsey Graham, Anthony Salvanto

This week on "Face the Nation," Margaret Brennan talks National Economic Council Director Larry Kudlow, Senate Judiciary Committee Chairman Lindsey Graham, 2020 Democratic presidential candidate..




CBS News - Published





Sunday: Graham, Klobuchar, Bolten

Senate Judiciary Committee Chairman Lindsey Graham, Sen. Amy Klobuchar and President & CEO of the Business Roundtable Josh Bolten will appear on "Face the Nation" this Sunday




CBS News - Published




FBI Declines To Reveal Information About Domestic Terrorism Arrests

On July 23, FBI Director Christopher Wray told the Senate Judiciary Committee federal investigations of domestic terrorism had led to some 100 arrests in the last nine months, TruthDig reports. While..




WorldNews - Published





Mueller corrects testimony on question about charging Trump

Former special counsel Robert Mueller took a moment in testimony before the House Intelligence Committee to correct an answer he had given to Rep. Ted Lieu in his earlier appearance before the..




CBS News - Published





Google finally says it will kill censored Chinese search engine Project Dragonfly

Google has finally said its controversial project to build a censored search engine for China has been "terminated". Speaking at a Senate Judiciary Committee hearing on Tuesday, Google's vice president..




WorldNews - Published





'I'm an opportunist': With all eyes on the Judiciary Committee, the office across the hall seeks to capitalize

For months, all eyes have been on the House Judiciary Committee. With his office across the hall, Rep. Brian Babin sees an opportunity.




USATODAY.com - Published




House panel to move quickly to force former Trump counsel to obey subpoena: Nadler

The chairman of the Judiciary Committee in the U.S. House of Representatives said on Tuesday his panel would move as quickly as possible to go to court to force President Donald Trump's former counsel..




Reuters - Published





Senator Richard Blumenthal grills DHS Secretary on US-Mexico deal

Acting Secretary of Homeland Security Kevin McAleenan questioned in Senate Judiciary Committee on US-Mexico deal. (June 11)  




USATODAY.com - Published




Nadler says DOJ to provide "key evidence" from Mueller report

The full House of Representatives still plans to vote Tuesday to authorize the Judiciary Committee to seek court approval to enforce Barr and McGahn subpoenas




CBS News - Published





House to vote on holding Barr, McGahn in contempt next week

WASHINGTON — A top Democrat announced Monday that the House will vote next week on whether to hold Attorney General William Barr and former White House counsel Don McGahn in contempt of Congress for..




WorldNews - Published





William Barr just contradicted himself over a key claim he's made about Mueller's obstruction findings

Attorney General William Barr contradicted himself in a significant way during an exclusive interview with CBS News, during which he revealed that the Department of Justice (DOJ) "didn't agree with the..




WorldNews - Published