Benin
Country in Africa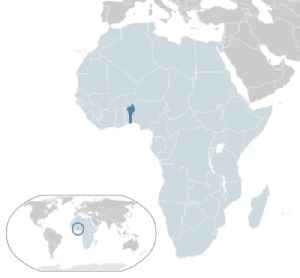 Benin, officially the Republic of Benin and formerly Dahomey, is a country in West Africa. It is bordered by Togo to the west, Nigeria to the east, and Burkina Faso and Niger to the north. The majority of its population lives on the small southern coastline of the Bight of Benin, part of the Gulf of Guinea in the northernmost tropical portion of the Atlantic Ocean. The capital of Benin is Porto-Novo, but the seat of government is in Cotonou, the country's largest city and economic capital. Benin covers an area of 114,763 square kilometres (44,310 sq mi) and its population in 2016 was estimated to be approximately 10.87 million. Benin is a tropical nation, highly dependent on agriculture, and is a large exporter of cotton and palm oil. Substantial employment and income arise from subsistence farming.


Your money: Should you pay to stop phone spam?
If your phone log is anything like mine, the list of incoming scam calls makes it look like you work for the State Department: Sri Lanka, Lithuania, Russia, Bosnia, Benin, Croatia and Sierra Leone......
WorldNews - Published
Kidnapped French tourists were in Benin 'red zone': minister
Laurent Lassimouillas, left, and Patrick Picque were freed by French special forces in Burkin Faso after being kidnapped in neighbouring Benin The two French tourists rescued from their kidnappers in..
WorldNews - Published
Benin lake community: Fishermen struggling to stay afloat
For more than 250 years, people have been living on the water in what's thought to be Africa's largest lake community.
Credit: Al Jazeera STUDIO Duration: 02:14Published
Benin elections: Protesters call for president to resign
In Benin, protesters are still demanding the president resign after days of violent demonstrations.
Credit: Al Jazeera STUDIO Duration: 02:37Published
Hostages Freed In Burkina Faso Offer Condolences For Fallen French Commandos
According to Reuters, hostages freed by French commandos from militants in Burkina Faso offered their condolences on Saturday to the families of the two French soldiers killed in the rescue operation...
Credit: Wochit News Duration: 00:35Published
Benin post-election violence: Military patrol Cotonou streets
Uneasy standoff with soldiers in Benin, opposition call for international mediation after last week's election.
Credit: Al Jazeera STUDIO Duration: 02:10Published
Protesters in Benin clash with police in post-election violence
Hundreds of demonstrators man barricades in country's economic capital for second day following election results.
Credit: Al Jazeera STUDIO Duration: 01:37Published
Voter turnout low in Benin parliamentary elections
Few voters in Benin turn out for elections with opposition excluded and only two parties in competition.
Credit: Al Jazeera STUDIO Duration: 02:13Published
Benin elections: Opposition excluded, urges protests
Why this year's election in Benin has taken an interesting turn as voters prepare to head to the polls on Sunday.
Credit: Al Jazeera STUDIO Duration: 02:28Published
Benin elections move forward despite no opposition party
The Electoral Commission says that none of the opposition parties met the new electoral code, but the opposition says it is an attempt to ensure the National Assembly supports president's agenda.
Credit: Al Jazeera STUDIO Duration: 02:22Published
Search this site and the web:
You Might Like