Ivory Coast
State in West Africa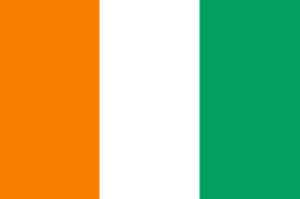 Ivory Coast or Côte d'Ivoire, officially the Republic of Côte d'Ivoire, is a country located on the south coast of West Africa. Ivory Coast's political capital is Yamoussoukro in the centre of the country, while its economic capital and largest city is the port city of Abidjan. It borders Guinea and Liberia to the west, Burkina Faso and Mali to the north, Ghana to the east, and the Gulf of Guinea to the south.


Paris shops looted, woman dead after Algerian football fans run amok in France
Shops in central Paris were looted and a woman was killed in a high-speed car crash in southern France in what the government slammed Friday as "unacceptable" unrest following a key victory for..
WorldNews - Published
The story of 'Mariam', held captive as a sex slave in Tripoli
On February 13, InfoMigrants received a distress call from a 16-year-old Ivorian girl being kept as a sex slave in Tripoli. For several weeks, journalists at InfoMigrants communicated with her on..
France 24 - Published
Algerians celebrate wildly after Africa Cup of Nations victory
Algeria won the Africa Cup of Nations for the second time on Friday when a freak second-minute goal by Baghdad Bounedjah gave them a 1-0 win over gallant Senegal in the final. Mia Womersley reports
Credit: Reuters Studio Duration: 01:33Published
From Ivory Coast to France, refugee tells story in music
Performances at Avignon theatre festival focus on how conflict, violence and poverty force people to leave their homes.
Credit: Al Jazeera STUDIO Duration: 02:29Published
West Africa economy: Leaders push for single currency ECO
West African leaders in Ivory Coast have agreed to roll out a single shared currency.
Credit: Al Jazeera STUDIO Duration: 02:22Published
Africa Cup of Nations: Arrests as Algerian football fans in France celebrate their team's progress
Arrests marred celebrations in Paris after Algeria's footballers defeated the Ivory Coast on penalties to qualify for the Africa Cup of Nations semi-finals.
Credit: euronews (in English) Duration: 00:43Published
Ivory Coast and Ghana suspend sales of cocoa
The two African governments hope to address the imbalance between farmers' income and money made by large commodity merchants. Producers and traders agreed on this course of action as the majority of..
Credit: euronews (in English) Duration: 01:07Published
Drones take to the skies for bigger Ivorian harvests
An Ivorian agri-tech company is introducing locally assembled and programmed drone technology to help farmers boost their crop production. Lauren Anthony reports.
Credit: Reuters Studio Duration: 01:40Published
Greater Noida: Foreigners detained for lack of papers escape from police custody
Almost all of those held were from eight African countries, including Nigeria, Kenya, Tanzania, Zambia, Ivory Coast and Angola.
DNA - Published
Algeria edge Ivory Coast on penalties to make Africa Cup of Nations semis
Algeria blew a 1-0 lead and a penalty in regulation time before scraping past Ivory Coast in a shootout to make the semifinals at the African Cup of Nations on Thursday.
France 24 - Published
Algeria beat Ivory Coast to reach Afcon semis
Bony and midfielder Serey Die missed penalties in the shootout as Algeria sealed a 4-3 victory over the Ivory Coast following an entertaining 1-1 Africa Cup of...
WorldNews - Published
Search this site and the web:
You Might Like