Brunei
Southeast Asian coastal sovereign state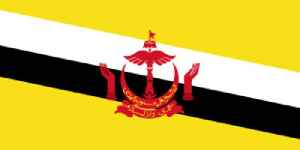 Brunei, officially the Nation of Brunei, the Abode of Peace, is a country located on the north coast of the island of Borneo in Southeast Asia. Apart from its coastline with the South China Sea, the country is completely surrounded by the Malaysian state of Sarawak. It is separated into two parts by the Sarawak district of Limbang. Brunei is the only sovereign state completely on the island of Borneo; the remainder of the island's territory is divided between the nations of Malaysia and Indonesia. Brunei's population was 423,196 in 2016.


Stoned to death for being gay? Americans immune to cruelty must wake up and speak out
Americans should condemn a penal code that sentences gays to death by stoning in the tiny nation of Brunei instead of immunizing ourselves to cruelty.
USATODAY.com - Published
Transgender teenager from Brunei seeks asylum in Canada
Zoella Zayce displays no photos of her family in her basement apartment in Vancouver, thousands of miles from where she left them in Brunei. The 19-year-old refugee claimant is a transgender woman,..
Reuters - Published
Fleeing Brunei: 'If I die, I lived a good life'
Nineteen year-old transgender refugee Zoella Zayce fled to Canada in 2018 from Brunei, which this month introduced the death penalty for homosexuality. This is her story in her words. Rough Cut (no..
Credit: Reuters Studio Duration: 01:26Published
Brunei gay man speaks out against anti-LGBT laws
Brunei's new Islamic sharia laws may "encourage" people to dislike the LGBT community even more, a Brunei gay national told Reuters. Edward Baran reports.
Credit: Reuters Studio Duration: 01:33Published
Brunei Hotel Boycott Highlights Struggles of LGBTQ Travelers
Activists and celebrities are boycotting hotels owned by the leader of Brunei — a country that penalizes same-sex intercourse with death.
Credit: Newsy Studio Duration: 02:37Published
Crowds surge past Dorchester Hotel barriers in protest at Brunei LGBT laws
Crowds surged through barriers outside the Dorchester Hotel and took their protest against Brunei's anti-LGBT laws to its front doors. More than 100 people, many bearing a mixture of rainbow flags,..
Credit: PA - Press Association STUDIO Duration: 00:59Published
Anti-Gay Law Causes Massive Backlash For Luxury Hotels
A growing call to boycott luxury hotels owned by the kingdom of Brunei has led to media trouble. The public outcry comes in response to the implementation of new Islamic laws, says CNN. The law makes..
Credit: Wochit News Duration: 00:51Published
Ardern: Brunei's new death penalty for gay sex 'fly in the face' of human rights
New Zealand's Prime Minister Jacinda Ardern denounces Brunei's decision to implement Islamic laws that would allow death by stoning for adultery and homosexuality. No reporter narration.
Credit: Reuters Studio Duration: 00:39Published
Brunei anti-LGBT laws: gay community, activists, and public figures speak out | #TheCube
Hollywood actor George Clooney led calls for a boycott of the luxury hotels owned by the Brunei Investment Agency, which is headed by the country's 72-year-old sultan.
Credit: euronews (in English) Duration: 02:27Published
Brunei to punish gay sex with death by stoning
Brunei has defended its right to implement Islamic laws that would allow death by stoning for adultery and homosexuality against growing global criticism. Megan Revell reports.
Credit: Reuters Studio Duration: 00:59Published
LGBT Community Flees Brunei's Stoning Laws
According to CNN.com, "When the tiny, oil-rich kingdom of Brunei first announced in 2013 that it would adopt strict Islamic laws, including death by stoning for gay sex, many in the country's LGBT..
Credit: Wochit News Duration: 00:48Published
Hotel Is Being Boycotted By George Clooney
According to CNN.com, "Film star George Clooney has called for a boycott of nine hotels because of their links to Brunei, where homosexual acts will from next week be punishable by death. In an opinion..
Credit: Wochit News Duration: 00:46Published
Brunei wants to punish gay sex with death by stoning – can boycotts stop it?
(The Conversation is an independent and nonprofit source of news, analysis and commentary from academic experts.) Paula Gerber, Monash University (THE CONVERSATION) The sultan of Brunei has been on the..
WorldNews - Published
Qld protesters rally against Brunei laws
Protesters have rallied in Brisbane against Brunei's sharia laws out front of the Royal on the Park Hotel.
SBS - Published
'A beacon of bigotry': Boycott Brunei movement targets Brisbane hotel
Australian LGBTI+ campaigners are calling for Australia to cut business ties with Brunei as Prime Minister Scott Morrison publically condemns the strict anti-gay laws for the first time.
SBS - Published
Brunei defends law punishing gay sex with death by stoning
The country says there has been a "misconception" in international understanding of the law
CBS News - Published
Brunei says gay sex law is 'preventive'
The country says implementing Islamic law over adultery and sex between men is aimed at prevention.
BBC News - Published
You Might Like