Brunei
Southeast Asian coastal sovereign state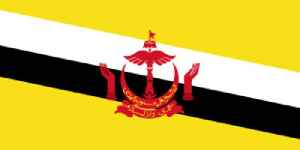 Brunei, officially the Nation of Brunei, the Abode of Peace, is a country located on the north coast of the island of Borneo in Southeast Asia. Apart from its coastline with the South China Sea, the country is completely surrounded by the insular Malaysian state of Sarawak. It is separated into two parts by the Sarawak district of Limbang. Brunei is the only sovereign state completely on the island of Borneo; the remainder of the island's territory is divided between the nations of Malaysia and Indonesia. Brunei's population was 428,963 in 2018. The government is an absolute monarchy under the Sultan which implements sharia law and directs Islamic practices.


Brunei reports first coronavirus death
Brunei reported its first coronavirus death on Saturday, that of a 64-year-old man.
Reuters - Published
Newly discovered species of snail named after teen climate change activist Greta Thunberg
The critter, which was discovered in Brunei on the island of Borneo, now has the scientific name after Greta Thunberg: Craspedotropis gretathunbergae  
USATODAY.com - Published
Bangkok: PM Modi to attend RCEP Summit today
RCEP is a proposed free trade agreement among 10 ASEAN countries, namely Brunei, Cambodia, Indonesia, Malaysia, Myanmar, Singapore, Thailand, the Philippines, Laos and Vietnam and their six FTA..
IndiaTimes - Published
China continues to bully others in South China Sea: US Pacific Fleet commander
The dispute in the SCS is between China and several others over the control of the Spratly Islands. Taiwan, Vietnam, the Philippines, Malaysia and Brunei have staked their claim over the islands.
IndiaTimes - Published
Indonesia president proposes to move capital to Borneo
By Agustinus Beo Da Costa and Maikel Jefriando JAKARTA (Reuters) - Indonesia's president on Friday proposed to move the capital from Jakarta, a crowded, polluted city of 10 million people, to the..
WorldNews - Published
Beijing: Negotiations For The World's Largest Free-Trade Agreement Making 'Positive Progress'
Chinese officials said the recent ten days of talks in Zhengzhou hosting the 27th round of negotiations for the Regional Comprehensive Economic Partnership made "positive progress," but the South China..
WorldNews - Published
'Major progress' on South China Sea code of conduct: Chinese Foreign Minister Wang Yi
Chinese Foreign Minister Wang Yi on Wednesday announced China and Asean countries had completed the first reading of the text to negotiate a joint code of conduct for the South China Sea ahead of..
WorldNews - Published