Lizzo
American singer, rapper, and songwriter from Minnesota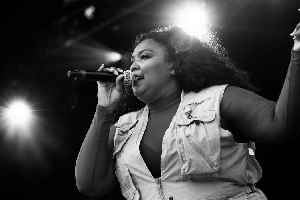 Melissa Viviane Jefferson, known professionally as Lizzo, is an American singer, rapper, songwriter, actress, and flutist. Born in Detroit, Michigan, she moved to Houston, Texas, where she began performing, before moving to Minneapolis, where she began her recording career. Before signing with Nice Life and Atlantic Records, Lizzo released two studio albums—Lizzobangers (2013), and Big Grrrl Small World (2015). Lizzo's first major-label EP, Coconut Oil, was released in 2016.


Lizzo cheers up Cardi B with flowers

Lizzo has sent Cardi B flowers after the Bodak Yellow hitmaker initiated a divorce from her husband Offset this week.
Credit: Cover Video STUDIO Duration: 00:47
Published
Cardi B wanted Lizzo for star-studded WAP video

Cardi B has revealed she was desperate for Lizzo to appear in her and Megan Thee Stallion's infamous WAP video.
Credit: Cover Video STUDIO Duration: 00:47
Published
Lizzo Wrapped Her Locs Into Space Buns

Lizzo is inspiration on literally every level: her music gets our own creative juices flowing, her beauty looks kick off lasting trends, and her words help guide people in a more positive, less hateful..
Credit: Wochit News Duration: 00:33
Published
Lizzo heading to TV with Amazon production deal

Lizzo has set her sights on conquering the small screen after teaming up with Amazon Studios bosses for a first-look production deal.
Credit: Cover Video STUDIO Duration: 00:41
Published
You Might Like



Dozens of Performers Join Global Concert to Benefit Coronavirus Relief

"One World: Together at Home," which kicked off with a six-hour preshow on Saturday, will feature Lizzo, Celine Dion, Elton John, Billie Eilish, Lady Gaga, the Rolling Stones and more on prime..




NYTimes.com - Published





Alex Trebek sings Lizzo's 'Truth Hurts' on 'Jeopardy!' as coronavirus suspends production

'Jeopardy!' is airing pretaped episodes that were filmed before social distancing parameters were put in place to limit the spread of COVID-19.




USATODAY.com - Published





Brits 2020: Pop meets politics

Highlights from this year's ceremony included performances from Billie Eilish, Dave, Lizzo and Stormzy.




BBC News - Published





Billie Eilish, Rod Stewart, Harry Styles and Lizzo hit the BRIT Awards red carpet

The Brit Awards heated up Tuesday in London. See what Rod Stewart, Billie Eilish, Harry Styles, Lizzo and others wore on the red carpet.




USATODAY.com - Published





Lizzo talks self-confidence: 'I am curvy and I am perfect. I'm beautiful'

Grammy award-winner Lizzo says lack of diversity at the Grammy Awards is not an isolated incident, and she hopes to use her platform to create change. She also discusses loving the skin she's in. (Feb...




USATODAY.com - Published





'Fyre Fest 2.0': Fans forced to flee Harry Styles, Lizzo concert in Miami due to crazy weather

Harry Styles, Lizzo were slotted to perform together ahead of the Super Bowl at a Pepsi Zero party but mother nature had other plans.




USATODAY.com - Published





Eilish, BTS, Lizzo lead the Grammy fashion pack

Billie Eilish, Lizzo, BTS, Ariana Grande, Lana Del Rey, Dua Lipa and the Jonas Brothers command the red carpet at the Grammys. (Jan. 27)  




USATODAY.com - Published





Eilish wins big, Bryant remembered at Grammys

Billie Eilish sweeps the Grammys while stars including host Alicia Keys and musician Lizzo pay tribute to the late Kobe Bryant. (Jan. 27)  




USATODAY.com - Published





R&B singer Lizzo wins 3 Grammys as awards show dedicated to Kobe Bryant

R&B singer Lizzo kicked off the Grammy Awards show on Sunday, dedicating the night to basketball star Kobe Bryant, whose death in a helicopter accident earlier in the day threw a cloud over music's..




France 24 - Published

Also reported by •Reuters


Best-dressed at the Grammys 2020: Ariana Grande, Lizzo and Lil Nas X turn heads on the red carpet

From Lizzo's angelic Atelier Versace dress to Ariana Grande's giant Giambattista Valli gown, here are the best-dress stars at the 2020 Grammy Awards.




USATODAY.com - Published





Trump impeachment trial, Grammy Awards, NFL Pro Bowl: 5 things you need to know this weekend

President Trump's defense team gets a chance to make its case at the impeachment trial, Lizzo may own the Grammys and more news to start your weekend.




USATODAY.com - Published





Michelle Obama listens to Lizzo, Nipsey Hussle and Ed Sheeran on her 2020 workout playlist

Michelle Obama released a list of songs she enjoys while working out and the former first lady has a similar taste in music to her husband.




USATODAY.com - Published





Jillian Michaels shares old photo of herself at 175 pounds after criticizing Lizzo's weight

After catching heat for criticizing Lizzo's weight earlier this month, Jillian Michaels shared a throwback photo of herself at 175 pounds.




USATODAY.com - Published





Jillian Michaels doubles down on weight criticism, but regrets dragging Lizzo into it

Accused of body-shaming Lizzo after criticizing the musician's weight, Jillian Michaels doubled down. But she does have one regret.




USATODAY.com - Published





Lizzo talks body positivity after Jillian Michaels criticism: 'I love myself'

Lizzo appeared an Australian talk show program to spread messages on body positivity and loving yourself after Jillian Michaels criticized the singer.




USATODAY.com - Published





Jillian Michaels says Lizzo's body shouldn't be 'celebrated', is accused of body-shaming

Jillian Michaels, best known for her stint on "The Biggest Loser," is being accused of body-shaming after questioning why Lizzo's body is praised.




USATODAY.com - Published





Lizzo, Taylor among 2019 top names for pets

Lizzo, Taylor Swift, Beyonce, Arya and Maisel are among the top celebrity-inspired names given to pets in 2019, according to Rover.com. The research also found that many owners name their pets after..




USATODAY.com - Published





Billie, Lizzo, Lil Nas X dominate 2019

Billboard's Ian Drew described how Billie Eilish, Lizzo and Lil Nas X dominated the music scene in 2019 as he recapped some of the year's biggest songs, biggest artists and biggest stories (Dec...




USATODAY.com - Published





Lizzo hits back at Twitter trolls over 'obesity' remark: 'Keep my name out ya mouth'

Lizzo has responded to her online critics, telling Twitter trolls to "keep my name out ya mouth" after she was accused of fuelling the obesity epidemic in America. The plus-size singer and body..




WorldNews - Published





Stop shaming Lizzo. Let her live her life

If I heard my Billboard chart-topping song on the loudspeakers at a Lakers game or at Walmart in aisle 3, I'd twerk some too!




USATODAY.com - Published





2nd graders remix Lizzo for epic class song

"Let's be great cause I know we are great." Starting each morning with a song full of confidence is just what the school day needs.  




USATODAY.com - Published




Stars hit AMAs red carpet with humor and style

From Lizzo's tiny purse to PDA from Dua Lipa and Heidi Klum, stars hit the American Music Awards red carpet with humor and style. (Nov. 24)  




USATODAY.com - Published





From Taylor Swift to Lizzo, here are the 10 best-dressed stars at the AMAs

Rule No. 1 at the American Music Awards red carpet: Don't be boring. From Taylor Swift to Camila Cabello, here are the 10 best-dressed stars at Sunday's AMAs.




USATODAY.com - Published





Women 'step up' to dominate Grammy nominations

Billie Eilish, Lizzo and Ariana Grande all receive multiple nominations.




BBC News - Published





Taylor Swift gets snubbed for best album, and other Grammy nomination surprises

Those who follow commercial pop music likely predicted that 2019 breakout artists Lizzo and Billie Eilish would earn a lot of love at the 62nd Grammy Awards, which they did. Those who bet against Lil..




WorldNews - Published





Grammy nominations: Lizzo leads, Billie Eilish makes history, and 'Old Town Road' scores

First-time nominees Lizzo, Billie Eilish and Lil Nas X lead the 2020 Grammy Awards nominations, with nods for best album, record, song and new artist.




USATODAY.com - Published





Extended Video: Lizzo

Her real name is Melissa Jefferson, but she's known by her childhood nickname, Lizzo, and you might say this has been her year. She's still riding the wave of an acclaimed new album, "Cuz I Love You";..




CBS News - Published




For The Record: Lizzo

Melissa Jefferson, who's known by her childhood nickname, Lizzo, has been having quite a year. She's still riding the wave of an acclaimed new album, "Cuz I Love You"; and this summer she had the #1..




CBS News - Published




Lizzo: Comments on my size are like "mosquito bites"

In this preview from Tracy Smith's interview with the singer to be broadcast on "CBS Sunday Morning" October 6, Lizzo describes the cumulative effect of "well-meaning" comments regarding her size.




CBS News - Published




Lizzo files lawsuit to block co-writing credits on "Truth Hurts"

"The men who now claim a piece of 'Truth Hurts' did not help me write any part of the song," the singer-rapper wrote




CBS News - Published





Austin City Limits 2019: Billie Eilish, Lizzo, 21 Savage, Rosalia, Guns N' Roses and others

Austin City Limits 2019 takes place Oct. 4-6 and 11-13. Among those on the bill: Billie Eilish, Childish Gambino, Lizzo and Guns N' Roses.




USATODAY.com - Published





"Sunday Morning" Full Episode 10/6

This week "Sunday Morning," hosted by Jane Pauley, features Tony Dokoupil's cover story on the lives of two heralded newspapermen, Pete Hamill and Jimmy Breslin. Plus: Tracy Smith talks with..




CBS News - Published





Extended interview: Lizzo on her flute and being a "band geek"

Web exclusive: The singer-rapper talks about her flute, which has a name (and its own Instagram account), her life's musical journey, and her metamorphosis as an artist




CBS News - Published





Web Exclusive: Extended conversation with Lizzo

In this extended interview with correspondent Tracy Smith, the singer-songwriter-rapper Lizzo talks about her flute (which not only has a name but also its own Instagram account); her life's musical..




CBS News - Published





Lizzo: "I feel like a master"

After overcoming poverty and homelessness, and continuing to battle self-doubt and body shaming, the 31-year-old singer-rapper, whose career she describes as "the slowest build of all time," has..




CBS News - Published





Lizzo: "I can be beautiful and be fat"

In an interview with "CBS Sunday Morning," the #1 Billboard artist says her life turned around once she started to believe beauty comes in all sizes




CBS News - Published





Lizzo rips 'double standard': Anne Hathaway 'in a bikini on a billboard' wouldn't be 'brave'

Here's some truth that shouldn't hurt: Lizzo doesn't think embracing her body is an act of courage.




USATODAY.com - Published





Stars sparkle on VMA red carpet

From a red hot Lizzo in a fiery Moschino gown to Taylor Swift in a sparkling Versace blazer, stars went all out for a glitzy night on the VMA red carpet. (Aug 26)




USATODAY.com - Published




Swift, Cardi B and Missy Elliott bring girl power to Video Music Awards show

Taylor Swift won video of the year and Ariana Grande was voted artist of the year in a girl-powered MTV Video Music Awards (VMA) show on Monday, while rapper Cardi B won best hip-hop video and newcomer..




Reuters - Published





Lizzo, Lil Nas X and a Little Sinatra: Barack Obama shares his summer playlist

Former President Barack Obama has tweeted out his summer playlist, in case you needed some auditory inspiration for the last few weeks of the season. The artists featured — who span the likes of The..




WorldNews - Published





Lizzo is 'NOT OK' after Barack Obama tweets about her following her rant on ageism in politics

Lizzo is "NOT OK" after Barack Obama tweeted about the singer following her Twitter thread on voting for him and ageism in politics.




USATODAY.com - Published





Barack Obama's playlist has a hot girl summer vibe with Lizzo, Beyonce and The Rolling Stones

Barack Obama gave the internet a glimpse into his post-White House life Saturday when he took to Twitter to share his summer jams.




USATODAY.com - Published




How to watch the MTV Video Music Awards

VMAs will feature performances from Missy Elliott, Queen Latifah, Lizzo, Lil Nas X, Normani and Taylor Swift




CBS News - Published





Lizzo calls Summerfest security guard a 'racist bigot,' says he attacked her team

Moments after playing "the best show ever" at Summerfest in Milwaukee, Lizzo claimed a security guard tackled her team and used "hurtful language."




USATODAY.com - Published