Pedro Pablo Kuczynski
President of Peru (2016-2018)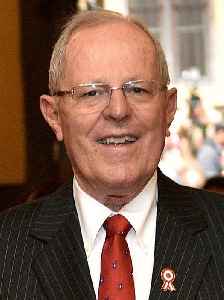 Pedro Pablo Kuczynski Godard, better known simply as PPK, is a Peruvian economist, politician and public administrator who served as the 66th President of Peru. He was previously the Prime Minister of Peru from 2005 to 2006. His administration ended on 23 March 2018, following his address to the nation two days earlier, announcing his resignation. Kuczynski is currently imprisoned for a period until 20 April 2019, due to an ongoing investigation on corruption, money laundering, and connections to Odebrecht, a public works company.


Peru: Ex-president Kuczynski to stay in prison
Pedro Pablo Kuczynski was arrested earlier this month on suspicion of taking bribes from a Brazilian construction company. Another ex-president killed himself two days ago to avoid arrest in the..
WorldNews - Published
Peruvian judge orders ex-President Kuczynski to pre-trial jail for three years
A Peruvian judge on Friday ordered former President Pedro Pablo Kuczynski to spend up to three years in jail while prosecutors prepare corruption charges against him for allegedly taking bribes from..
Reuters - Published
Peru scandal: Funeral held for ex-president Garcia
Garcia, who took his life over a corruption investigation, is buried while Kuczynski is jailed over the same scandal.
Credit: Al Jazeera STUDIO Duration: 02:40Published
Former Peruvian President Pablo Kuczynski to be jailed over Odebrecht corruption charges
A judge orders prison time for former Peruvian President Pedro Pablo Kuczynski who is accused to taking bribes from Brazilian construction company Odebrecht
Credit: euronews (in English) Duration: 01:10Published
Wake for ex-president Garcia raises old political scores in Peru
Family, friends and supporters gathered on Thursday for a wake in honour of ex-president Alan Garcia, who shot himself in the head this week to avoid arrest. Rough cut (no reporter narration).
Credit: Reuters Studio Duration: 00:47Published
Peru's ex-president Kuczynski hospitalized after jailing
LIMA, PERU — Former Peruvian President Pedro Pablo Kuczynski has been hospitalized days after he was detained as part of a money laundering probe into his ties to the company at the heart...
WorldNews - Published
Search this site and the web:
You Might Like