Jackie Robinson Day
Major League Baseball event honoring Jackie Robinson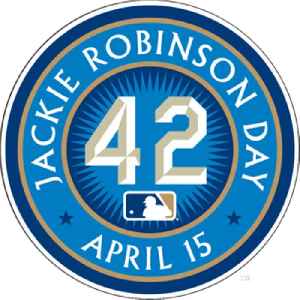 Jackie Robinson Day is a traditional event which occurs annually in Major League Baseball, commemorating and honoring the day Jackie Robinson made his major league debut. April 15 was Opening Day in 1947, Robinson's first season in the Major Leagues. Initiated for the first time on April 15, 2004, Jackie Robinson Day is celebrated each year on that day. The festivity is a result of Robinson's memorable career, best known for becoming the first black major league baseball player of the modern era in 1947. His debut with the Brooklyn Dodgers ended approximately 80 years of baseball segregation, also known as the baseball color line, or color barrier. He also was inducted into the Baseball Hall of Fame in 1962, remembered for his services with the number 42 jersey.


David Price: 'No one should have an off day' on Jackie Robinson Day
Only 20 of the league's 30 teams were in action on Monday, April 15 – a day MLB officially recognizes as Jackie Robinson Day.
USATODAY.com - Published
MLB celebrates Jackie Robinson Day
Major League Baseball pay's homage to Jackie Robinson.
USATODAY.com - Published
Search this site and the web:
You Might Like