Burlington, Vermont
Largest city in Vermont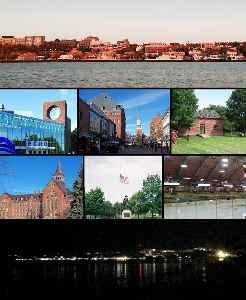 Burlington is the most populous city in the U.S. state of Vermont and the seat of Chittenden County. It is located 45 miles (72 km) south of the Canada–United States border and 94 miles (151 km) south of Montreal. The population was 42,417 as of the 2010 census. It is the least populous city to be the most populous city in a state.


Yet Another Vermont Police Chief Quits Over Fake Social Media Accounts
Two Burlington police chiefs who created fake social media accounts to attack critics resigned within months of each other.
NYTimes.com - Published
Vermont city goes through 2 police chiefs in a day amid social media controversies
A Burlington, Vermont police chief resigned after admitting to trolling critic online. Hours later, his successor was removed.
USATODAY.com - Published
Bernie Sanders vs. The Machine
In 1981, he was elected mayor of Burlington. But the city's bureaucracy showed him that winning isn't everything. So he learned how to fight back.
NYTimes.com - Published
The inside scoop on two original Sanders surrogates - Ben & Jerry
The founders of the iconic ice cream line have supported Sanders since he was mayor of Burlington, Vermont in the 1980s. And they're still with him today
CBS News - Published
2020 Daily Trail Markers: Bernie Sanders to release medical records after heart attack
Senator Bernie Sanders spoke to reporters outside of his home in Burlington, Vermont, for the first time Tuesday since having a heart attack in Las Vegas last week. The Democratic presidential..
CBS News - Published
Bernie Sanders will not participate in LGBTQ town hall after heart attack
The Vermont senator was seen walking about his neighborhood in Burlington, with his wife, Jane, Monday, and told reporters he'd be back on the campaign trail "soon."
USATODAY.com - Published
Suspicious package prompts evacuation of Sanders' office
Police gave the all-clear signal after determining the suspicious package at Bernie Sanders' Senate office on Thursday is not threat. Cat Viglienzoni of CBS Burlington affiliate WCAX reports.
CBS News - Published