Manchester
City and metropolitan borough in England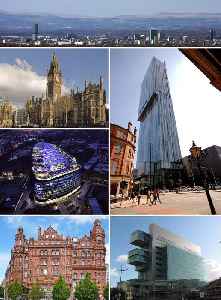 Manchester is a city and metropolitan borough in Greater Manchester, England. It has a population of 547,627 as of 2018. It lies within the United Kingdom's second-most populous urban area, with a population of 2.5 million and third-most populous metropolitan area, with a population of 3.3 million. It is fringed by the Cheshire Plain to the south, the Pennines to the north and east, and an arc of towns with which it forms a continuous conurbation. The local authority for the city is Manchester City Council.


Manchester remembers victims of the pandemic

The Bishop of Manchester and Mayor Andy Burnham were among the speakers as Manchester Cathedral hosted a memorial service to remember those lost to coronavirus in Greater Manchester.
Credit: PA - Press Association STUDIO Duration: 02:26
Published
Manchester holds a memorial service for Covid-19 victims

Manchester Cathedral holds a memorial service for victims of Covid-19, attended by the city's mayor Andy Burnham and other authorities. Report by Bassaneseg. Like us on Facebook at..
Credit: ODN Duration: 01:55
Published
UK holidaymakers embrace 'new normal' as they return to Ibiza

Last-minute British holidaymakers have embraced the "new normal" travel experience by heading to Ibiza on the first weekend of the relaxation of UK quarantine rules.More than 500 sun-seekers..
Credit: PA - Press Association STUDIO Duration: 00:48
Published
Being 20 points ahead of this Man City side was unthinkable, says Klopp

Liverpool boss Juergen Klopp says he is amazed that they are 20 points ahead of a strong Manchester City squad but that he is not focused on whether Pep Guardiola's side can catch up in the Premier..
Credit: Reuters - Sports Duration: 03:04
Published
Sane to leave City after turning down contract deal - Guardiola

Guardiola says Sane has rejected a new contract and want to leave
Credit: Reuters - Sports Duration: 01:58
Published
Players take a knee as Premier League restarts

Premier League players, including champions Manchester City, takle a knee before kickoff in support of the "Black Lives Matter" movement.
Credit: Reuters - Sports Duration: 01:19
Published
White people should apologise for racism, says Guardiola

SHOWS: MANCHESTER, ENGLAND, UK (JUNE 17, 2020) (CITY TV - ACCESS ALL) 1. MANCHESTER CITY MANAGER, PEP GUARDIOLA, ENTERING VIDEO CONFERENCE NEWS CONFERENCE 2. WHITE FLASH 3. (SOUNDBITE) (English)
Credit: Reuters - Sports Duration: 04:59
Published
Guardiola says City are not ready for the rush of matches ahead

Guardiola says squad will be stretched by amount of matches
Credit: Reuters - Sports Duration: 01:55
Published
You Might Like



Two elderly woman sexually assaulted in Manchester care home

A man entered the premises in Greater Manchester "by unknown mean", police say.




BBC News - Published





Coronavirus: Are people in Manchester respecting the new restrictions?

People in Manchester react to new lockdown laws which make it illegal to visit each other's homes.




BBC News - Published





Manchester lockdown: Confusion as GPs text patients saying families can meet, contravening new regulations

Follow-up message admits mistake




Independent - Published





Mohamoud Mohamed: Murder arrest after teenager stabbed in Manchester

A 17-year-old is held on suspicion of murder after Mohamoud Mohamed stabbed to death in Moss Side.




BBC News - Published





Manchester stabbing: Boy, 17, dead and three injured

A 17-year-old is arrested after violence erupts between two groups in Rusholme, Manchester.




BBC News - Published





Almost 1,000 apply for receptionist job in Manchester

With the hospitality sector savaged by the pandemic, jobs are attracting many more applicants.




BBC News - Published





Manchester bombing survivors lose legal bid to be made 'core participants' in public inquiry

High Court refuses permission for judicial review of decision by inquiry chair




Independent - Published





Manchester shooting: Dad says killer is 'hiding like a rat'

Abayomi Ajose, and Cheriff Tall were shot dead at the party in Moss Side, Manchester.




BBC News - Published





Manchester shooting: Woman arrested in double murder probe

A woman from Birmingham is being held for questioning over the Moss Side lockdown party deaths.




BBC News - Published





Coronavirus: UK towns and cities warn of potential bankruptcy due to pandemic

Liverpool and Manchester council bosses among those urging the government for help to stave off financial disaster in 'a moment of profound crisis'




Independent - Published





Manchester shooting: Moss Side lockdown party victim a 'model son'

The family of Cheriff Tall - who was shot dead at the event in Moss Side - say they are 'broken'.




BBC News - Published




Aguero to see specialist in Spain about 'damaged' knee

MANCHESTER, England (AP) — Manchester City striker Sergio Aguero will travel to Barcelona to assess the extent of a left knee injury. The club's all-time leading scorer hobbled off at the end of the..




WorldNews - Published





Mother of Manchester arena victim calls Boris Johnson's Reading terror attack response 'offensive' and 'patronising'

'I think that sentence should never be uttered when people have died', mother of attack victim says




Independent - Published





Manchester shooting: Moss Side community 'devastated' by deaths

"Hundreds of people" gathered at a courtyard lockdown party in Manchester prior to the shooting.




BBC News - Published





Manchester shootings: Police investigate double murder at lockdown street party

Victims aged 21 and 36 shot at 'unplanned event' in Moss Side, say detectives




Independent - Published





Manchester shooting: Man dead and another critically injured

A 36-year-old man dies and a 21-year-old is in a critical condition after a shooting in Manchester.




BBC News - Published





'Get a taxi back to Manchester' - Keane fumes at De Gea and Maguire

Former Manchester United captain Roy Keane says he is "sick to death" of David de Gea, and that he should be made to get a taxi back from Friday's match at Tottenham.




BBC News - Published





West Indies become first international team to arrive in UK since lockdown

The West Indies squad arrive in Manchester to begin their historic three-Test tour of England.




BBC News - Published





Coronavirus: Music fan mayors to face off in charity DJ battle

The metropolitan mayors will spin sets featuring famous tracks from Manchester and Liverpool.




BBC News - Published





Thousands expected to attend anti-racism protests across UK despite ministers warning against mass gatherings

Demonstrators set to gather in cities including London, Manchester, Sheffield, Bristol and Leicester




Independent - Published





Liverpool could win Premier League title at home after all

MANCHESTER, England — Liverpool could end its 30-year title drought at home after all when the English Premier League resumes after the pandemic-enforced suspension. Police originally indicated they..




WorldNews - Published





'Brutal' attacker drove at man in Manchester petrol station

Aqeel Ahmed is sentenced to four years for the "brutal" and "unrelenting" attack on a stranger.




BBC News - Published





Manchester Skyline residents refused access to cladding money

People living in Manchester's Skyline tower block are "heartbroken" they are excluded from the fund.




BBC News - Published





On This Day: 25 May 2017

"Wonder Woman" Los Angeles premiere goes ahead in the aftermath of Manchester bombing. (May 25)  




USATODAY.com - Published





Greatest Fights: Ricky Hatton, Kostya Tszyu and a Manchester bout to remember

Ricky Hatton stood little chance, but key words in his ear when he had nothing left to give saw him upset Kostya Tszyu.




BBC News - Published




Couple stage 'DIY wedding' in their Manchester flat

Pete Duncan and Beth Davis refuse to let the coronavirus lockdown spoil their big wedding day.




BBC News - Published





Coronavirus: Jury trials resume in Manchester after hiatus

Jurors in Manchester were reassured by the judge about standards of cleanliness in the court.




BBC News - Published





How coronavirus is driving a revolution in travel

Manchester is spearheading a new effort to create space for walking and cycling.




BBC News - Published




Coronavirus: Police 'pleased' temporary mortuary in Manchester now closing

Force says only 'small percentage of the site's total potential capacity' was used over past month




Independent - Published





Coronavirus: Raiders ransack Manchester charity depot

Non-perishable food as well as hand sanitisers and toiletries are taken in the "professional" raid.




BBC News - Published





Gary Neville picks Paul Pogba to win Ballon d'Or for Manchester United

Manchester [UK], May 9 (ANI): Former Manchester United defender Gary Neville has picked Paul Pogba as the player from the Reds camp, who is most likely to win Ballon d'Or. Neville was asked in a..




WorldNews - Published





Geese spotted strolling down Manchester street during lockdown

Geese were filmed strolling down a quiet road in Manchester as coronavirus restrictions kept city residents mostly indoors.  




USATODAY.com - Published




Coronavirus: Queues build as Manchester tips reopen

Cars lined up for 30 minutes before some recycling centres opened for the first time since lockdown.




BBC News - Published





Coronavirus: Ex-Sheffield United owner Kevin McCabe giving NHS face masks

Kevin McCabe used his business links to get masks flown from China for use in Manchester and Yorkshire.




BBC News - Published





Coronavirus: Police in Manchester issue Easter warning after 660 parties shut down, some with DJs, fireworks and bouncy castles

Manchester United's Marcus Rashford joins campaign pleading with people to stay at home over holiday




Independent - Published





Coronavirus: Barbecue found on Beetham Tower, Manchester's 34th floorFire crews say it is lucky "no harm was done" when a barbecue was lit on an enclosed balcony.

Fire crews were alerted when a member of public saw "the flickering of flames" on the skyscraper.




BBC News - Published





FIFA draws up guidelines to tackle pay-cut complaints

MANCHESTER – FIFA is getting ready to deal with complaints and appeals over wage cuts for players, producing guidelines for clubs and football bodies looking to cut costs during the stoppage caused..




WorldNews - Published





Coronavirus: Birmingham and Manchester temporary hospitals announced

The facilities in Manchester and Birmingham are in addition to one being built in London's Docklands.




BBC News - Published





UK approves two new temporary hospitals in Birmingham and Manchester

Britain will build a further two hospitals to handle coronavirus patients, the head of England's publicly funded National Health Service (NHS) said on Friday.




Reuters - Published




Is the virus leading us to start making music?

A Manchester music shop owner says many more people are picking up guitars and other instruments.




BBC News - Published





Coronavirus: Manchester clubs give £100,000 to food banks

Liverpool and Everton supporters are also donating £3,000 to the Manchester fund, a fans' group says.




BBC News - Published





Hashem Abedi: Coward whose delays and denials worsened trauma for Manchester attack victims' families

Abedi was repeatedly absent from court, at one point claiming he was allergic to tap water




Independent - Published





Brother of 2017 UK Manchester suicide bomber found guilty of murder

The brother of the bomber who blew himself up at the end of an Ariana Grande concert in the English city of Manchester three years ago was found guilty on Tuesday of murdering the 22 victims.




Reuters - Published





Manchester bomber's brother guilty of 22 murders

Hashem Abedi is convicted of planning the suicide blast which left hundreds injured in May 2017.




BBC News - Published





Hashem Abedi trial: Manchester attacker's brother found guilty of murdering bomb victims

The Manchester bomber's brother has been found guilty of murdering the 22 victims of the blast.




Independent - Published





Hashem Abedi trial: Manchester bomber's brother will not give evidence in his defence over terror attack

In a prepared statement, the defendant denied knowing of his brother's plan or being involved in constructing the bomb




Independent - Published





Sir Alastair Cook surprises James Anderson at the Tailenders live show

Former England cricket captain Sir Alastair Cook received a standing ovation at Tailenders Live at the Palace Theatre, Manchester, after surprising long time friend James Anderson.




BBC News - Published





Man charged with medical student's murder in Rusholme

Emanuel Simon, 33, died two weeks after he was assaulted outside a cafe in Manchester.




BBC News - Published





Scott Quigg: Jono Carroll upsets former world champion in Manchester

Former world super-bantamweight champion Scott Quigg hints at retirement after he is outclassed by Jono Carroll in Manchester.




BBC News - Published