Rotten Tomatoes
American review aggregator for film and television, owned by Fandango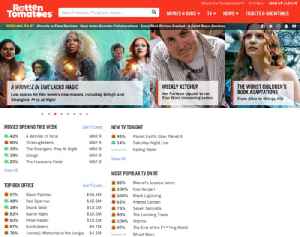 Rotten Tomatoes is an American review-aggregation website for film and television. The company was launched in August 1998 by three undergraduate students at the University of California, Berkeley: Senh Duong, Patrick Y. Lee, and Stephen Wang. The name "Rotten Tomatoes" derives from the practice of audiences throwing rotten tomatoes when disapproving of a poor stage performance.


MOVIE REVIEW: The Angry Birds Movie 2
by Graham Pierrepoint - THE ANGRY BIRDS MOVIE 2 IMDb Dir: Thurop Van Orman Starring Jason Sudeikis, Josh Gad, Leslie Jones, Bill Hader, Awkwafina, Sterling K Brown, Eugenio Derbez, Danny McBride,..
One News Page Staff - Published
MOVIE REVIEW: Toy Story 4
by Graham Pierrepoint - TOY STORY 4 IMDb Dir: Josh Cooley Starring Tom Hanks, Tim Allen, Annie Potts, Tony Hale, Keegan-Michael Key, Jordan Peele, Madeleine McGraw, Christina Hendricks, Keanu..
One News Page Staff - Published
A glitzy Hollywood premiere for film inspired by and starring a Down Syndrome actor
"The Peanut Butter Falcon" may have an unusual title for a film, but it also has one of the most unusual backstories. Rough cut (no reporter narration).
Credit: Reuters Studio Duration: 01:19Published
Critics Love 'Once Upon A Time In Hollywood'
'Once Upon A Time In Hollywood' is the newest film from Quentin Tarantino. The film centers around a washed up action star and his equally washed up stunt double/best friend. The film earned an 84%..
Credit: Wochit News Duration: 00:32Published
Rotten Tomatoes ends pre-release movie comments because of trolling
Rotten Tomatoes is fighting back against online trolls. The review aggregator announced they are disabling the comment function on a film before its theatrical released.
USATODAY.com - Published
Search this site and the web:
You Might Like