Somalia
Country in the Horn of Africa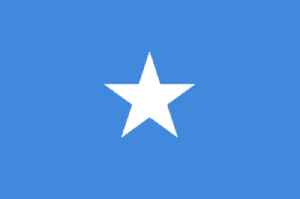 Somalia, officially the Federal Republic of Somalia is a sovereign country in the Horn of Africa. It is bordered by Ethiopia to the west, the Gulf of Aden to the north, the Guardafui Channel and Somali Sea to the east, and Kenya to the southwest. Somalia has the longest coastline on Africa's mainland. Its terrain consists mainly of plateaus, plains, and highlands. Hot conditions prevail year-round, with periodic monsoon winds and irregular rainfall.


Somali Forces End Deadly Siege After 16 Killed at Mogadishu

At least 16 people were killed during a five-hour siege by Islamic extremists in Somalia's capital of Mogadishu. Report by Shoulderg. Like us on Facebook at http://www.facebook.com/itn and follow us..
Credit: ODN Duration: 01:26
Published
Refugee referee aiming for the Premier League

Jawahir Roble, aka JJ, moved to the UK from Somalia aged 10. Her passion forfootball has led her to forge a career as a referee and she is aiming for thestars.
Credit: PA - Press Association STUDIO Duration: 02:34
Published
You Might Like



Trump attacks Muslim lawmaker over telling him 'how to run our country'

US President Donald Trump has attacked Muslim congresswoman Ilhan Omar over telling him "how to run our country." His Tuesday comments marked the latest personal attacks he has levied against Omar, who..




WorldNews - Published





Somali president names newcomer Roble premier as elections loom

By Abdi Sheikh MOGADISHU (Reuters) - Somali President Mohamed Abdullahi Mohamed has picked political newcomer Mohamed Hussein Roble as prime minister, his office said on Friday, cementing power around..




WorldNews - Published





Car bomb explosion in Somalia leaves 3 soldiers dead, US officer injured

A car bomb explosion outside a military base in southern Somalia has left three Somali soldiers dead and a US officer seriously injured. The Takfiri al-Shabab terrorist group has claimed responsibility..




WorldNews - Published





America's Secret War On Black Anarchism in Somalia

"All power is truly in the hands of the people, and in the end the people will win." -Kuwasi Balagoon With November rapidly approaching and a Biden victory appearing more and more plausible, Donald..




WorldNews - Published





Why a Somali-born fighter is being honoured in Rome

Some Italians are revaluating their colonial past in East Africa, writes Ismail Einashe.




BBC News - Published





11 killed in Somali hotel attack claimed by Al-Shabaab

Shares Ten civilians and one police officer were killed in a gun and bomb attack by Al-Shabaab fighters on an upscale beachfront hotel in Somalia's capital on Sunday, an official told AFP. Security..




WorldNews - Published





Somalia forces end rebel siege of Mogadishu hotel

Somalia's security forces have put an end to a four-hour siege by Islamic extremists at a beachside hotel in the capital Mogadishu, authorities said. At least 15 people were killed in the attack...




WorldNews - Published





Mogadishu attack: Somali troops battle gunmen who stormed Elite Hotel

Troops battle suspected al-Shabab militants who stormed the Elite Hotel in the capital, Mogadishu.




BBC News - Published





AP Top Stories August 11 P

Here are the top stories for Tuesday, August 11th: Russia approves coronavirus vaccine; Biden picks Sen. Kamala Harris as running mate; Mourning and clashes in Beirut a week after deadly blast;..




USATODAY.com - Published





Al-Shabab militants in shoot-out in Somalia prison

At least 10 people are killed in a heavy exchange of fire at a jail in Somalia, officials say.




BBC News - Published





At least 8 soldiers dead in blast outside Somali army base

NAIROBI, Kenya (AP) — A car bomb exploded at the gates of a military base in Somalia's capital Saturday, killing at least eight soldiers and wounding 14 others, with the toll expected to rise, police..




WorldNews - Published





Mogadishu: Explosion in Somalia's capital kills eight

The explosion hit a military base in Mogadishu, killing at least eight people, an official says.




BBC News - Published





Pentagon Admits to Civilian Casualties in Somalia for a Third Time

Africa Command's admission of the death comes in the wake of its slow move toward better accountability after years of criticism from human rights groups and lawmakers.




NYTimes.com - Published





The gravedigger's truth: Hidden coronavirus deaths

Somalia has fewer than 100 official Covid-19 deaths. But its cemeteries tell a different story.




BBC News - Published





Viewpoint: What Donald Trump gets wrong about Somalia

It seems Mr Trump's view of Somalia stems from the aftermath of the overthrow of Siad Barre in 1991, since when it has popularly been considered one of the world's most failed states.More on the US..




WorldNews - Published

Also reported by •BBC News


6 Killed, 15 Injured in Somalia Bombings

At least five people were killed and more than eight others wounded when a government security checkpoint was bombed in Baidoa, Somalia's administrative capital of Southwest State, on Saturday,..




WorldNews - Published





Somalia restaurant attack: Six killed by al-Shabab

Militant group al-Shabab said it carried out the bomb explosion in the town of Baidoa.




BBC News - Published





Who hasn't heard of Covid-19 by now? More than you think

Story by AP. A half-year into the most momentous pandemic in decades, it's hard to imagine that anyone, anywhere has not heard of the coronavirus. But scores of migrants arriving in Somalia tell United..




WorldNews - Published





Blasts kill 7 people in southern and central Somalia

MOGADISHU: At least seven people have died in two separate bomb attacks in southern and central Somalia in the last 24 hours, police and military officers said on Sunday. In the first incident, two..




WorldNews - Published





Rep. Ilhan Omar's father dies due to coronavirus

Father of Somalia-born U.S. Representative Ilhan Omar died on Monday night of complications from the novel coronavirus, local media reported.




Reuters - Published





Somalia's Islamist group al Shabaab says sets up COVID-19 treatment centre

Somalia's Islamist group al Shabaab said on Friday they had set up a COVID-19 treatment centre in the country, and said the disease posed a grave threat, citing international health authorities.




Reuters - Published





Battling Somalia's epidemic, a grieving British doctor finds peace

British doctor Jihan Mohamud travelled to Somalia for the first time last year to bury her father in the land of his birth.




Reuters - Published





In Minneapolis, Somali-Americans Find Unwelcome Echoes of Strife at Home

Thousands left political chaos, violence and danger in Somalia. Now, many are surprised and alarmed at the dangers and distress they're seeing in their new home.




NYTimes.com - Published





Somali minibus hits roadside bomb, six killed

At least six people were killed on Sunday when a minibus struck a roadside bomb near the Somali capital Mogadishu, police and witnesses said.




Reuters - Published





Somalia commission to probe killing of seven health workers

Somalia will set up a regional commission to probe the killing of seven health workers and report publicly within a month, the head of Hirshabelle state told Reuters on Friday, as the United Nations..




Reuters - Published





Seven health workers, civilian killed in Somali village: aid group

Seven health workers and a civilian were killed in village north of the Somali capital after being abducted by masked men in military uniforms on Wednesday, a director of a local aid group said on..




Reuters - Published





Suicide bombing in Somalia kills governor, three others in Puntland: police

The governor of Mudug, a region in Somalia's semi-autonomous state of Puntland, was killed with three of his bodyguards in a suicide car bombing on Sunday that was claimed by Islamist group al Shabaab,..




Reuters - Published





Kenya closes borders to Tanzania and Somalia over coronavirus

Kenya's President Uhuru Kenyatta on Saturday banned movement across the country's borders with Tanzania and Somalia to help curb the spread of the coronavirus.




Reuters - Published





Kenya's president Uhuru Kenyatta bans movement to Tanzania and Somalia over COVID-19

Kenya's President Uhuru Kenyatta on Saturday ordered a cessation of movement between the country and neighbouring Tanzania and Somalia to help curb the spread of the novel coronavirus.




Reuters - Published





Somalia's coronavirus khat bans leaves chewers in a stew

Somalia's government curbs the use of khat after raising concern that it could help spread Covid-19.




BBC News - Published





Italian aid worker kidnapped in Kenya in 2018 returns home

Silvia Romano, 25, was freed on Saturday in Somalia, in an operation by Italy's secret services.




BBC News - Published





Ugandan hospital, Somali town washed away by East Africa floods

Flooding washed away roads, bridges and a hospital in Uganda and an entire small town in Somalia as torrential rain across East Africa compounded problems for governments struggling to respond to the..




Reuters - Published





Pentagon report says 130 civilians killed in 2019, lower than watchdog estimates

U.S. military operations killed about 130 civilians and injured 91 others in Iraq, Syria, Afghanistan and Somalia last year, according to a Pentagon report seen by Reuters on Wednesday, though the..




Reuters - Published





Yemen's Houthis report first coronavirus case with death in Sanaa hotel

Authorities in Houthi-held north Yemen confirmed their first case of the new coronavirus on Tuesday, a Somali national found dead in a Sanaa hotel, while the government in the south of the war-torn..




Reuters - Published




Kenya urges Somalia to speedily investigate fatal plane crash

Kenya on Tuesday called for an urgent investigation into the fatal crash of a private cargo plane in Somalia amid unconfirmed reports it may have been shot down.




Reuters - Published





Six dead as plane carrying coronavirus aid crashes in Somalia

A plane carrying aid supplies for use in the fight against the coronavirus crashed in Somalia on Monday, killing all six people on board, the Somali transport minister said.




Reuters - Published




Plane carrying aid crashes in southern Somalia: security official

A plane carrying aid supplies crashed in Somalia's southern Bay region on Monday, killing seven people on board, a security official said.




Reuters - Published





No Covid-19 barrier for 2 satellite-tagged falcons as they return to India from Somalia, next stop China




IndiaTimes - Published





U.S. acknowledges killing two civilians in 2019 Somalia air strike

The United States said on Monday it had killed two civilians and injured three in an air strike in Somalia early last year, in a rare acknowledgement of civilian casualties from U.S. Africa Command..




Reuters - Published

Also reported by •WorldNews


US reports deaths of civilians in Somali air strike

An operation that killed two al-Shabab militants also killed two civilians and injured three more.




BBC News - Published





Coronavirus: Somali diaspora sends home stories of woe

British-Somalis have been badly hit in both economic and human terms.




BBC News - Published





Hudeidi: The Somali 'king of oud' who was felled by coronavirus

Somali musician Ahmed Ismail Hussein Hudeidi died in London from coronavirus at the age of 91.




BBC News - Published





Somalia records first death from coronavirus, says health minister

Somalia has registered its first death from coronavirus, the Horn of Africa country said on Wednesday.




Reuters - Published





At least 20 killed in Somali clan violence: official

At least 20 people have been killed in southern Somalia day in clashes between militia from rival clans fighting over land, officials and witnesses said Thursday. ......




WorldNews - Published





Coronavirus: Fighting al-Shabab propaganda in Somalia

Muslim clerics in Somalia are moving to the front-line of the battle against coronavirus.




BBC News - Published





Somali doctor, veteran of many battles, girds for war with coronavirus

Somali doctor Abdirizak Yusuf Ahmed has escaped an execution, battled deadly diseases and treated war victims. Now - at 35 years old - he's been tapped to lead his nation's response to the..




Reuters - Published





U.S. air strikes killed civilians in Somalia, Amnesty International says

U.S. air strikes in Somalia killed two civilians and injured three in February, human rights watchdog Amnesty International said on Wednesday, in a statement that raised questions over U.S...




Reuters - Published





Somalis allege U.S. air strike killed six civilians; Africa Command investigating

A U.S. air strike aimed at Somali Islamist militants killed six civilians instead, a lawmaker and relative of one victim said on Wednesday, raising further questions about the extent of civilian..




Reuters - Published





Al Shabab leader Bashir Mohamed Mahamoud killed in air strike in Somalia

A senior commander in the East Africa-based militant group Al Shabab has been killed by a US air strike in Somalia, the United States Africa Command (Africom) said. "Bashir Mohamed Mahamoud was a..




WorldNews - Published





Senior figure in Somalia's al Shabaab killed in air strike: state media

A senior commander in Somalia's al Shabaab group with a $5 million bounty on his head was killed in an American air strike last month, according to Somalia state media, a blow to the militants'..




Reuters - Published