One Direction
English-Irish boy band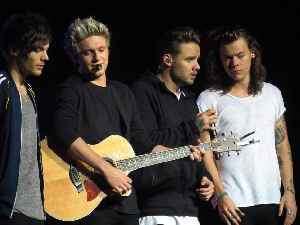 One Direction, often shortened to 1D, are an English-Irish pop boy band formed in London, England in 2010. The group are composed of Niall Horan, Liam Payne, Harry Styles and Louis Tomlinson; former member Zayn Malik departed from the group in 2015. The group signed with Simon Cowell's record label Syco Records after forming and finishing third in the seventh series of the British televised singing competition The X Factor in 2010.


You Might Like
Harry Styles Drives Sports Car, Speedboat for New Music Video
Here's Harry Styles whipping around in a fancy sports car and a super cool speedboat in Italy for a music video shoot ... which could double as his audition to be the next 007. The former "One..
TMZ.com - Published
On This Day: 20 August 2013
In 2013, boyband One Direction were welcomed by crowds of screaming fans at the world premiere of documentary "One Direction: This is Us." (Aug. 20)  
USATODAY.com - Published
One Direction: 10 years of the band - in pictures
An anniversary look back at the boy band, from being talent show hopefuls to world pop sensations.
BBC News - Published
One Direction fans lose their minds, beg for reunion after band's first tweet in two years
It's been 10 years since the formation of One Direction. Fans want a reunion. But this is what we actually know is in store so far.
USATODAY.com - Published
One Direction are speaking about anniversary reunion, Liam Payne says
"Ten years is a really special moment," says Liam Payne, hinting a reunion could be on the cards.
BBC News - Published
Harry Styles: Singer 'mugged at knifepoint' in Hampstead on Valentine's Day
The former One Direction singer is said to have been threatened by a thief with a knife.
BBC News - Published
Harry Styles stalker: Homeless man told to keep away from star
The former One Direction star says Pablo Tarazaga-Orero's behaviour left him feeling "scared".
BBC News - Published
Harry Styles felt 'unsafe' in his own home following ordeal with alleged stalker
Harry Styles locked himself in his bedroom and felt unsafe in his own home after he was allegedly stalked by a homeless man. The former One Direction singer claimed at a hearing at Hendon Magistrates'..
WorldNews - Published
Louis Tomlinson opens up about mother and sister's deaths: 'I've been to rock bottom'
One Direction star Louis Tomlinson is opening up about the death of his sister Félicité, 18, and mother, Johannah Deakin, who died of cancer at 43.
USATODAY.com - Published
Liam Payne 'enlists Ed Sheeran for some songwriting magic on comeback track Stack It Up'
Are Liam and Ed teaming up again? Liam Payne has recruited Ed Sheeran for comeback single Stack It Up as he prepares to make his big return, according to reports. It's been two years since Liam..
WorldNews - Published