Fashion week
Fashion industry event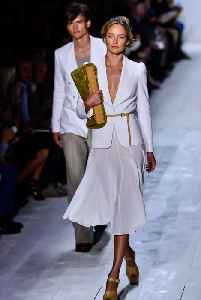 A fashion week is a fashion industry event, lasting approximately one week, wherein fashion designers, brands or "houses" display their latest collections in runway fashion shows to buyers and the media. These events influence trends for the current and upcoming seasons.


The 9-year-old double amputee walking the runway at Fashion Week
A 9-year-old with dreams of becoming a supermodel is already making historic strides on some of the world's most renowned runways. Daisy-May Demetre is the first double amputee to walk in a show at..
CBS News - Published
Rihanna opens New York pop-up shop for her Fenty label
Rolling out her concept of fashion that is not a slave to the seasons or the shackles of Fashion Week, Rihanna opened the second pop-up shop of her Fenty brand in New York Tuesday, a month after the..
WorldNews - Published
Key trends at Fashion Week in Sydney
As Fashion Week in Sydney comes to a close, we take a look at the key trends - both on the runway and in the front row.
SBS - Published
A footy match gets right what Fashion Week can't manage
In no other field of performance – and designer shows are that, complete with music, lighting and staging – would this be acceptable.
The Age - Published
Tigerlily stages Fashion Week comeback
After a 17-year absence, Australian fashion label Tigerlily is returning to Sydney's Fashion Week catwalk with a bold new vision.
SBS - Published
Queensland's Aje to open Fashion Week
Queensland design duo Edwina Forest and Adrian Noris, of the label Aje, have been chosen to open Fashion Week on Sunday.
SBS - Published
Model dies after falling ill on catwalk at Sao Paulo's Fashion Week
A model participating in Sao Paulo's Fashion Week has died after getting sick and falling on the catwalk.
USATODAY.com - Published
Stars go shopping at Fashion Week
At New York Fashion Week, stars including Debby Ryan, Mindy Kaling and Lana Condor said they use the opportunity of watching the runway to inform their wardrobe choices. (March 15)
USATODAY.com - Published
You Might Like