The Jerusalem Post
Israeli newspaper in English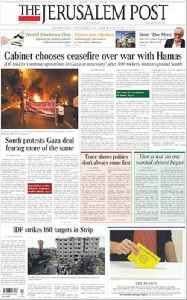 The Jerusalem Post is a broadsheet newspaper based in Jerusalem, founded in 1932 during the British Mandate of Palestine by Gershon Agron as The Palestine Post. In 1950, it changed its name to The Jerusalem Post. In 2004, the paper was bought by Mirkaei Tikshoret, a diversified Israeli media firm controlled by investor Eli Azur. In April 2014, Azur acquired the newspaper Maariv. The newspaper is published in English and French editions.


PLO To Discuss Revoking Israel Recognition, Ending Security Coordination
Top Palestinian officials from the PLO Central Council (PCC) will convene in Ramallah on May 15 to discuss suspension of all relations with Israel, including vital security coordination between the..
WorldNews - Published
Report: Lebanese FM Meets With Senior Israeli Officials In Moscow
The Jerusalem Post, quoting a report in the Saudi Arabian newspaper Elaph, reports Lebanon's Foreign Minister Gebran Bassil reportedly met with senior Israeli officials in Moscow and "discussed..
WorldNews - Published
Netanyahu Says Israel Will Keep Fighting Amid Truce Rumors
The two sides began bombing each other after seven people were injured Monday in an attack.
Credit: Newsy Studio Duration: 01:20Published
Palestinian FM Al-Malki: Abbas Ready To Meet Netanyahu With No Pre-Conditions
The Jerusalem Post reports Palestinian Authority President Mahmoud Abbas is prepared to meet with Prime Minister Benjamin Netanyahu with no preconditions, PA Foreign Minister Riad Al-Malki said in an..
WorldNews - Published
Search this site and the web:
You Might Like