United States Fifth Fleet
Ocean-going component of the United States Navy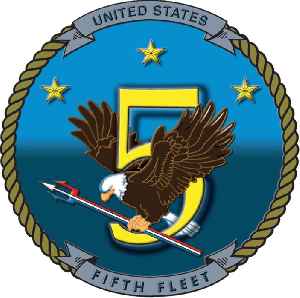 The Fifth Fleet is a numbered fleet of the United States Navy. It has been responsible for naval forces in the Persian Gulf, Red Sea, Arabian Sea, and parts of the Indian Ocean since 1995 after a 48-year hiatus. It shares a commander and headquarters with U.S. Naval Forces Central Command (NAVCENT) in Bahrain. As of 7 December 2018, the commander of the 5th Fleet is Vice Admiral James J. Malloy. Fifth Fleet/NAVCENT is a component command of, and reports to, U.S. Central Command (CENTCOM).


U.S. Navy searching for missing sailor in Arabian Sea: statement
The U.S. navy and other ships are conducting search and rescue operations for a missing U.S. sailor in the Arabian Sea, the Bahrain-based U.S. Fifth Fleet said.
Reuters - Published
U.S. Navy says working with partners to defend free flow of commerce and navigation
The U.S. Navy's Fifth Fleet said on Thursday it is working closely with the British Royal Navy as well as regional and global partners to preserve and defend the freedom of navigation, a day after..
Reuters - Published
Iran claims to have impounded foreign ship
Iran's Revolutionary Guards has seized a foreign ship smuggling fuel in the Gulf, state television quoted Iran's elite force as saying in a statement on Thursday. Havovi Cooper reports.
Credit: Reuters Studio Duration: 01:33Published
The Strait of Hormuz: A flashpoint for war
Recent attacks on cargo vessels have put the focus on a shipping lane responsible for about a fifth of the world's oil exports. But in reality, this place is a powder keg for a much larger..
Credit: Reuters Studio Duration: 03:05Published
Two oil tankers struck in Gulf of Oman
Attacks on two oil tankers on Thursday in the Gulf of Oman left one ablaze and both adrift, shipping firms said, driving oil prices up 4% over worries about Middle East supplies. Emily Wither reports.
Credit: Reuters Studio Duration: 01:32Published
Search this site and the web:
You Might Like