Antarctica
Continent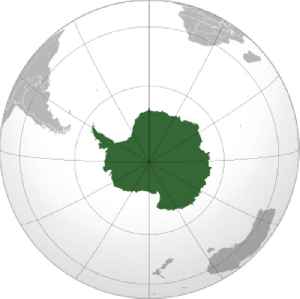 Antarctica is Earth's southernmost continent. It contains the geographic South Pole and is situated in the Antarctic region of the Southern Hemisphere, almost entirely south of the Antarctic Circle, and is surrounded by the Southern Ocean. At 14,200,000 square kilometres, it is the fifth-largest continent and nearly twice the size of Australia. At 0.00008 people per square kilometre, it is by far the least densely populated continent. About 98% of Antarctica is covered by ice that averages 1.9 km in thickness, which extends to all but the northernmost reaches of the Antarctic Peninsula.


Fossilised egg could be linked to ancient marine peptile

New research published in the journal Nature suggests a 68-million-year-old fossil egg may have belonged to an ancient marine reptile called a mosasaur.
Credit: Reuters - 3D Animations (Next Me Duration: 01:06
Published
Why Antarctica's Coast Is Developing Even More Green Algae

Every summer, algal blooms blanket parts of the Antarctica Peninsula's coast. Now, researchers say those blooms are likely to expand as climate change continues and Earth becomes progressively warmer...
Credit: Wochit News Duration: 00:35
Published
Climate change turns Antarctica's snow green

Warming temperatures due to climate change are helping the formation and spread of "green snow" visible from space, according to new research led by Dr Matt Davey from Cambridge University. Rosanna..
Credit: Reuters Studio Duration: 02:02
Published
You Might Like



Esa and Nasa line up satellites to measure Antarctic sea-ice

At present, scientists use really quite old climatology models to gauge the likely depth of snow cover when observing sea-ice in both the Arctic and the Antarctic. And while these models still work..




WorldNews - Published





Researchers discover record warming at the South Pole over the past 3 decades

The warming at the South Pole is linked to accelerating ice melt elsewhere in Antarctica, which could fuel more rapid rises in sea levels worldwide.




USATODAY.com - Published




Global warming good news? Some Antarctic penguins enjoy diminishing sea ice

Surprisingly, Adelie penguins appear to prefer reduced sea-ice conditions, meaning that the species "could be a rare global warming winner."




USATODAY.com - Published




Microplastics found in gut of animal on one of the most remote islands of the world

(CNN)Microplastics have been discovered in the gut of an animal on a remote island in the Antarctic, raising concerns that plastic pollution could be prevalent in the region's ecosystem. A new study by..




WorldNews - Published





Mystery egg likely belonged to giant sea reptile, scientists say

The football-like fossil has puzzled scientists since it was found in Antarctica almost a decade ago.




BBC News - Published





How to find a meteorite in Antarctica

Justin Rowlatt joins a team of scientists looking for small space rocks in Antarctica.




BBC News - Published





Climate change is turning the snow in Antarctica bright green. Scientists are able to see it from space.

Researchers from the University of Cambridge and the British Antarctic Survey created a map of green snow algae along the Antarctic Peninsula coast.




USATODAY.com - Published





Climate change turning Antarctica's snow green

Antarctica conjures images of an unbroken white wilderness but blooms of algae are giving parts of the frozen continent an increasingly green tinge.




Reuters - Published





Coronavirus and Antarctica: 'Isolated within isolation'

Why the people on the only continent without a recorded case of coronavirus are in lockdown.




BBC News - Published





'One mistake and it's game over': one man's solo trek across Antarctica unaided

Having trekked hundreds of miles into Antarctica in late 2018, American Colin O'Brady reached a memorable landmark: the south pole. It was only a waypoint on the way to O'Brady's pursuit of a..




WorldNews - Published





Self-Isolated at the End of the World

Alone in the long Antarctic night, Adm. Richard E. Byrd endured the ultimate in social distancing.




NYTimes.com - Published





Anzac Day in Antarctica

Australians at Casey, Mawson, Davis and Macquarie Island research stations have observed Anzac Day. The 89 people in the small Antarctic and sub-Antarctic teams were able to gather for Anzac Day..




SBS - Published





Australians gather for Anzac Day on coronavirus-free Antarctica

Australia's Antarctic expeditioners have been able to share a traditional Anzac Day ceremony, with the frozen continent free of coronavirus.




SBS - Published





Aussies gather on COVID-19-free Antarctica

Australia's Antarctic expeditioners have been able to share a traditional Anzac Day ceremony, with the frozen continent free of coronavirus.




SBS - Published





Microplastics found in Antarctic sea ice for first time, scientists say

Microplastics have been found in Antarctic sea ice for the first time, scientists say. The study, published in the...




WorldNews - Published





'Isolated within isolation': keeping out coronavirus in the frozen Antarctic

In the frozen and desolate expanse of Antarctica, Alejandro Valenzuela Pena is used to a feeling of isolation. Now, however, that has taken on a new meaning as the only continent still free from the..




Reuters - Published





Ex-Disney animator brings Antarctic story to life

After working on Frozen and Big Hero 6, Sarah Airriess left Hollywood to create a graphic about early Antarctic explorers




BBC News - Published





Learning how to make an igloo in the Antarctic

The BBC's Justin Rowlatt learnt to make an igloo while visiting Antarctica's Thwaites Glacier.




BBC News - Published





Antarctica was home to rainforests 90 million years ago: Study

Researchers have unearthed evidence of rainforests near the South Pole 90 million years ago, a finding which suggests that the climate at this time was exceptionally warm with a higher level of carbon..




WorldNews - Published





'They're pretty much sitting ducks': Coronavirus case confirmed on Australian ship stuck off the coast of Uruguay

There are fears of a coronavirus outbreak onboard an Antarctic voyager ship with close to a hundred Australian passengers onboard after one person tested positive and nine others developed symptoms.




SBS - Published





Scientists have recorded the first-ever heatwave in Antarctica

Scientists have recorded what amounts to a heatwave in Antarctica, with fears for the long-term implications on plants, animals and ecosystems.




SBS - Published





First heatwave recorded in Antarctica

Scientists have recorded what amounts to a heatwave in Antarctica, with fears for the long-term implications on plants, animals and ecosystems.




SBS - Published





A place that makes you ask the questions that really matter

The BBC's Justin Rowlatt found a visit to Antarctica made him emotional, and ultimately hopeful.




BBC News - Published





Antarctic glacier retreated 3 miles in 22 years, threatening global sea-level rise

As the global climate heats up, the great ice sheets and glaciers in Antarctica are rapidly melting. And researchers are getting concerned.  




USATODAY.com - Published





Greenland and Antarctica are now melting six times faster than in the 1990s, accelerating sea-level rise

Greenland and Antarctica have lost 6.4 trillion tons of ice in the past three decades, accelerating sea-level rise around the world.




USATODAY.com - Published




Australia carries out emergency medical dash for expeditioner at US Antarctic base

An Airbus A319 was despatched from Hobart to help assist at the US Antarctic site.




SBS - Published





Greenland and Antarctica ice loss accelerating

Earth's great ice sheets, Greenland and Antarctica, are now losing mass six times faster...




WorldNews - Published

Also reported by •BBC News


Antarctic sea creatures 'stressed to the max'

Justin Rowlatt reports from Antarctica's Ross Sea, where rising temperatures could affect marine life.




BBC News - Published





France closes the Louvre as virus spreads to new fronts

PARIS — Coronavirus cases surged in Italy, and France closed the world-famous Louvre Museum as the epidemic that began in China sent fear rising across Western Europe, threatening its tourism..




WorldNews - Published





The coronavirus has now hit every continent except Antarctica after a man in Brazil tested positive

The coronavirus has now infected every continent except Antarctica after Brazil confirmed a case on Tuesday. A 61-year-old man who had just returned from a 12-day trip to Lombardy, Italy, tested..




WorldNews - Published





A heat wave melted 20% of an Antarctic island's snow in only 9 days

A heat wave earlier this month in Antarctica melted about 20% of an island's snow in only nine days.




USATODAY.com - Published




Australian Global warming causing 'irreversible' mass melting in Antarctica says scientist

Global warming was leading to an "irreversible" mass melting of the Antarctic ice and purging carbon from the atmosphere was the only solution to slow the process, an Australian climate scientist..




SBS - Published




Record high Antarctic temperatures sparks global sea rise worries

Temperatures in Antarctica hit 20.75°C on February 9, according to a team of scientists on Seymour Island, marking the first time the Polar continent has broken the 20°C barrier. Its warming..




France 24 - Published





A massive iceberg twice the size of Washington, D.C., just broke off of the Pine Island glacier in Antarctica

The Pine Island glacier "is one of the fastest-retreating glaciers in Antarctica," according to NASA. One scientist calls it "unsettling."




USATODAY.com - Published





Antarctic temperature tops 20 degrees for first time on record

The Antarctic has registered a temperature of more than 20 degrees Celsius for the first time in history, prompting fears of climate instability in the world's greatest repository of ice. The 20.75..




WorldNews - Published





Crossing Antarctica solo: A lonely journey across the ice

How Børge Ousland became the first person to cross Antarctica solo




BBC News - Published





Number of chinstrap penguins in Antarctica has fallen sharply: scientists

The number of chinstrap penguins in some colonies in Western Antarctica has fallen by as much as 77% since they were last surveyed in the 1970s, say scientists studying the impact of climate change on..




Reuters - Published





Antarctica's new record high temperature: Is it climate change?

Antarctica made worldwide news when one location – an Argentine research base – set a record high temperature for the continent of 64.9 degrees.




USATODAY.com - Published




Antarctica Sets Record High Temperature: 64.9 Degrees

"This is the foreshadowing of what is to come," a researcher said. "It's exactly in line of what we've been seeing for decades."




NYTimes.com - Published





Antarctica logs hottest temperature on record of 18.3C

The provisional reading of 18.3C (64.9F) beats the previous record of 17.5C, logged in 2015.




BBC News - Published





It was nearly 65 degrees in Antarctica, which may be the warmest day ever recorded there

The normally bitterly cold Antarctica recorded a temperature of 65 degrees on Thursday, which may be the warmest day ever there.




USATODAY.com - Published




Uh Oh, Antarctica Just Set a New Heat Record

It's positively balmy in Antarctica. The National Meteorological Service of Argentina announced on Twitter that its Esperanza weather station recorded a new high for the continent: 18.3 degrees..




WorldNews - Published





Could you handle the earth's most remote campsite?

Take a look inside an Antarctic campsite and find out how they survive.




BBC News - Published





Warm water discovered beneath Antarctica's 'doomsday' glacier, scientists say

Scientists have found warm water underneath the Thwaites Glacier in Antarctica, which could speed up the melting of the Florida-sized block of ice.




USATODAY.com - Published




Don Sinclair: 'we lived a very rich life'

Doctor Donald Sinclair, OAM, was one of Victoria's foremost educators, a prodigious textbook author, an Antarctic tourism pioneer and a globe-trotting geographer and humanitarian.




The Age - Published





A Dangerous Glacier Is Melting From the Bottom, Scientists Find

Researchers in Antarctica found unusually warm water beneath a glacier the size of Florida that is already melting and contributing to sea level rise. 




NYTimes.com - Published