Jeff Goldblum
American actor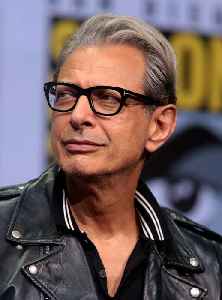 Jeffrey Lynn Goldblum is an American actor and musician. He has starred in some of the highest-grossing films of his era, such as Jurassic Park (1993) and Independence Day (1996), as well as their respective sequels, The Lost World: Jurassic Park (1997) and Jurassic World: Fallen Kingdom (2018), and Independence Day: Resurgence (2016).


Jeff Goldblum says he 'would consider working with' Woody Allen again, draws backlash
Despite the sexual abuse accusations levied against Woody Allen by his adopted daughter, Jeff Goldblum is open to working with the director again.
USATODAY.com - Published
Laura Dern, Jeff Goldblum and Sam Neill to return for 'major roles' in 'Jurassic World 3'
"Jurassic World 3" director Colin Trevorrow announced Laura Dern, Sam Neill and Jeff Goldblum would return to reprise their "Jurassic Park" roles.
USATODAY.com - Published
Jeff Goldblum would work with Woody Allen again
Jeff Goldblum has shared that he would work with Woody Allen again, despite the sexual abuse claims against him, as he thinks he must be presumed innocent until proven guilty.
Credit: Cover Video STUDIO Duration: 00:43Published
Original Jurassic Park cast to return in next movie
Sam Neill, Jeff Goldblum and Laura Dern are set to reprise their roles in Jurassic World 3.
BBC News - Published
Week in Review: Stars Jeff Goldblum, Kyle MacLachlan and is Paris still the world's fashion capital?
FRANCE 24 speaks to a veteran of the Stonewall riots, 50 years on; Kyle MacLachlan on Twin Peaks and Jeff Goldblum on fatherhood; Tunis residents defy fear in the aftermath of attacks in the capital;..
France 24 - Published
Actor and jazz musician Jeff Goldblum serenades FRANCE 24 on the Champs-Élysées
"Jurassic Park" and "The Fly" actor Jeff Goldblum talks to Eve Jackson about playing a lobotomist in his new movie "The Mountain", becoming a dad in his 60s and being a style icon.
France 24 - Published
Search this site and the web:
You Might Like