Alzheimer's disease
Progressive, neurodegenerative disease characterized by memory loss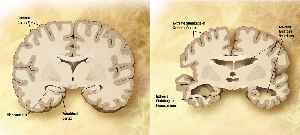 Alzheimer's disease (AD), also referred to simply as Alzheimer's, is a chronic neurodegenerative disease that usually starts slowly and gradually worsens over time. It is the cause of 60–70% of cases of dementia. The most common early symptom is difficulty in remembering recent events. As the disease advances, symptoms can include problems with language, disorientation, mood swings, loss of motivation, not managing self care, and behavioural issues. As a person's condition declines, they often withdraw from family and society. Gradually, bodily functions are lost, ultimately leading to death. Although the speed of progression can vary, the typical life expectancy following diagnosis is three to nine years.


How to lower your risk of developing Alzheimer's: "Genetics is not your destiny"
A major Alzheimer's conference has revealed simple tips to lower your risk of the disease, which has affected an estimated 5.8 million Americans. New research shows exercise, a healthy diet, and work..
CBS News - Published
Protein clue may explain why women with Alzheimer's tend to decline more quickly than men
Women suffering from Alzheimer's disease may experience a more rapid decline than men with the same condition because their brains have a higher number of connections, making it easier for toxic..
WorldNews - Published
Meet the robot puppy that comforts Alzheimer's and dementia patients
For many people living with Alzheimer's and other forms of dementia, the demands of caring for a dog or pet can be a challenge. But a new robotic puppy being developed in California aims to change all..
Credit: Reuters Studio Duration: 00:56Published
White House Looks To End U.S. Research Using Fetal Tissue From Abortions
On Wednesday the Trump administration said it would end scientific research at the National Institutes of Health that relies on fetal tissue from elective abortions, and would accelerate efforts to..
Credit: Wochit News Duration: 00:40Published
AP Top Stories July 15 P
Here's the latest for Monday Ju ly 15th: Trump doubles down on racist tweets; Accusers urge judge to hold Epstein until trial; Blood tests show promise in detecting Alzheimer's and Hawaiians protest..
USATODAY.com - Published
Blood tests show promise in detecting Alzheimer's
Scientists are closing in on a long-sought goal _ a blood test to screen people for possible signs of Alzheimer's disease and other forms of dementia. Half a dozen research groups gave new results at a..
USATODAY.com - Published
Amy Klobuchar unveils plan to address medical needs of aging Americans
2020 Democratic presidential candidate Sen. Amy Klobuchar is unveiling a comprehensive proposal to help older Americans and their families. Her plan would tackle chronic conditions like Alzheimer's,..
CBS News - Published
Woman with dementia punched in the face while wearing badge saying 'I have Alzheimer's please be patient'
Channel 4 reality star Joy Watson says assailant gave her 'one massive hit – a huge thump' before speeding off in car
Independent - Published
You Might Like