Palm Beach County, Florida
County in Florida, United States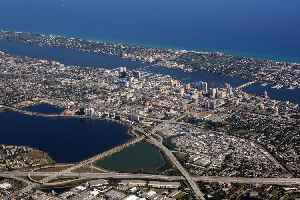 Palm Beach County is a county in the state of Florida that is directly north of Broward County. As of the 2010 census, the population was 1,320,134, making it the third-most populous county in Florida. The largest city and county seat is West Palm Beach. Named after one of its oldest settlements, Palm Beach, the county was established in 1909, after being split from Dade County. The county's modern-day boundaries were established in 1963.


Prosecutors in Robert Kraft sex spa case appeal judge's video suppression ruling
An appeal by the Palm Beach County state attorney was expected after Judge Leonard Hanser's ruling Monday to exclude the video evidence.
USATODAY.com - Published
Trump admin. may send migrants to Democratic strongholds in Florida
Hundreds of detained migrants along the U.S.-Mexico border may soon find themselves in South Florida. A Trump administration plan would move as many as 1,000 migrants per month to Broward and Palm..
CBS News - Published
Robert Kraft Told To Appear In Court Hearing
Robert Kraft was ordered by Palm Beach County Judge Leonard Hanser to appear in court. The New England Patriots owner was charged with two counts of misdemeanor solicitation of prostitution. Kraft was..
Credit: Wochit News Duration: 00:32Published
Robert Kraft's Video Showing Him Receiving Sexual Acts Gets Protected
Robert Kraft's video of him receiving sexual acts at a massage parlor are safe from the public. According to Deadspin, a circuit judge in Palm Beach County gave Kraft a temporary protective order...
Credit: Wochit News Duration: 00:32Published
Florida Prosecutors to Release Tapes of Kraft Prostitution Sting
According to Reuters, Florida prosecutors will release a video of New England Patriots owner Robert Kraft and two dozen other men inside a Florida massage parlor where they were arrested in a..
Credit: Wochit News Duration: 00:35Published
Expected plan to move migrants to Florida an unwelcome surprise for local officials
The Trump administration is apparently planning to move hundreds of undocumented immigrants to south Florida. Local officials in Broward and Palm Beach Counties say they have been told to expect plane..
CBS News - Published
Search this site and the web:
You Might Like