CC Sabathia
American baseball player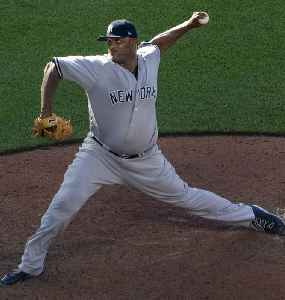 Carsten Charles Sabathia Jr. is an American professional baseball pitcher for the New York Yankees of Major League Baseball (MLB). He previously played for the Cleveland Indians and Milwaukee Brewers. Sabathia bats and throws left-handed.


Yankees' CC Sabathia goes out in perfect style, leaving his all on the field
CC Sabathia, still in severe pain a day later, his left arm in a sling, the Yankees acknowledged that his 19-year career is over.
USATODAY.com - Published
CC Sabathia leaves Yankees game vs. Astros with injury in possible final career appearance
In what was possibly his final appearance in his storied career, CC Sabathia left the Yankees' ALCS Game 4 with an injury.
USATODAY.com - Published
Yankees LHP Sabathia (knee) returns to injured list
The New York Yankees placed left-hander CC Sabathia back on the 10-day injured list on Saturday with knee inflammation.
Reuters - Published
Sabathia put on IL again by Yankees with knee inflammation
New York Yankees pitcher CC Sabathia is back on the injured list because of right knee inflammation
USATODAY.com - Published
All-Star Game gives CC Sabathia, Indians fans a chance to look back: 'Thank you. And I love you.'
CC Sabathia, who is retiring after the season, said farewell to Cleveland - a place he once called home - during the All-Star Game.
USATODAY.com - Published
Sánchez, Yankees jump on Snell as Sabathia gets win No. 250
Baseball Capsules
USATODAY.com - Published
Mercado homers off Sabathia, Indians beat Yankees 8-4
Rookie Oscar Mercado hit a two-run homer off CC Sabathia to break a fifth-inning tie and the Cleveland Indians defeated the New York Yankees 8-4
USATODAY.com - Published
Home run: Sabathia sees old spots in last trip to Cleveland
CC Sabathia returns to Cleveland to pitch for final time in farewell season
USATODAY.com - Published