Soura, Srinagar
Place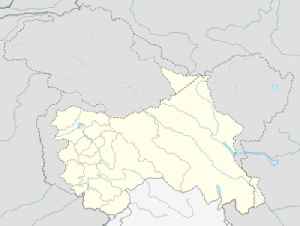 Soura is a notified area of Srinagar located about 11.1 km north of Lal Chowk on Srinagar-Ladakh Highway. Soura is famous for Sher-i-Kashmir Institute of Medical Sciences Hospital, a multi-speciality hospital. Besides serving as a Hospital, it is the prestigious medical college of Kashmir valley. Soura is located near Anchar Lake. The whole western side of the area is covered by Anchar Lake. It also hosts a famous Muslim shrine known as Aasaar Sharief Jinaab Saahib which holds more than 13 holy relics. Actually it got its name from a Sufi saint whose name is Malik- u-din Suhrawardī Whose shrine is located in suhra.


Fragmented politics mark Soura, J&K's hub of violent separatism
IndiaTimes - Published
Teen dies of injuries in Srinagar hospital, restrictions reimposed in parts of city
Asrar Ahmed Khan, 18, was part of a mob holding protests in Soura on August 6, a day after the Centre announced the revocation of Jammu and Kashmir's special status and its bifurcation into two union..
IndiaTimes - Published
Kashmir protesters defy restrictions, clash with security forces
Security forces used tear gas against stone-throwing local residents in Indian Kashmir's main city of Srinagar on Friday, after a third straight week of protests in the restive Soura district despite..
Reuters - Published
Besieged Kashmiri neighborhood in test of wills with India's Modi
For more than a week, the young men of Soura, a densely populated enclave in Kashmir's main city of Srinagar, have been taking turns to maintain an around-the-clock vigil at the entry points to their..
Reuters - Published
One killed, multiple injured in Indian-occupied Kashmir after firing
ISLAMABAD: At least one person, identified as Mohammad Ayub, was martyred on Sunday and multiple were left injured during clashes between Indian troops and protesters who defied curfew orders and other..
WorldNews - Published
Kashmir Update: MHA says stone pelting took place in Soura on Aug 9, Cong demands all-party meet
The spokesperson of Ministry of Home Affairs (MHA) on Tuesday said that a stone-pelting incident against law enforcement agencies took place on August 9 in Soura region of Srinagar, however, the forces..
DNA - Published
NSA Ajit Doval interacts with security personnel in valley
Earlier in the day, Doval had also carried out a recce of Srinagar to assess the situation on the ground on the day of Eid-ul-Zuha. He visited the most sensitive areas in downtown Srinagar such as..
IndiaTimes - Published
You Might Like