Emergency medical technician
Health care provider of emergency medical services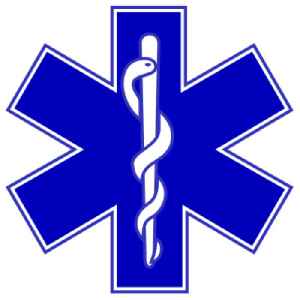 Emergency medical technician (EMT) and ambulance technician are terms used in some countries to denote a health care provider of emergency medical services. EMTs are clinicians, trained to respond quickly to emergency situations regarding medical issues, traumatic injuries and accident scenes.


You Might Like
New Jersey police officers pull unconscious man from burning car
A pair of fishermen, an EMT, and two police officers rescued an unconscious man from a burning car in Atlantic City, New Jersey.
USATODAY.com - Published
'She's gone': Breonna Taylor's death sparks outrage as she's remembered as 'good girl'
Breonna Taylor, a 26-year-old EMT, was shot to death in her apartment by Louisville Metro Police.  
USATODAY.com - Published
Three Weeks in April: An E.M.T. Crew Faces Exhaustion, Isolation and Death
A photojournalist switched careers and became an E.M.T. just months before the coronavirus pandemic hit. Recently, he brought his camera along to document what he and his crew are seeing.
NYTimes.com - Published
Hundreds of ambulances and EMTs answer NYC's calls for help
The City of New York, FDNY and FEMA are partnering to fight this pandemic. Hundreds of first responders and ambulances flooded into New York City to offer their help.
USATODAY.com - Published
12 Fraught Hours With E.M.T.s in a City Under Siege
Special units of emergency medical workers in Paterson, N.J., respond to 911 calls for suspected coronavirus, entering homes and putting themselves at risk.
NYTimes.com - Published
NYC reports 1st coronavirus death of a person under 18
NEW YORK (AP) — New York City reported its first coronavirus death of a person under 18 years old as the number of fatalities in the epicenter of the U.S. outbreak continued to rise rapidly. City..
WorldNews - Published
Woman drenched in blood after car wreck terrified EMTs. It was her Carrie costume
First responders were terrified to find a bloody Sidney Wolfe after a deer collided into her car. Turns out, she was just dressed up as Carrie.
USATODAY.com - Published
"48 Hours" Live to Tell: One Last Hug
A woman withstands a brutal attack to find true love - the real story of a survivor and the hero EMT that helped save her life and more. Troy Roberts has the story. | Read story
CBS News - Published
Man suffering a psychotic breakdown left near highway by first responders
When Paul Tarashuk suffered a psychotic episode while traveling along a highway, deputies and EMTs responded. But no one took him to a hospital
CBS News - Published
Video shows man suffering psychotic episode was left at a closed gas station
One night in September, Paul Tarashuk had a psychotic episode along a highway in South Carolina. Body camera footage shows how he was treated by EMTs and a deputy, who left him alone at a closed gas..
CBS News - Published
Expert breaks down red flags in treatment of man's psychotic episode
Bryan Bledsoe is a clinical professor at the University of Nevada Las Vegas School of Medicine. He spoke with Jim Axelrod about the treatment of Paul Tarashuk. Body camera footage shows how EMTs..
CBS News - Published
Patient in Boston ambulance stabs EMT many times
Police say a Boston emergency responder was stabbed several times by a patient in an ambulance. The EMT was taken to a hospital and is expected to survive. The patient was arrested. (July 11)
USATODAY.com - Published
New York says goodbye to Luis Alvarez, heroic 9/11 first responder felled by cancer
Police officers, firefighters, EMTs and regular New Yorkers gathered to say goodbye Wednesday to 9/11 first responder Luis Alvarez.
USATODAY.com - Published