Saddam Hussein
Iraqi politician and President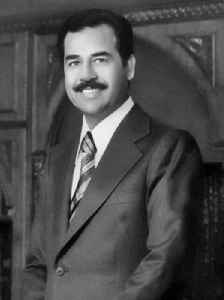 Saddam Hussein Abd al-Majid al-Tikriti was President of Iraq from 16 July 1979 until 9 April 2003. A leading member of the revolutionary Arab Socialist Ba'ath Party, and later, the Baghdad-based Ba'ath Party and its regional organization the Iraqi Ba'ath Party—which espoused Ba'athism, a mix of Arab nationalism and socialism—Saddam played a key role in the 1968 coup that brought the party to power in Iraq.


Rouhani says Saudi Arabia, UAE owe their existence today to Iran: TV
Iranian President Hassan Rouhani said on Wednesday that Saudi Arabia and the United Arab Emirates owed their existence to Iran because it had refused to help former Iraqi president Saddam Hussein..
Reuters - Published
Search this site and the web:
You Might Like