Unai Emery
Spanish association football player and manager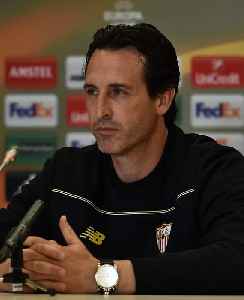 Unai Emery Etxegoien is a Spanish football manager and former player. He was most recently the head coach of Premier League club Arsenal.


Arsenal: The season so far

A look at the progress of Arsenal's 2019/20 season before the postponement of sport due to coronavirus. The Gunners sacked Unai Emery after a rotten run of form in autumn, with Mikel Arteta handed the..
Credit: PA - Press Association STUDIO Duration: 00:49
Published
You Might Like



Arteta has a 'much harder job' on his hands at Arsenal than Lampard does at Chelsea, says Fabregas

Mikel Arteta has a "much harder job" on his hands at Arsenal than Frank Lampard does at Chelsea, according to Cesc Fabregas. Arteta was handed his first senior role in management after being selected..




WorldNews - Published





Arsenal: Mikel Arteta backed as successor by Unai Emery

Former Arsenal boss Unai Emery talks to BBC Sport about his potential successor, as well as what went wrong and what his future plans are.




BBC News - Published





Ljungberg planning Wenger chat as he seeks Arsenal revival

London: Arsenal caretaker boss Freddie Ljungberg said he would seek advice from former manager Arsene Wenger as he prepares for his first home game in charge against Brighton & Hove Albion in the..




WorldNews - Published





I had no contact with Arsenal before taking Spurs job - Mourinho

Jose Mourinho says he did not have any contact with Arsenal about replacing Unai Emery before he took over as Tottenham's new manager.




BBC News - Published





Arsenal sack Emery: Patrick Vieira 'right man' to take over says David Seaman

With David Seaman backing Patrick Vieira to replace the sacked Unai Emery, BBC Sport looks at potential contenders to become Arsenal boss.




BBC News - Published




Arsenal sack Unai Emery: Manager leaves after 18 months in charge

Arsenal sack manger Unai Emery after picking up just four Premier League wins this season.




BBC News - Published





Arsenal Manager Unai Emery Sacked After 18 Months at Premier League Club

Spanish football manager and former player Unai Emery Etxegoien became the head coach of Premier League club Arsenal in May 2018, signing a two-year deal with the club, while Arsenal reportedly had an..




WorldNews - Published





Unai Emery: Arsenal sack boss after 18 months in charge

Arsenal sack manger Unai Emery after picking up just four Premier League wins this season.




BBC News - Published





Gunners are not in a 'good moment' - Unai Emery's last interview as Arsenal boss

Arsenal boss Unai Emery admits his side are not in a "good moment" following a 2-1 home defeat against Eintracht Frankfurt.




BBC News - Published





Unai Emery: Arsenal manager may have taken club as far as he can - Martin Keown

Martin Keown says Arsenal manager Unai Emery "may have taken the team as far as he can" after they lose at home to Eintracht Frankfurt in the Europa League.




BBC News - Published





Arsenal 1-2 Eintracht Frankfurt: Kamada double adds to Unai Emery woes

The pressure on Arsenal manager Unai Emery intensifies as Daichi Kamada's brilliant double earns Eintracht Frankfurt victory at the Emirates Stadium.




BBC News - Published





Nuno possible replacement if Arsenal sack Emery

Arsenal identify Wolves boss Nuno Espirito Santo as a potential replacement for Unai Emery if the Gunners decide to sack the Spaniard.




BBC News - Published





Under-pressure Emery 'focused on today and tomorrow'

Arsenal manager Unai Emery says his focus is on "today and tomorrow" as he prepares for his side's Europa League tie with Eintracht Frankfurt.




BBC News - Published





Pressure grows on Emery as Lacazette salvages late point for Arsenal

Arsenal manager Unai Emery and his players were booed off despite Alexandre Lacazette's 96th-minute equaliser denying Southampton a win. ......




WorldNews - Published





Karen Carney column: Why Mesut Ozil will stay at Arsenal longer than Unai Emery

In Karen Carney's latest column she discusses Arsenal midfielder Mesut Ozil, his relationship with manager Unai Emery and why he should be playing more.




BBC News - Published





Xhaka could return for Arsenal this weekend - Emery

Unai Emery says Granit Xhaka could return for Arsenal this weekend, despite recently claiming he was unsure if he would play for the club again.




BBC News - Published





Under-pressure Emery told he's still 'right man for the job'

LONDON (AP) — High-ranking officials at Arsenal have told manager Unai Emery he is still "the right man for the job" but the team's results must improve. Emery has come under pressure with..




WorldNews - Published





Arsenal boss Emery 'doesn't know' if Xhaka will play for club again

Arsenal boss Unai Emery admits he "does not know" if former captain Granit Xhaka will play for the club again.




BBC News - Published





Arsenal, Manchester United, Celtic target Europa League knockout berths

Paris: Last season's Europa League finalists Arsenal and 2017 champions Manchester United can clinch places in the last 32 of the competition this week, while group leaders Celtic face a "titanic game"..




WorldNews - Published





Granit Xhaka: Arsenal midfielder stripped of captaincy, says Unai Emery

Midfielder Granit Xhaka has been stripped of the Arsenal captaincy, manager Unai Emery confirms.




BBC News - Published




Xhaka needs to apologise - Arsenal boss Emery

Arsenal boss Unai Emery says Granit Xhaka should apologise after an angry confrontation with home fans during Sunday's draw with Crystal Palace.




BBC News - Published





Premier League stats: Liverpool and Mohamed Salah continue to dominate Spurs

Tottenham's miserable Anfield run goes on, Arsenal stutter under Unai Emery, and how Man Utd have reached 2,000 goals.




BBC News - Published





Arsenal surrender two-goal lead as Palace fight back

Arsenal surrender a two-goal lead and captain Granit Xhaka was booed off the pitch as Unai Emery's side were held by Crystal Palace at Emirates Stadium.




BBC News - Published




Sheffield United beats Arsenal in Premier League

SHEFFIELD, England — Arsenal slumped to a 1-0 loss at promoted Sheffield United on Monday in the Premier League, upping the pressure on coach Unai Emery after another performance void of creativity..




WorldNews - Published





Emery says the door is still open to Ozil at Arsenal

LONDON – Arsenal manager Unai Emery said he had not closed the door on Mesut Ozil and looked forward on Thursday to the playmaker returning to full fitness. The German has featured only twice for the..




WorldNews - Published





Emery proud of efficient Arsenal after climbing to third in Premier League

Overcoming a fighting Bournemouth and edging into the top four will gave Arsenal confidence, according to Unai Emery. Unai Emery believes a well-organised Arsenal can be satisfied with achieving their..




WorldNews - Published





Emery tells Pepe to embrace Arsenal pressure

Unai Emery has urged Nicolas Pepe to deal with the pressure that comes with his club-record price tag as the Arsenal winger tries to recover from a shaky start to life in England. Emery paid a reported..




WorldNews - Published





Arsenal Cruises, United Held Scoreless in Europa League

Manchester United's scoring woes were on display again as the English powerhouse labored to a 0-0 draw at AZ Alkmaar in another poor display in the Europa League on Thursday. Arsenal had no such..




WorldNews - Published





Mesut Ozil: Arsenal boss Unai Emery says youngsters deserved to start ahead of midfielder

Arsenal boss Unai Emery left Mesut Ozil out of his squad for the Europa League win over Standard Liege because other players "deserved their places more".




BBC News - Published





Time for Arsenal captain Xhaka to repay Emery's faith

Granit Xhaka will lead Arsenal into Monday's Premier League clash at Manchester United as the club's new captain, but the Swiss midfielder has to win over plenty of doubters that he is fit to wear the..




WorldNews - Published





Granit Xhaka: Arsenal manager Unai Emery names midfielder as new captain

Arsenal head coach Unai Emery names midfielder Granit Xhaka as the club's new permanent captain.




BBC News - Published





Emery rests Ozil for Eintracht Frankfurt despite lack of Premier League action

Arsenal head coach Unai Emery has not taken Mesut Ozil to Germany for a Europa League clash with Eintracht Frankfurt. Mesut Ozil has been rested for Arsenal's Europa League trip to Eintracht Frankfurt..




WorldNews - Published





Arsenal: Josh Kroenke on transfer window, Unai Emery & targeting Premier League title

Arsenal director Josh Kroenke speaks to BBC Sport about the club's summer transfers, fan pressure and future ambition.




BBC News - Published





Emery: I don't know if we're better than last season

August 17 2019 2:30 AM 0 Comments Emery: I don't know if we're better than last season Independent.ie Unai Emery admits he does not yet know whether his reshaped Arsenal squad is stronger than the one..




WorldNews - Published





Arsenal's Mesut Ozil & Sead Kolasinac '100%' ready to play

Arsenal manager Unai Emery is "100%" confident Mesut Ozil and Sead Kolasinac are mentally ready to play against Burnley on Saturday.




BBC News - Published





Pepe to Arsenal 'not closed', says Emery

Lille president Gerard Lopez has claimed a move to Arsenal is imminent for Nicolas Pepe, but Unai Emery is more cautious. Unai Emery says Arsenal's deal for Lille forward Nicolas Pepe is "not closed"...




WorldNews - Published





Arsenal close to completing Kieran Tierney transfer deal

Arsenal are on the cusp of signing Celtic ace Kieran Tierney (Picture: Getty) Arsenal are reportedly closing in on an agreement for Kieran Tierney after restructuring their offer for the Celtic star...




WorldNews - Published





Mesut Ozil and Sead Kolasinac left out of Arsenal v Lyon game after attempted carjacking

Mesut Ozil and Sead Kolasinac sit out Arsenal's defeat by Lyon on Sunday because they are "not ready" to play, says manager Unai Emery.




BBC News - Published





Arsenal targeting 'very big, very expensive players' - Emery

Manager Unai Emery says Arsenal are trying to sign "three or four" players and are being "very demanding" with their targets.




BBC News - Published