Nirmala Sitharaman
Indian politician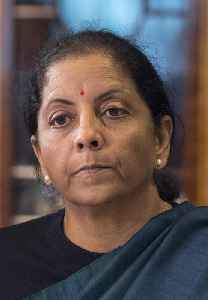 Nirmala Sitharaman is an Indian politician of the Bharatiya Janata Party (BJP), serving as the Minister of Defence since 2017 and has served as Member of the Rajya Sabha, upper house of the Indian Parliament, since 2016. Sitharaman is India's second female defence minister. She has served as the Minister of State for Finance and Corporate Affairs under the Ministry of Finance and the Minister for Commerce and Industry with independent charge. Prior to that, she has served as a national spokesperson for the BJP.


Lok Sabha election 2019: Nirmala Sitharaman, P Chidambaram cast vote in 2nd phase of polling
Among those who took to their respective polling booths were former Finance Minister P Chidambaram, actor-turned-politician Rajinikanth, BJP candidate from Bengaluru South Tejasvi Surya, and Defence..
DNA - Published
PM Imran's endorsement for BJP could be Congress' ploy, says Indian defence minister
NEW DELHI: A week after Prime Minister Imran Khan's statement supporting Bharatiya Janata Party (BJP) to win Lok Sabha polls, Indian Defence Minister Nirmala Sitharaman termed it a Congress' ploy...
WorldNews - Published
Imran Khan's statement on PM Modi could be Congress' ploy: Sitharaman
During an interaction with a small group of foreign journalists in Islamabad, Imran Khan had said he believes there may be a better chance of peace talks with India and settling the Kashmir issue if..
IndiaTimes - Published
Apply mind before you speak: Sitharaman's advise to politicians on sexist remarks
Sitharaman reacts to spate of unparliamentary comments made by leaders.
DNA - Published
We don't want to politicise armed forces: Nirmala Sitharaman
IndiaTimes - Published
India hopes to avoid US sanctions over Russian missile deal
NEW DELHI: India is hopeful it will avoid US sanctions over its purchase of Russia's S-400 missile system, Defence Minister Nirmala Sitharaman told AFP. New Delhi has been "heard and understood"..
WorldNews - Published
You Might Like