Mandarin Chinese
Major branch of Chinese spoken across most of northern and southwestern China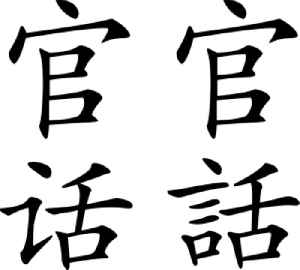 Mandarin is a group of related varieties of Chinese spoken across most of northern and southwestern China. The group includes the Beijing dialect, the basis of Standard Mandarin or Standard Chinese. Because Mandarin originated in North China and most Mandarin dialects are found in the north, the group is sometimes referred to as the Northern dialects. Many local Mandarin varieties are not mutually intelligible. Nevertheless, Mandarin is often placed first in lists of languages by number of native speakers.


Kevin Mallory: Ex-CIA agent jailed for spying for China
Ex-soldier and fluent Mandarin speaker Kevin Mallory, 62, is sentenced to 20 years in prison.
BBC News - Published
AEC says Chinese Liberals signs won't be removed
Mandarin-language election signs in Melbourne, which are claimed to "trick" Chinese people to vote Liberal, have been criticised as a "massive rort".
SBS - Published
Zhengzhou factories suffer as US/China trade rhetoric ramps up
As China ramps up the trade battle rhetoric, businesses in the import/export hub of Zhengzhou are feeling the pain of ongoing tensions with the U.S. - where, as Pascale Davies reports, the likelihood..
Credit: Reuters Studio Duration: 02:00Published
China says will 'never surrender' as U.S. trade row heats up
Global equities fell on Monday after their worst week of 2019, as hopes of an imminent U.S.-China trade deal were crushed and neither side showed a willingness to budge, raising fears of a fresh round..
Credit: Reuters Studio Duration: 01:23Published
US and China in make-or-break trade talks
President Donald Trump applied more pressure ahead of make-or-break trade talks with China, saying he has authorized new or higher tariffs on $325 billion of Chinese imports. Conway G. Gittens reports.
Credit: Reuters Studio Duration: 02:19Published
Bringing 'hand-tap' tattoos back to Taiwan
The tattoo technique of hand-tapping had almost vanished from Taiwan. But artist Cudjuy Patjidres says he is devoted to reviving an important culture of his ancestors. Michelle Hennessy reports.
Credit: Reuters Studio Duration: 01:30Published
David Beckham's 'deep fake' malaria awareness video
Former England captain David Beckham lent his voice, and borrowed a few others, as he helped launched a global appeal to end malaria on Tuesday. Francesca Lynagh reports.
Credit: Reuters Studio Duration: 02:06Published
Search this site and the web:
You Might Like