Jeb Bush
American politician, former Governor of Florida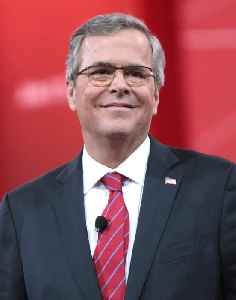 John Ellis "Jeb" Bush is an American politician who served as the 43rd Governor of Florida from 1999 to 2007. Bush, who grew up in Houston, is the second son of former President George H. W. Bush and former First Lady Barbara Bush, and a younger brother of former President George W. Bush. He graduated from Phillips Academy in Andover, Massachusetts, and attended the University of Texas, where he earned a degree in Latin American affairs. In 1980, he moved to Florida and pursued a career in real estate development, and in 1986 became Florida's Secretary of Commerce until 1988. At that time, he joined his father's successful campaign for the Presidency.


Joe Biden's 2020 nightmare: He could be the Democratic reincarnation of Jeb Bush
Most Democrats, including me, would gleefully support Biden over Trump or Pence. Yet it would be delusional to ignore the brutal undertow facing him.
USATODAY.com - Published
Jeb Bush wants a Republican to challenge Trump in 2020
Few high-profile Republicans are considering a primary challenge to the president
CBS News - Published
Jeb Bush's Super PAC Lands In Hot Water Over Foreign Donation
he Federal Election Commission on Monday doled out $940,000 in fines to the super PAC that backed Jeb Bush's 2016 presidential bid and a Chinese-owned corporation that made illegal donations to it...
Credit: Wochit News Duration: 00:50Published
Search this site and the web:
You Might Like