T-Mobile US
American telecommunications company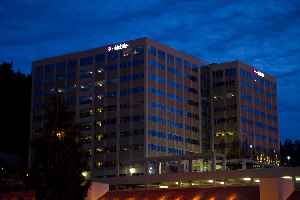 T-Mobile US, Inc., commonly shortened to T-Mobile, is an American wireless network operator. Its largest shareholder is the German telecommunications company Deutsche Telekom (DT) with a 43% share, with Japanese conglomerate holding company SoftBank Group partially owning the company as well at a 24% share. The remaining 33% share of the company is owned by the public through common stock. Its headquarters are located in Bellevue, Washington, in the Seattle metropolitan area. T-Mobile is the third-largest wireless carrier in the United States, with 86.0 million customers as of the end of Q4 2019.


SoftBank kicks off $21 bln T-Mobile stake sale

SoftBank is offloading about two thirds of its stake in T-Mobile US, raising $21 billion for a share buyback and debt reduction plan. Julian Satterthwaite reports.
Credit: Reuters Studio Duration: 01:06
Published
T-Mobile Eliminating Sprint This Summer

New York (CNN Business) The $26 billion merger between T-Mobile and Sprint is reportedly one step closer thanks to a powerful nod of approval. A federal judge will rule in favor of the marriage..
Credit: Wochit News Duration: 00:27
Published
You Might Like



Sale of SoftBank's 198 million T-Mobile shares prices at $103 per share

CNBC's David Faber reports the details of SoftBank's sale of 198 million T-Mobile shares. ......




WorldNews - Published





SoftBank Plans to Sell $21 Billion Worth of T-Mobile Shares

SoftBank's decision to sell T-Mobile shares is part of the company's efforts to boost liquidity in a bid to fight the negative economic of the coronavirus pandemic. The internal responses by..




WorldNews - Published





SoftBank in talks to sell down T-Mobile U.S. stake to Deutsche Telekom - WSJ

SoftBank Group Corp is in talks to sell "a significant portion" of its T-Mobile US stake to controlling shareholder Deutsche Telekom AG, the Wall Street Journal reported on Monday citing unidentified..




Reuters - Published





T-Mobile, Sprint amend merger terms, SoftBank takes a hit

T-Mobile US and Sprint Corp said on Thursday that they had agreed on new merger terms that would reduce the stake of major Sprint shareholder SoftBank, while leaving the offer to other shareholders..




Reuters - Published





T-Mobile, Sprint amend merger terms; to close deal as early as April 1

T- Mobile US and Sprint Corp said on Thursday that they had agreed on new merger terms and were looking to close the deal as early as April 1.




Reuters - Published





New York drops fight against T-Mobile-Sprint merger

New York on Sunday dropped its fight against the $40 billion merger of U.S. wireless carriers T-Mobile US Inc and Sprint Corp , saying the state would not appeal a judge's approval of the deal.




Reuters - Published




New York attorney general will not appeal T-Mobile-Sprint merger ruling

New York Attorney General Letitia James said on Sunday the state will not appeal a judge's approval of the $40 billion merger between U.S. wireless carriers T-Mobile US Inc and Sprint Corp .




Reuters - Published




Investors expect any T-Mobile/Sprint deal price haircut to be small

T-Mobile US Inc may be limited in its ability to trim the price of its $40 billion acquisition of Sprint Corp after it overcame regulatory obstacles to completing the deal, investors and analysts said..




Reuters - Published





T-Mobile-Sprint merger wins approval from U.S. judge

A federal judge on Tuesday approved a merger between No.3 and No.4 wireless carriers T-Mobile US Inc and Sprint Corp, rejecting a claim by a group of states that said the deal would violate antitrust..




Reuters - Published




U.S. judge expected to rule in favor of Sprint, T-Mobile merger: sources

A U.S. district judge is expected to rule in favor of allowing Sprint and T-Mobile US to merge over the objections of a group of state attorneys general, according to two sources familiar with the..




Reuters - Published





T-Mobile/Sprint urge court for deal approval, states warn of price hikes

A group of U.S. states suing to block T-Mobile US Inc from merging with Sprint Corp on Wednesday told a federal judge that the deal would raise prices for consumers, while the phone companies pushed..




Reuters - Published





U.S. states tell court prices to rise if Sprint, T-Mobile allowed to merge

A group of U.S. states suing to block T-Mobile US Inc from merging with Sprint Corp on Wednesday told a federal judge that the deal would violate antitrust laws and raise wireless prices for consumers.




Reuters - Published





U.S. judge hears closing arguments in T-Mobile-Sprint merger trial

U.S. wireless carriers T-Mobile US Inc and Sprint Corp are expected to urge a federal judge on Wednesday to let them proceed with their $26.5 billion merger, as a group of states argues the deal..




Reuters - Published





Sprint tells of business struggles in first day of T-Mobile merger trial

Executives from Sprint Corp testified on Monday that the U.S. wireless carrier has struggled to improve its network, hindering its growth and underscoring the need to merge with larger rival T-Mobile..




Reuters - Published





Judge rejects U.S. move to disqualify states' lawyer in T-Mobile/Sprint lawsuit

A federal judge on Thursday rejected a U.S. government effort to disqualify a lawyer arguing for 15 states and the District of Columbia in their effort to block T-Mobile US Inc's planned $26.5 billion..




Reuters - Published




WeWork in talks to hire T-Mobile's John Legere as CEO: WSJ

WeWork is in discussions with T-Mobile US Inc Chief Executive Officer John Legere to take over as head of the office-sharing start-up, the Wall Street Journal reported on Monday, citing people familiar..




Reuters - Published





Arkansas joins states backing T-Mobile's deal to buy Sprint

Arkansas has decided to back the U.S> Justice Department's decision to approve a merger of T-Mobile US and Sprint, the third and fourth largest U.S. wireless carriers.




Reuters - Published





FCC approves merger of T-Mobile, Sprint on vote split on party lines: sources

T-Mobile US Inc's proposed $26.5 billion tie-up with Sprint Corp won formal approval from the Federal Communications Commission on Wednesday in a vote split along party lines, two sources told Reuters.




Reuters - Published





New York City sues T-Mobile over 'rampant' customer sales abuses

New York City sued T-Mobile USA Inc on Wednesday, accusing the fourth-largest U.S. mobile phone company of engaging in "rampant" sales abuses of customers for its lower-priced, prepaid wireless brand,..




Reuters - Published





U.S. state legal chiefs, telecom firms set to crack down on robocalls

Attorneys general from 50 U.S. states and the District of Columbia will announce on Thursday they are joining forces with major telecommunications providers, including AT&T Inc, Verizon Communications..




Reuters - Published





FCC chair recommends approval of merger between T-Mobile and Sprint

FCC chairman Ajit Pai has formally recommended Wednesday approving the merger between wireless carriers T-Mobile and Sprint.        ......




WorldNews - Published

Also reported by •USATODAY.com


State AGs fighting T-Mobile, Sprint merger request new trial date in December

An attorney for a group of 13 state attorneys general who filed a lawsuit in hopes of stopping T-Mobile U.S. Inc's $26 billion merger with Sprint Corp has requested a new trial date for the case.




Reuters - Published





T-Mobile says cost to close merger with Sprint should come down by 10%

T-Mobile US said on Friday that the cost required to acquire smaller rival Sprint will come down by 10 percent from the initial $26.5 billion following the divesture of assets to Dish Network.




Reuters - Published





Sprint, T-Mobile win U.S. antitrust approval for $26 billion merger

T-Mobile US Inc won U.S. antitrust approval for its $26 billion takeover of rival Sprint Corp, the Justice Department said on Friday, clearing a major hurdle to a deal that would merge the nation's..




Reuters - Published





Sprint, T-Mobile merger gets OK from Justice Department, Dish gets Boost Mobile

The $26-billion T-Mobile-Sprint merger cleared another major regulatory hurdle gaining approval from the Justice Departmentl. Is it a done deal?




USATODAY.com - Published




Justice Department Approves Sprint, T-Mobile Merger Deal

The United States Justice Department said it would be approving the $26 billion merger of T-Mobile US Inc and Sprint Corp on Friday, according to National Public Radio. Assistant Attorney General Makan..




WorldNews - Published

Also reported by •Reuters


T-Mobile, Sprint merger OK'd, creating No. 3 wireless carrier

The agreement requires the two companies to divest enough assets to help Dish become new No. 4 player in mobile phones




CBS News - Published





T-Mobile-Sprint deal clears DOJ hurdle: Will you pay more for your cellular plan?

The $26-billion T-Mobile-Sprint merger cleared another major regulatory hurdle with the Justice Department approving the deal. What about consumers?




USATODAY.com - Published





U.S. Department of Justice approves T-Mobile, Sprint tie-up

The U.S. Justice Department said it was greenlighting T-Mobile US Inc's request to acquire rival Sprint Corp after the companies agreed to divest Sprint's prepaid businesses including Boost Mobile to..




Reuters - Published





Four U.S. states join lawsuit to stop T-Mobile-Sprint deal

Four more U.S. states joined an unusual effort by state attorneys general to stop T-Mobile US Inc's acquisition of Sprint Corp, a New York official said at a court hearing on Friday.




Reuters - Published




Exclusive: T-Mobile prepares for Boost auction if Dish Network talks stall - sources

T-Mobile US Inc is preparing an alternative plan if a deal to sell wireless assets to Dish Network Corp falls through, according to two sources familiar with the matter.




Reuters - Published





Apollo in talks to finance Dish Network bid for T-Mobile, Sprint assets - sources

Private equity group Apollo Global Management is in talks with satellite TV provider Dish Network to finance a bid for wireless assets that will be divested in the proposed merger between T-Mobile and..




Reuters - Published





U.S. Justice Department set to decide on T-Mobile, Sprint merger as soon as next week: source

The U.S. Justice Department is set to decide as early as next week whether to approve the $26.5-billion merger of wireless carriers T-Mobile USA and Sprint Corp, a person briefed on the matter said on..




Reuters - Published





10 U.S. States File Suit To Block Sprint, T-Mobile Merger

Ten state attorneys general have filed a lawsuit to try to block the merger of telecom giants T-Mobile and Sprint, National Public Radio reported. "When it comes to corporate power, bigger isn't always..




WorldNews - Published

Also reported by •Reuters


Ten U.S. states sue to stop Sprint-T-Mobile deal, saying consumers will be hurt

Ten states led by New York and California have filed a lawsuit to stop T-Mobile US Inc's $26 billion purchase of Sprint Corp, warning that consumer prices will jump due to reduced competition.




Reuters - Published





State attorneys general in U.S. file lawsuit to stop Sprint-T-Mobile deal

Ten states led by New York and California have filed a lawsuit to stop T-Mobile US Inc's $26 billion purchase of Sprint Corp, warning that consumer prices will jump due to reduced competition.




Reuters - Published