Alexis Tsipras
Greek politician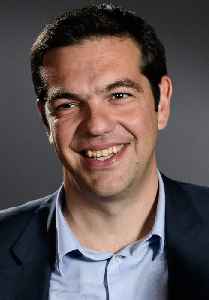 Alexis Tsipras is a Greek politician serving as Prime Minister of Greece since 2015.


Greek PM says may seek sanctions against Turkey in gas row
Greece and Cyprus will push their EU partners to penalize Turkey, including the possible option of sanctions, if Ankara is verified to have started drilling for gas west of Cyprus, Greek Prime Minister..
Reuters - Published
PM Tsipras Asks Greek President for Dissolution of Parliament, Elections (Vid)
ATHENS – Greek Prime Minister Alexis Tsipras requested the dissolution of parliament and the call for general elections from President of the Republic Prokopios Pavlopoulos on Monday evening, "in..
WorldNews - Published
Greece to hold snap election in July after presidential approval
Greece's president has approved a request by prime minister Alexis Tsipras to hold a snap election, just four months before the end of Tsipras's term.
Credit: euronews (in English) Duration: 02:55Published
Greek PM Urges Party To Regroup Before Snap Election
According to Reuters, Greek Prime Minister Alexis Tsipras urged his party to regroup ahead of a snap election. PM Tsipras gave a speech to rally the Syriza party after opposition conservatives won more..
Credit: Wochit News Duration: 00:44Published
Greek opposition Conservatives in lead in exit poll for EU vote
According to Reuters.com, "Greece's opposition New Democracy party took a commanding lead over the ruling leftist Syriza in European Parliament elections on Sunday, early results showed, in a blow to..
Credit: Wochit News Duration: 00:36Published
Greece parliament demand Germany pay WWII reparations
Prime Minister Alexis Tsipras said demanding reparations is "a historic and moral duty and a duty in memory of the heroes of the past."
Credit: euronews (in English) Duration: 04:58Published
Greek president approves Tsipras call for snap election
Greece's president accepted a request from Prime Minister Alexis Tsipras to dissolve parliament on Monday, formally triggering a snap election that Tsipras has called for next month after badly losing..
Reuters - Published
Greece must hold snap election, PM tells president
Greece should hold a snap election to avert a protracted period of political uncertainty that could hurt its economic recovery, Prime Minister Alexis Tsipras told the country's president on Monday.
Reuters - Published
Search this site and the web:
You Might Like