Tornado Alley
Area in the U.S. with frequent tornado outbreaks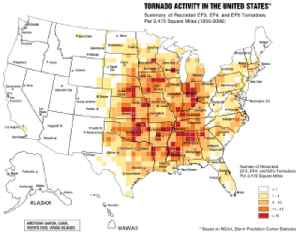 Tornado Alley is a colloquial term for the area of the United States where tornadoes are most frequent.


Tornadoes roar through nation: 'Tornado Alley is certainly waking up'
A wide swath of the nation was bracing this week for damaging wind gusts, hail and tornadoes as communities woke up to damage from the last round.
USATODAY.com - Published
Violent weather: Tornado Alley in the bull's eye for large hail, likely tornadoes
Severe storms, with large hail, damaging winds and ground-hugging tornadoes, are expected to hammer major parts of Tornado Alley from Texas to South Dakota Friday in the first round of violent,..
USATODAY.com - Published
Tornado Alley: US Has More Twisters Than The Rest Of The Entire World
Over 1,200 tornadoes strike American soil each year. That's four times as many twisters as the rest of the world combined. According to Business Insider, the US has more tornadoes than anywhere else in..
Credit: Wochit News Duration: 00:44Published
Tornado alley 'about to wake up': Wall of storms threaten 18 states
Severe thunderstorms and even tornadoes will threaten almost 1 million square miles of 18 states in coming days as tumultuous spring weathers sweeps the nation.
USATODAY.com - Published
Search this site and the web:
You Might Like