BBC Radio 4
British domestic radio station, owned and operated by the BBC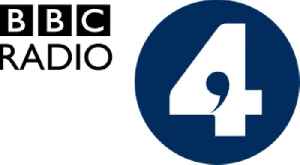 BBC Radio 4, part of BBC Radio, is owned and operated by the British Broadcasting Corporation. It broadcasts a wide variety of spoken-word programmes including news, drama, comedy, science and history from the BBC's headquarters at Broadcasting House, London. It replaced the BBC Home Service in 1967. The station controller is Mohit Bakaya.


You Might Like
Phoebe Waller-Bridge on Fleabag and feminism
The actress and writer speaks to BBC Radio 4's Woman's Hour about her conflicting feelings towards feminism.
BBC News - Published
Legendary broadcaster Nicholas Parsons dies at 96
Nicholas Parsons, comedy's great straight man who hosted Radio 4's Just a Minute, has died aged 96.
BBC News - Published
50 years without hesitation, repetition or deviation
The unflappable chairman of BBC Radio 4's Just A Minute, and one of the best straight men in the business.
BBC News - Published
Rupert Murdoch to launch BBC Radio 4 rival as corporation suffers funding cuts
Times Radio will target 'wealthy metropolitan audience' and is set to begin broadcasting in spring
Independent - Published
Red faces as BBC radio calls the wrong expert
Presenter Evan Davis said it was the worst mistake since he joined Radio 4's PM programme.
BBC News - Published
Anthony Scaramucci calls Trump a lawless criminal: 'If he is removed it would be like Fourth of July
Donald Trump's former director of communications Anthony Scaramucci has described his old boss as a "lawless criminal" whose removal from office would be celebrated like the Fourth of July. Mr..
WorldNews - Published
Thomas Cook: 50,000 customers still waiting for holiday refunds
As at least 50,000 disappointed Thomas Cook customers wait for their money back, the Civil Aviation Authority (CAA) has said it is "making good progress" with the refund operation. Paul Smith, the..
WorldNews - Published
Greta Thunberg to guest edit Radio 4's Today programme
The environmental activist is one of five people to take control of the Radio 4 show over Christmas.
BBC News - Published
General election: Green Party vow to invest £100bn a year to tackle climate crisis
The Green Party has vowed to invest £100bn a year in ending the UK's use of fossil fuels and tackling the climate emergency, as the party launches its general election campaign. Attempting to frame..
WorldNews - Published
Trump's former economic adviser admits his tariffs are hurting US and helping China
Donald Trump's trade war is hurting the US economy while failing to damage China as intended, the US president's former chief economic adviser has said. Gary Cohn said tariffs imposed on billions..
WorldNews - Published
Steve Bannon Says Ilhan Omar Is 'Anti-American,' Tells The Squad to 'Take a Gut Check of What You're Doing Here'
Steve Bannon defended President Donald Trump's "go back" tweet about the four nonwhite Democratic congresswomen known as The Squad, insisting that it is not racist and that his former boss "has his own..
WorldNews - Published
Nigel Farage says he 'could be very useful' after being asked about new ambassador to US
Nigel Farage has responded to suggestions he could be the next ambassador to the US by claiming he "could be very useful". The Brexit Party leader, who has boasted of his friendship with Donald..
WorldNews - Published
Jo Brand's battery acid joke about milkshaking to be investigated by Met Police for alleged 'incitement to violence'
A comment made by comedian Jo Brand on BBC Radio 4 about throwing battery acid at politicians is being assessed by the Metropolitan Police.
Independent - Published