Damian Lillard
American professional basketball player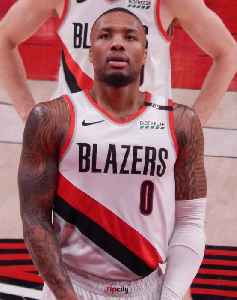 Damian Lamonte Ollie Lillard Sr. is an American professional basketball player for the Portland Trail Blazers of the National Basketball Association (NBA). He played college basketball for the Weber State Wildcats and earned third-team All-American honors in 2012. After being selected by Portland with the sixth overall pick in the 2012 NBA draft, Lillard was unanimously voted the NBA Rookie of the Year. He has received four NBA All-Star selections and is one of four players in Trail Blazers franchise history to become a four-time All-Star.


Steph Curry, Brook Lopez, Damian Lillard among NBA players taking, and making, longer-distance shots
Long-distance threes have become standard in the NBA. Since 2014-15, the number of three-pointers attempted between 28-40 feet has tripled.
USATODAY.com - Published
With season on the brink, Damian Lillard confirms he's playing through rib injury
Trail Blazers star Damian Lillard revealed he's playing with a separated rib on his left side, but he said the injury isn't affecting his play.
USATODAY.com - Published
Damian Lillard Said The Night Before The Blazers Would Beat The Thunder
The Portland Trail Blazers played against the Oklahoma City Thunder for their first-round series. Damian Lillard reportedly told his friends the night before he was going to "get rid of" the team..
Credit: Wochit News Duration: 00:32Published
The Thunder Hit 15 3's To Beat The Blazers
There's no secret as to why Damian Lillard was a little bothered on Friday following his game against Oklahoma City. After winning the first two games at home, the Blazers dropped Game 3 against the..
Credit: Wochit News Duration: 00:42Published
Lillard says he has separated ribs, will play through pain
Portland's Damian Lillard says separated his ribs in Game 2 of the Western Conference finals against the Golden State Warriors
USATODAY.com - Published
Blazers head home for Game 3, down 2-0 to Golden State
Damian Lillard says the Warriors did their job and protected home court. Now it's Portland turn.
USATODAY.com - Published
Warriors steal win in closing seconds to go up 2-0 on Blazers
Golden State stormed back from 17 points down, and Andre Iguodala sealed a 114-111 victory with a steal on Damian Lillard in the closing seconds.
USATODAY.com - Published
Damian Lillard, CJ McCollum need to be better for Blazers to have any chance vs. Warriors
Damian Lillard and CJ McCollum weren't among the top-five players on the court in Game 1 of the Western Conference finals. And that needs to change.
USATODAY.com - Published
Curry, Warriors take Game 1 of Western Conference finals
OAKLAND, Calif. (AP) — Stephen Curry had all kinds of room for a change and capitalized, finding his shooting touch in a hurry to get Golden State on a roll. Portland's defenders were too far back..
WorldNews - Published
C.J. McCollum proves Blazers were always more than a one-man show
Often overshadowed by his backcourt mate, C.J. McCollum had 37 points to lead the Blazers to the West finals on a day when Damian Lillard struggled.
USATODAY.com - Published
How Nuggets, Blazers can win Game 7, advance to meet Warriors in Western Conference Finals
Portland's Damian Lillard and Denver's Nikola Jokic meet again in what could be an epic finale. The winner takes on NBA defending champ Golden State.
USATODAY.com - Published
You Might Like