Damian Lillard
American professional basketball player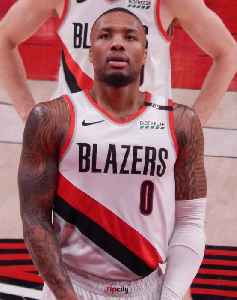 Damian Lamonte Ollie Lillard Sr. is an American professional basketball player for the Portland Trail Blazers of the National Basketball Association (NBA). He played college basketball for the Weber State Wildcats and earned third-team All-American honors in 2012. After being selected by Portland with the sixth overall pick in the 2012 NBA draft, Lillard was unanimously voted the NBA Rookie of the Year. He has received four NBA All-Star selections, and is one of four players in Trail Blazers franchise history to become a four-time All-Star.


Russell Westbrook out-duels Damian Lillard as Thunder beat Blazers to cut deficit to 2-1
Russell Westbrook (33 points) and Damian Lillard (32 points) put on a show in Game 3, with OKC prevailing 120-108 to cut the series deficit to 2-1
USATODAY.com - Published
Lillard, Westbrook, Beverley playing with intensified edge
Damian Lillard, Russell Westbrook and Patrick Beverley always play with an edge, which has been intensified in the NBA playoffs
USATODAY.com - Published
The Thunder Hit 15 3's To Beat The Blazers
There's no secret as to why Damian Lillard was a little bothered on Friday following his game against Oklahoma City. After winning the first two games at home, the Blazers dropped Game 3 against the..
Credit: Wochit News Duration: 00:42Published
Damian Lillard is taking apart Russell Westbrook and the Thunder
When you think of the best players in the NBA, it's a near-guarantee you'd name a bunch of other stars before you'd get to Damian Lillard.
USATODAY.com - Published
Blazers go up 2-0 against the Thunder with 114-94 win
CJ McCollum had 33 points and Damian Lillard added 29, and the Portland Trail Blazers took a 2-0 lead in their first-round playoff series against the Oklahoma City Thunder with a 114-94 victory on..
USATODAY.com - Published
Portland wins Game 1 against the Thunder 104-99
Damian Lillard scored 30 points and the third-seeded Portland Trail Blazers opened their playoff series against the No. 6 Oklahoma City Thunder with a 104-99 victory on Sunday
USATODAY.com - Published
Blazers and Thunder meet in the playoffs for the first time
Blazers guard Damian Lillard doesn't necessarily consider the Thunder a rival, but that could change when the two teams face each other in the opening round of the playoffs
USATODAY.com - Published
You Might Like