Laurent Gbagbo
4th President of Côte d'Ivoire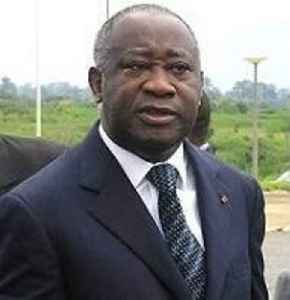 Koudou Laurent Gbagbo is an Ivorian politician who was the President of Côte d'Ivoire from 2000 until his arrest in April 2011. A historian, Gbagbo was imprisoned in the early 1970s and again in the early 1990s, and he lived in exile in France during much of the 1980s as a result of his union activism. Gbagbo founded the Ivorian Popular Front (FPI) in 1982 and ran unsuccessfully for president against Félix Houphouët-Boigny at the start of multi-party politics in 1990. He won a seat in the National Assembly of Côte d'Ivoire in 1990.


'I want to be president', Ivory Coast's Blé Goudé tells FRANCE 24
Ivory Coast's Charles Blé Goudé, a close ally of former president Laurent Gbagbo, granted an interview to FRANCE 24 in The Hague. Blé Goudé, who was youth minister under Gbagbo, spoke about his..
France 24 - Published
Ivory Coast ex-President Gbagbo to go to Belgium after ICC acquittal
Laurent Gbagbo was the first former head of state to go on trial at the International Criminal Court.
BBC News - Published
Search this site and the web:
You Might Like