American Dream
Ethos of the United States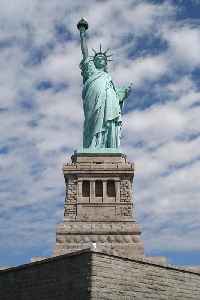 The American Dream is a national ethos of the United States, the set of ideals in which freedom includes the opportunity for prosperity and success, as well as an upward social mobility for the family and children, achieved through hard work in a society with few barriers. In the definition of the American Dream by James Truslow Adams in 1931, "life should be better and richer and fuller for everyone, with opportunity for each according to ability or achievement" regardless of social class or circumstances of birth.


You Might Like
Fargo spins a tale that sounds a little too familiar 
Through the lens of a lot of popular fiction, the story of organized crime in America is the story of American immigration. From The Godfather to Scarface to American Me and Gangs of New York, gangster..
The Verge - Published
Donald Trump rips Joe Biden as a threat to the American Dream and other takeaways from the RNC's final night
Trump used his acceptance speech to attack Biden, calling him a "destroyer" of jobs who had nothing to offer workers but "hollow words of empathy."
USATODAY.com - Published
'Miss Juneteenth' is the American Dream deferred: The movie's most poignant moments
With America amid a vocal uprising centered on racism and police brutality, "Miss Juneteenth" (streaming June 19) is arriving right on time.
USATODAY.com - Published
America and the American Dream: In these 50 US counties and cities the dream may be dead
Fewer Americans' incomes will surpass that of their parents, research shows. 24/7 Wall St. found 50 places with high generational income declines.  
USATODAY.com - Published
Welcome to the Era of the Post-Shopping Mall
As the mall declines, American Dream — a "destination" at the height of capitalism — rises.
NYTimes.com - Published
ICE weaponizes the American Dream to purge foreign students
An immigration sting targeting student visa holders mocks the values that made America great
USATODAY.com - Published
Photographing the underside of the American Dream
For the last four years photographer Matt Black has traveled the country, driving more than 100,000 miles through 46 states, to photograph communities living across the divide of poverty - people of..
CBS News - Published
5 things we learned about American Dream on opening day, from highlights to parking confusion
From parking, construction, nostalgia and everything else, we learned plenty on American Dream's first day, with more to come.
USATODAY.com - Published
The U.S. tax system is "a new engine of inequality"
Economist Gabriel Zucman, the brains behind Elizabeth Warren's wealth tax, says the American Dream is "not doing well"
CBS News - Published
Judge blocks Trump immigration rule, calls it 'repugnant to American Dream'
A U.S. federal judge in New York on Friday temporarily blocked a Trump administration rule that would deny visas to aspiring immigrants deemed likely to require government assistance, calling it..
Reuters - Published
Can Young Kim Help Turn Orange County Red Again?
She describes her life story as the "American dream" and would have been the first Korean-American woman in Congress. After losing a congressional race by a very thin margin, she is back for a..
NYTimes.com - Published
Trump Immigration Plan Offers a Ticket to the American Dream. The Poor Need Not Apply.
The Trump administration's new means-testing rule is an attempt to change the profile of the American immigrant. No more is the U.S. a place that welcomes the poor.
NYTimes.com - Published