THE WEEK OF
Dir: Robert Smigel
Starring Adam Sandler, Chris Rock, Rachel Dratch, Steve Buscemi, Alison Strong, Noah Robbins





2.5 STARS (out of 5)
It should be fairly old news by now that Adam Sandler has had a partnership set up between his production company and Netflix, and this fourth movie – The Week Of – seeks to perhaps try and do something a little different. Sandler's name is one which has, sadly, become synonymous with some critics and Hollywood bods as a staple of low-brow comedy – perhaps not low-brow, just not very well-received – yet, along with his band of regular collaborators such as Kevin James, he has continued to pull in box office money. Jack and Jill, Grown-Ups and Grown-Ups 2, The Ridiculous 6 – all have hit at the very low end of the critical favour scale, yet they have all demanded viewing. Is it morbid curiosity that is driving viewership? Perhaps not – Sandler's movies haven't all been the dreck that some critics would have you believe – and while The Week Of does carry many of the star's trademark moments and shtick, it is still a fairly pleasing watch – if far, far too long.
The Week Of focuses on father of the bride, Kenny Lustiger (Sandler), attempting to put together his daughter's upcoming nuptials all the while juggling odd family scenarios, scheduling and physical obstacles – a paraplegic uncle who needs carrying to the bathroom, a nephew triggered by just about everything, increasing numbers of lodgers at the family home – he's got it all under control – or has he? On the flip side of the coin, Dr Kirby Cordice (Rock), finds himself leaving behind a positively lavish and playboy lifestyle to attend proceedings – he is, after all, father of the groom – all the while Kenny is trying to appease his wedding equivalent each and every step of the way. Yes, there's chaos – yes, there's awkwardness – but there's also a little heart in there, too.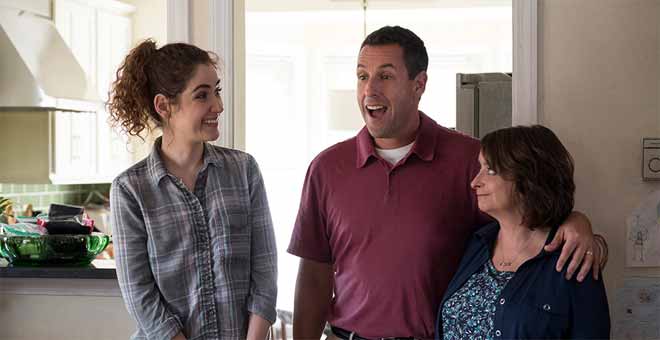 The Week Of (Netflix)
This is a movie that isn't unlike chaotic comedies which have worked well in the past with big ensembles in relatively small spaces. Consider both US and UK versions of Death at a Funeral (Rock in fact headed up the former) – this is a very similar set-up, though it perhaps tries to do much more in the long run. Sandler's character is a chaotic control freak, albeit one who is perpetually empathetic – trying to do right by his family and never dissuaded – while Rock is a distant father used to the finer things and always willing to make things easier with money. It's a nice culture clash and, thankfully, the movie doesn't dwell on this nor bring it to our attention until the last fifteen minutes or so.
There is a heart in here and it's certainly less brazen than some of Sandler's output in recent years – and perhaps doesn't deserve the critical drubbing that it gets elsewhere. The nice, quiet moments are reflective and genuine – but the main issue this movie faces is the sheer breakneck pace it runs at. This is a movie which – while nicely split-up along the way – doesn't ever stop to breathe. The majority of the characters are fairly one-note and we don't really get to know many of them – and in true Sandler fashion, there's joke after joke after joke. The majority of them do land well – there were moments in this film where I genuinely laughed – and there are many comedy movies in recent years where I failed to do that (Fist Fight, I'm looking at you – and I hate doing that).
The Week Of - Official Trailer (Netflix)
The main issue here stares you in the face from the moment you load it up on Netflix. It's 116 minutes long. It is an absolute slog – for its meandering nature and its joke-machine running haywire each and every step of the screenplay, this is a film that gets tiring. Cut at least 30 minutes off and keep to the most important scenes and we could have had a genuine surprise on our hands. As it stands, however, The Week Of isn't utterly horrible – far from it. It does a very nice job of taking hold of wedding planning, wedding traditions and so forth and turning it into a comedy of chaos – this works very well indeed, and ultimately, it's a very positive movie. Kenny is a likeable, if haphazard main lead, and so are most of his family – Rock's character definitely grows on you and you do feel for him – and, as such, most fans of situation comedy will have no problems getting into this one. Getting out of it – at almost two hours long – is another matter – and it really is this aspect that prevents it from getting any higher than 2.5 stars.
Has Sandler surprised critics with a movie that's middle-of-the-road? I think so – it certainly does not deserve the backlash it's been getting from some critics (the Rotten Tomatoes score is sadly lacklustre) – this is a decently funny, if time-sapping watch which will appeal to any fans of his shtick and those who appreciate a chaotic situation comedy – not Netflix's best output, but certainly not their worst, either.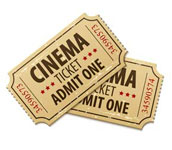 » See more of Graham's Movie Reviews