OCEAN'S 8
Dir: Gary Ross
Starring Sandra Bullock, Cate Blanchett, Anne Hathaway, Mindy Kaling, Sarah Paulson, Awkwafina, Rihanna, Helena Bonham Carter





3.5 STARS (out of 5)
Sequels are hardly anything new – far from it – though in recent years, it's the remakes and the rehashes – not to mention the most dreaded of them all, the reboot – which seem to have come along and taken control of the Hollywood gravy train, so to speak. Sometimes, a reboot can be a good thing – remakes, too – in other cases, latching onto an existing property can seem like a fairly lazy thing to do indeed. Ocean's 8, however, thankfully manages to sidestep any preconceptions of it being just another tag-along.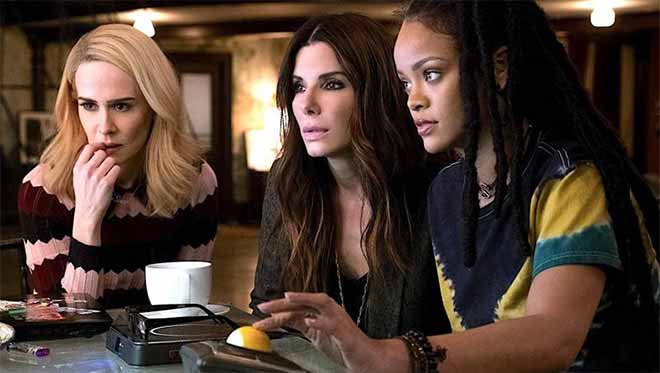 Ocean's 8 (Warner Bros. Pictures)
Spun-off from the Ocean movies that were a big hit a few years ago – the last of which hit our screens over a decade ago – while Steven Soderbergh's modern take on the Rat Pack original Ocean's 11 featured a predominantly male cast, Ocean's 8 goes the alternative route – adopting an all-female line-up with more than a few big, recognizable names involved. This time around, Danny Ocean's sister Debbie – played here by Sandra Bullock – sets up a whole new heist that centers around a particularly valuable necklace that's making its way to the Met Gala. With millions on the line, Ocean is fresh out of jail with a team of rag-tag would-be heisters, and with a plan to use the Gala's hostess (Anne Hathaway) as a scapegoat. As you'd expect – it all goes rather cunningly from there – keeping in line with the Ocean staples we've come to recognise in the years gone by.
The main issue with the Ocean's trilogy that ended in 2007 was that it had rather run its course – it was impressive that so much mileage could be made out of the original, but the issue with heist movies is that – if sequels come along – they're often trying to play catch-up with their clever predecessors. Heist movies have rather fallen out of the way in recent years, though the antics of the crew in Now You See Me and its sequel appear to have satiated moviegoers' apparent need for shifty activity. Ocean's 8 does come at a rather necessary time, too – with female-centric cinema that busts open the Bechdel Test being more in demand than ever before. Wonder Woman led the way – but there was always going to be a danger that Ocean's 8 was going to end up the way of 2016's dismal Ghostbusters retread, which fell into fiery online sparring over its complete female recasting. Ultimately, the gender switch wasn't the problem – the extremely unfunny script was – and thankfully, Ocean's 8 manages to be a competent, likeable movie that fulfils its agendas, even if the script isn't particularly much to write home about.
The two main players in the watchability of the movie are the casting and the pacing. With a less capable cast – and with more wallowing, and an extra 30 minutes runtime – this could have been absolutely abhorrent, even derivative. Instead, it does well to actively tie in to, and actually expand, the universe it's born from. It actually follows on from the Ocean trilogy of a decade prior – it's neither a senseless reboot nor a tongue-in-cheek rehash – which is somewhat refreshing. All of the main cast are well-known in their various quarters, which is worth noting – particularly as the cast isn't just nameable, it's extremely capable. Bullock continues to enjoy a career renaissance while Blanchett proves that she's still one of the most versatile actors on the big screen today – Hathaway also surprises and entertains throughout in her role as the 'mule' of sorts. The only downside – and this may be a personal gripe – is that Hollywood's current favourite British personality, James Corden, shoehorns an appearance in. Remember when you couldn't move for Russell Brand or Ricky Gervais? Yup. It's him again.
Ocean's 8 - Official Trailer (Warner Bros. Pictures)
The pacing is brilliant. At just short of two hours in length, Ocean's 8 is just long enough and packed-in to allow for everything you want to see. There is character development – and there are clichés, of course – but everything moves at a rather satisfying pace. There's no hanging around, and in typical Ocean style, everything unfolds in a slick, stream-of-consciousness way – it was never going to be the most original movie this summer was going to see – but it's certainly miles above expectations set for it.
Ocean's 8 is certainly watchable, though not particularly challenging – you know what you're getting into. Two stray points to finish this review – without giving anything away, part of the marketing for this movie gives away an intended twist so plainly and so blatantly that it's almost stupefying – I docked a half star out of sheer disbelief. Secondly – consider that '8' is only two numbers behind '11' – are there plans lined up for Ocean's 9 and Ocean's 10? Let's see what the box office numbers look like – for now, if it appeals to you, Ocean's 8 is worth your money.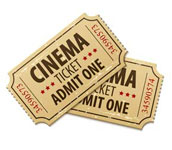 » See more of Graham's Movie Reviews