CHRISTOPHER ROBIN
Dir: Marc Forster
Starring Ewan McGregor, Hayley Atwell, Bronte Carmichael, Jim Cummings, Brad Garrett, Mark Gatiss, Nick Mohammed, Peter Capaldi, Sophie Okonedo, Sara Sheen, Toby Jones





3 STARS (out of 5)
Disney has generally been doing sterling work of retooling their animated classics into live action movies of late – The Jungle Book, for me as a critic at least, being a high point – and it was perhaps only a matter of time before thoughts turned back to the dreamy, philosophical Winnie the Pooh and all of his friends. Adapting Pooh for the big screen isn't anything new – there have been various pictures released in recent years surrounding the beloved works of AA Milne – and while we haven't seen the characters in animated form since 2011, the trailer release for a live-action version of adventures in the Hundred Acre Wood was a very nice surprise indeed. Even nicer is the fact that Jim Cummings – who has portrayed the voice of Pooh and Tigger for decades now – returned to voice the characters once again, adding an extra layer of fuzzy familiarity. Generally, that familiarity is what this movie runs on – though we'll get to the meat of the matter very shortly.
Taking place years after Christopher Robin left the Hundred Acre Wood for boarding school, Pooh and pals have been without their friend for some time – but it's the disappearance of Pooh's cohort that leads the bear to hunt down his human friend, finding himself in London and in search of the now-adult Robin (McGregor). Robin, meanwhile, is facing something of a mid-life crisis, struggling to juggle work, family and happiness – and Pooh arriving back in his life is a twist in the tale he really wasn't expecting. Can a rekindling of friendship between the luggage salesman and his fuzzy friends bring joy back into his world? Can he help Pooh find them all?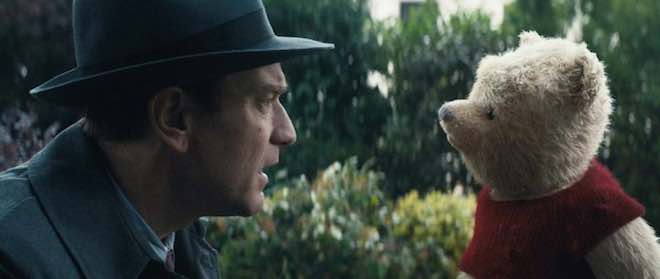 Christopher Robin (Walt Disney Studios)
For a movie with a very simple plot – a premise that works well on paper and which relies heavily upon well-established characters – there is an awful lot crammed into one relatively short run-time. The expanded cast of various British character actors is simply too long to add to the main list at the top of the review – but there are scores of characters and stars here. The movie gets by mainly on this idea of familiarity – which works in a rather meta sense as it's chiefly about Christopher Robin rediscovering what makes him happy and Pooh rediscovering his friends – and, as such, it really does rely upon nostalgia – and well-known characters and stories – to get by. This may sound like a negative prod – it really isn't.
It's a genuine joy to see these characters again – while the 'human' cast are capable and affable – although we perhaps don't get to see as much of Robin's family as we may hope to, given how integral they are to his life – it's the critters that shine. The design choices made for the characters in the Hundred Acre Wood are marvellous – the toy characters look like toys – and the 'real' animals look just as charming. Pooh's design and movements – and Tigger's too, especially – hit that sweet spot of nostalgic fuzziness which will certainly appeal to viewers of a certain age – but for those too young to perhaps have appreciated Pooh's adventures in animation previously – or those who have yet to enjoy AA Milne's books – this may be something that is missed.
Christopher Robin - Official Trailer (Walt Disney Studios)
Generally, Christopher Robin does play it safe when it comes to plot – it's been done several times with the likes of Peter Pan and we may well see something similar with Mary Poppins Returns in the months to come – and, as such, we all know how it will turn out in the end. There are a number of plot moments and character potentials which are missed out on which I would have liked to have seen developed – and while the overall feel of the film is warm and positive, it does still feel a little lightweight – perhaps even flimsy – certainly in comparison to Disney's current cartoon-to-live action output. Perhaps it isn't fair to put Christopher Robin on the same pedestal – then again, why not?
It is absolutely safe to say that the main audience for this movie will be those who love Winnie the Pooh – that much is obvious – as the movie falls back on nostalgia and familiarity on a clearly intentional basis. To this end, the movie works – but I'm not so sure it will hold up with today's children – nor that it will hold up in years to come amongst a sea of family movies which do this type of story fairly more competently. As such, however, it's perfectly watchable – but perhaps somewhat forgettable – and that particular irony isn't lost on me, I can perfectly assure you!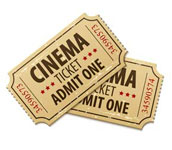 » See more of Graham's Movie Reviews