THE NUN
Dir: Corin Hardy
Starring Demian Bichir, Tissa Farmiga, Jonas Bloquet, Bonnie Aarons, Charlotte Hope





2.5 STARS (out of 5)
Are we really here already? Horror movies seem to only really pop up in two big blocks each year – at the very start of the year, when the truly awful ones can be buried without notice, and towards Halloween, when – well, have a guess. Horror movies that genuinely scare and confound us seem to be dripping through more and more these days, with Hereditary really smashing the mould for unsettling, gut-wrenching horror earlier this year, and with James Wan's Conjuring series of movies quietly building up a nice empire of run-of-the-mill scary movies that are deftly made and offer something genuinely new to behold. The last couple of entries in the Conjuring franchise, The Conjuring 2 and Annabelle: Creation, were surprisingly competent and genuinely scary – and there's still hope that its success may have convinced budding horror movie-makers to start thinking about smarter scares. Who's to say quite what Hereditary has done – but it'll be great finding out in years to come.
The Nun – coming back to the movie of the review after that lengthy preface – is the latest in the Conjuring line, which has also included the archetypal yet competent Annabelle movies. You're reminded of this fairly often throughout the movie, meaning that if you're not already invested in this apparently-building line of films, you might get yourself a little bit left behind. In this outing, we take a trip to Europe where it appears a particularly nasty demon is haunting a convent and is doing so by taking the form of a nun to do so – picking off sisters as it goes along. That really is as much as there is to it – and if this sounds like your sort of thing, you probably will get a fair bit of mileage out of it.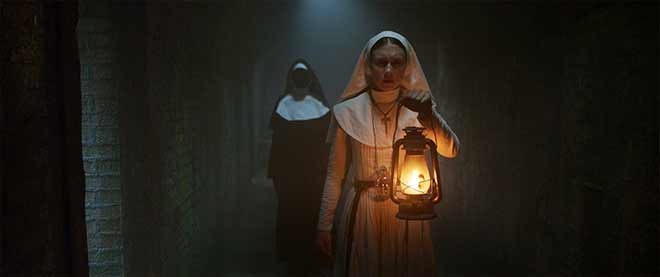 The Nun (Warner Bros. Pictures)
The appeal of the previous movies in this extended universe does somewhat revolve around the informed realism. The Conjuring movies are loosely based around genuine hauntings and, as such, are fairly well crafted. The Nun, for all its insistence upon being a big, dark, scary movie about demonic possession, grisly deaths and the murkiness of the ancient Catholic Church, does rather lack that bite – compared to its predecessors (which it won't let you forget about for a second), this one does rather fall a little bit short of the creativity and originality margins.
That being said, it's a spirited production (pun intended), with the main cast and the direction clearly well-invested. The movie's clear intentions are rather what propels it into your interests – it's nicely-paced, on the whole, and as such, anyone likely to look to a demonic convent for scares pre-Halloween can do far worse. However, it is sadly reliant upon a number of major tropes and clichés which will sadly mark its destiny for certain niche Netflix categories in months to come, instead of in the pantheon of modern horror classics. Have we all been spoilt by Hereditary now? Perhaps – but from here on out, we do kind of expect these sorts of movies to step up their game.
The Nun - Official Trailer (Warner Bros. Pictures)
The Nun is creepy enough and offers plenty of twists and turns, but a keen reliance upon that divine enemy of modern horror, the jump scare, is out in full force. The difference is clear with examples laid out in Conjuring 2 – in that movie, the jump scare leads into lengthier scares and lengthier horror – The Nun doesn't really do that. It's nowhere near the nadir of jump scares offered by The Forest a couple of years ago (surprise! – oh wait, it's just an elderly lady walking down a corridor), but it does harken back to some of the more tiresome tropes we've seen from lesser genre examples over the years.
It's also far too reliant upon the existing franchises – if I've not made that clear enough already. Originality does seem to evade The Nun in some ways but leaps out in others – I can't say I've seen another horror movie based in a convent lately – but there's a distinct feeling that you have seen this all before, and this will certainly hit home for true horror collectors and aficionados. It's also very easy to see what's coming next.
That being said, perhaps it's the ride that's the entertaining part. The Nun is hardly challenging the greatest horror movies of all time, but for a simple scare fest, it might just do the business. It's being unfairly savaged by critics lately and yes – while it's not great – it's hardly the worst movie of its genre to have been put to the big screen over the past few years. Whatever compels you – go get your pre-Halloween fix if the plot and the wider franchise entice you.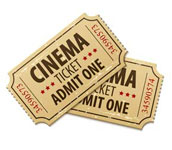 » See more of Graham's Movie Reviews