THE HOUSE WITH A CLOCK IN ITS WALLS
Dir: Eli Roth
Starring Jack Black, Cate Blanchett, Owen Vaccaro, Renee Elise Goldsberry, Sunny Suljic, Kyle MacLachlan





4 STARS (out of 5)
On paper, this one was always going to be interesting. An adaptation of the first in a long line of juvenile mystery books written by John Bellairs, helmed by Eli Roth, who's no stranger to horror – The House With a Clock in its Walls (known as Clock from here on out) has perhaps been marketed a little too much as a whimsical fantasy piece. The truth is, it's very dark indeed – and that's a great thing. Some may say that the movie carries perhaps a little too much in the way of Harry Potter about it – yet the original Lewis Barnavelt books predate JK Rowling's work by at least two decades. With that in mind, it's a wonder why these novels weren't adapted sooner. In any case, I have plenty to talk about here, and thankfully – most of it is good.
Lewis Barnavelt (Vaccaro) is perhaps an eccentric young boy, spending his free time reading dictionaries and perpetually wearing goggles on his head – but his uncle Jonathan (Black) is even more eccentric. Lewis finds himself in the ward of his intriguing relative following his parents' tragic deaths – forced to acclimatise to a new school and new surroundings, there's plenty for him to contend with. Not least, it seems, Uncle Jonathan's creepy house, the fact he takes an axe to the walls in the middle of the night, and that he plays saxophone at three in the morning. When Lewis finally uncovers the truth behind his uncle's odd behaviour, he's sucked into a wild and wonderful world of magic and mystery just waiting at his fingertips – but at the same time, great danger awaits.


The House with a Clock in Its Walls (Universal Pictures)
Clock is a wonderful piece of direction. The house in the title is an absolute delight of gothic creepiness and that specific, dusty vibe that you get from strange old possessions and untouched rooms in creaky old mansions seeps through in every frame. Roth has created a house of horrors without the gore and the death – thankfully – but what is here is most certainly creepy. Lewis' adventure largely takes place in this ever-changing, multi-faceted magical house, with just enough mystery retained throughout for it all to still remain a palace of intrigue right up until the final moments. Anyone who loved exploring – safely or otherwise - as a child will find the pace and the direction of this movie, with so much of it spent slowly building up mythos and mystery.
The casting is great – I am already a big fan of Black, Blanchett and MacLachlan, and they all seem to have a good time here. Vaccaro is convincing and thankfully not quite annoying enough to be a precocious kid we couldn't care about. The story itself is well-signposted, though much of the mystery doesn't so much lie in the tale itself, but in what the house is hiding. Some critics have taken this movie to task for failing to live up to its potential – I feel more than enough was done here – to the extent that you are given an awful lot to work with, with each and every minute that passes.
The House with a Clock in Its Walls - Official Trailer 2 (Universal Pictures)
Clock is an immensely dark film, however, and it's clear that Roth has had his hands on it – and it's wonderful as a result. There are moments towards the end of the movie where I genuinely found myself marvelling at quite how intense and disturbing things were getting – and it really does go one step further when you think it's done enough already. It's aimed at a young audience, and it's certainly set up that way, but this is a level of kids' movie creepy that we haven't seen the likes of since Return to Oz. Yes, I'm placing it on that pedestal. Roth has turned Bellairs' maiden Barnavelt novel into a super-intense, fast-paced work of gothic wonder, and for the most part, it's absolutely wonderful.
There are, sadly, a few elements – crucial ones – which do drive my overall score down. Firstly, the exposition – there is tons of it. I understand the need, to an extent, but at least a third of this movie centres on characters explaining things. There's too much saying, not enough doing – but with so much crammed into its time frame, I can somewhat understand. Secondly, yes – some of the plot has holes, here and there – and a few twists are thrown in willy-nilly with less care and attention than they perhaps deserve.
All things considered, however, Clock remains a real surprise – very, very dark for its intended audience (in my opinion), but awesomely creepy, and exceptionally paced. Worth watching, though you may need to sit down and have a nice cup of tea to settle yourself down afterwards.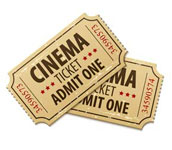 » See more of Graham's Movie Reviews