BAD TIMES AT THE EL ROYALE
Dir: Drew Goddard
Starring Jeff Bridges, Cynthia Erivo, Dakota Johnson, Jon Hamm, Cailee Spaeny, Lewis Pullman, Chris Hemsworth, Nick Offerman





4.5 STARS (out of 5)
I like original movies. Just about everything is derivative nowadays, but think about all of the films I've reviewed this year. How many are truly original? Some are based on books, some are sequels, some are reboots – some are offered up from lazy templates – to see something truly original these days is a real treat. Bad Times at the El Royale may borrow from a few tropes here and there, but it's original, it's captivating, and it absolutely flies by – all brilliant things in my book.
Based on the borderline between California and Nevada, the El Royale is a mysteriously quiet hotel with one member of staff – and as a group of strangers convene there one after another, their complex tales start to entwine – as do the secrets of the hotel itself. Whether it's housing creeps, crooks or complete innocents, there's a story to tell behind every door – though you never know quite who is watching.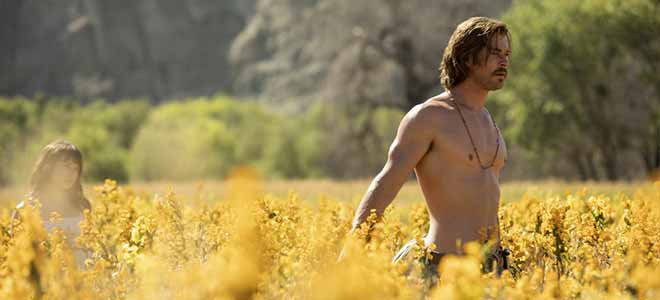 Bad Times at the El Royale (20th Century Fox)
A stylish mystery thriller told in a disjointed, drip-fed narrative, this is a movie that focuses primarily on creating suspense and intrigue by withholding just enough information. Various facets of the story are told from different perspectives at different moments, and each time, a little bit more is built up. The story adds questions upon questions with each scene, and while we get flashbacks to the lives of many of the characters involved, we are still left with plenty of intrigue to sink our teeth into as the runtime ticks by. Story-wise, and in terms of the way the plot is delivered, this is a very satisfying experience – though the only caveat is the final act does fumble around a little, even though we get plenty of answers to the questions we've been asking.
Directorially, the movie is very surprising. Drew Goddard has amazing form for working with mystery, having cut his teeth with scripts for TV shows such as Lost and having brought The Cabin in The Woods to the big screen (which remains one of my favourite movies, unashamedly). Without giving too much away about El Royale, there is an extended sequence featuring Jon Hamm's character around 30 minutes in which is shot so carefully, and so intensely, you can't help but follow along. Each movement he makes, each discovery he uncovers, adds up to a terrifying whole – and, satisfyingly, we do get more than enough answers as to what's going on.
It's hard to say what to compare the style and the mode of the movie to – it feels somewhat like a hybrid between Goddard's Cabin and maybe even Identity – albeit without the sledgehammer storytelling. You get given just about enough time with each character to know where they're coming from – and the storytelling choices allow you to see things a little bit differently at each and every turn. That, to me, is great film-making.
Bad Times at the El Royale - Official Trailer [HD] (20th Century FOX)
This is a movie that is mainly concerned about showing as opposed to telling, and that's to its benefit. The film benefits from having a good stock of actors, particularly in Bridges, Erivo, Pullman and Hemsworth, though Johnson and Spaeny's characters, while important, didn't operate on the same level for me. It is a long movie – at over 140 minutes long – but for those invested in the story, in the genre and the characters, you really do not feel it. For some critics, the length of the movie is a sticking point – but I disagree. There is just enough runtime here to satisfy the amazing intrigue the first act perpetuates – and to that end, I left extremely satisfied with what I saw.
I must advise that this is a movie which is best enjoyed as blindly as possible. Go into it with as little knowledge of what's set to occur as possible for the maximum effect. El Royale is deftly written and paced, and while the story strands may fray apart towards the end of the movie, it's a fantastic ride just getting there. Movies of this genre and of this ilk aren't as ten-a-penny as they ought to be, and while it may not be a film I sit down and watch again for some time, it is one I can wholeheartedly recommend to anyone hoping to get deeply invested in a good popcorn flick.
Bad Times at the El Royale is one of the most surprising experiences I've had at the cinema this year, and it challenges well for my top three of 2018. There are things that can be changed here to make perfect, of course – but the raw intensity, the intrigue, the majority of the character development – in line with the mode of storytelling and the directorial decisions made – offer up an experience that's one of the most unique, in a positive sense, I've had at the movies this year. I'd love to give this movie a 5 – but while settling at a 4.5, Bad Times at the El Royale will have pride of place in my collection upon its home release next year.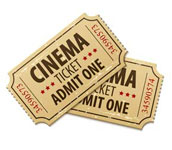 » See more of Graham's Movie Reviews